Channel 4 chooses Leeds for new HQ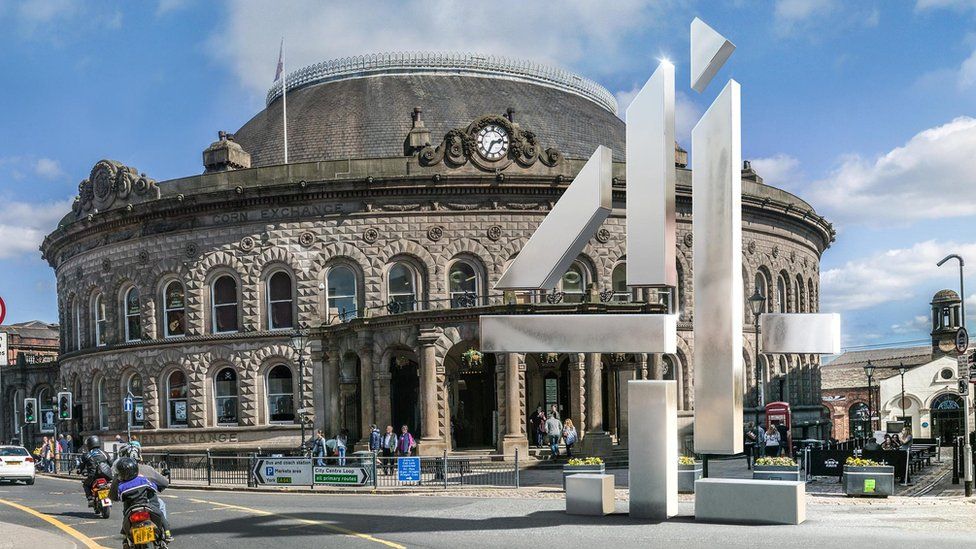 Channel 4 will set up a new national HQ in Leeds in an attempt to boost the way it reflects life outside London.
The broadcaster will keep another headquarters in the capital, but will move roughly 200 of its 800 staff to the West Yorkshire city.
Leeds was chosen above Birmingham and Greater Manchester, which were also on the shortlist.
The channel has also announced it will open "creative hubs" in Bristol and Glasgow, with around 50 staff in each.
It's all part of a plan to increase the amount Channel 4 spends on programmes outside London by £250m over the next five years.
That means half of its programme budget will be spent outside the capital by 2023, up from 35% currently.
Tom Riordan, chief executive of Leeds City Council, said it was "the best news".
Scottish First Minister Nicola Sturgeon said the decision to house one of the creative hubs in Glasgow was "fantastic news for Scotland's screen sector and creative industries".
Mayor of Bristol Marvin Rees tweeted that he is looking forward to working with Channel 4 in "our creative, innovative city".
All three new sites will house "key creative decision-makers", including programme commissioners who will have responsibility "for some of Channel 4's biggest shows and who oversee significant spend".
The new national HQ will regularly host executive and board meetings, and will be home to a "digital creative unit" to make material for online platforms and social media.
Channel 4 News will also open three new bureaux outside London, including one in Leeds.
Leeds on the small screen
The city was the home of Channel 4's Countdown for 27 years until 2009
Other C4 shows made in the region include Educating Yorkshire (in nearby Dewsbury) and the Red Riding trilogy
Over on ITV, the city has been home to Emmerdale since the soap began in 1972
Screenwriter Kay Mellor's production company is based there, and she has set dramas including Fat Friends, The Syndicate and Love, Lies and Records in her home city
She said: "Leeds is the perfect fit in terms of location and talent and we'll all be there with open arms to welcome them to our wonderful city."
Will it change Channel 4?
Channel 4 said Leeds had put forward an "ambitious strategy" to support growth in the creative industries and "to nurture new talent from diverse backgrounds - in the region and across the UK".
Chris Curtis, editor of trade publication Broadcast, said the difference it will make on screen will depend on which staff move to the new hubs, and how much power they have.
"They have talked about moving creative decision-makers out of London but there's still a sense that the big creative decisions will still be taken in the London HQ," he told BBC News.
"Which roles move, the level of seniority of those roles, and how much autonomy those people are given are yet to be determined, and they will have an influence on Channel 4's output.
"But I don't believe C4 are just paying lip service - they genuinely want it to be a success."
Channel 4 chief executive Alex Mahon said she wanted to open the publicly-owned company up to "people from across the UK and supercharge the impact we have in all parts of the country".
She said: "Locating our national HQ in Leeds enables us to capitalise on a strong and fast-growing independent production sector in cities across the north of England - and also has the potential to unlock growth in the north-east and east of the country, an area without a major presence from other national broadcasters."
Sally Joynson, chief executive of Screen Yorkshire, said the move would be "transformational" for the TV industry in the city and the north of England.
The move has come about after pressure from the government to boost the broadcaster's presence outside London.
The Conservative Party put a relocation in its 2017 general election manifesto, and pushed for a full move.
But Channel 4 chairman Charles Gurassa warned that a full or substantial relocation would cause "significant difficulties and problems".
It has now settled on a compromise that will send almost 40% of jobs out of the capital.
After Wednesday's announcement, culture secretary Jeremy Wright said: "The government made clear that Channel 4 needed to do more to increase its presence in the regions to help better reflect and provide for UK audiences outside of London.
"Congratulations to Leeds, Bristol and Glasgow, and I look forward to Channel 4 taking further steps to increase its impact around the UK in the years ahead."
Related Internet Links
The BBC is not responsible for the content of external sites.