Ed Sheeran and Dua Lipa help British music to record year
By Lucy Todd
BBC Music reporter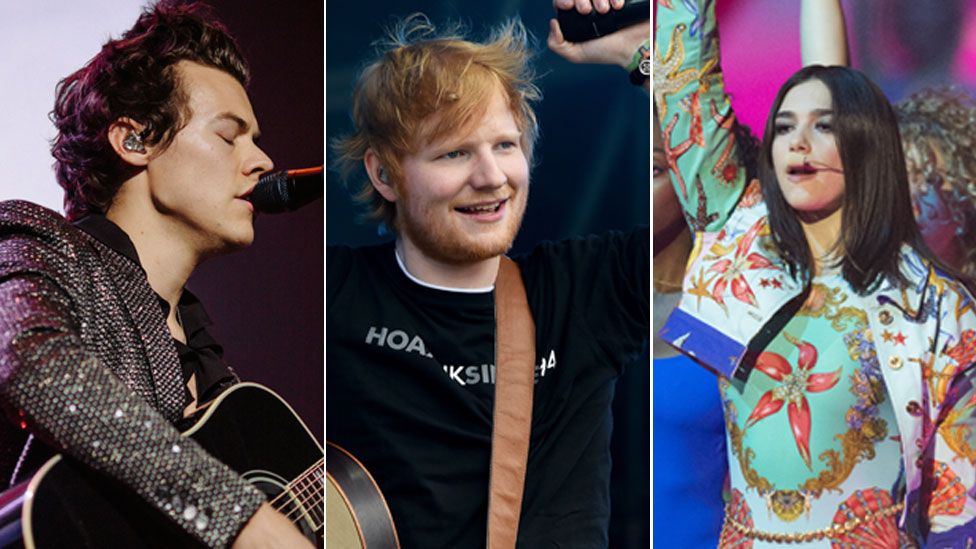 Ed Sheeran, Harry Styles and Dua Lipa are among the artists who helped propel British music to a record year in 2017, according to a new report.
Export revenues grew by 7% to a new high of £2.6bn, UK Music's Measuring Music report said.
The biggest selling album of the year was Sheeran's ÷ (Divide), with singles including Shape of You and Perfect.
UK record sales also saw a surge, netting £700m over the year - up 9% on 2016.
For the second year in a row the number of successful records by British artists bucked the trend for annually declining music sales - which had slumped to £610m in 2015.
Sheeran accompanied fellow Brits Rag'n'Bone Man, Sam Smith and Styles in the International Federation of the Phonographic Industry's (IFPI) global top 10 for 2017.
Festivals and live events including world tours by Coldplay, The Rolling Stones and Sir Paul McCartney also accounted for £1bn of revenue - with the report confirming the O2 in London was the world's most popular arena.
Last year saw five of the top 10 most successful worldwide tours come from the UK - with Depeche Mode and Sheeran alongside the aforementioned acts.
Overall, the UK music industry contributed a record £4.5bn to the UK economy last year - up £100m on 2016.
The report said more people were employed in the music industry than ever before, with almost 146,000 jobs.
But UK Music's chief executive Michael Dugher issued a warning about the need to nurture the music industry's talent pipeline and to give people from a variety of backgrounds access to a career in the industry.
"These figures show what can be achieved when we choose to back the British music industry," Dugher said.
"That's why we need further government support to help us ensure we produce the next generation of world-leading British talent by backing music in education, protecting grassroots music venues and making sure that creators are properly rewarded for their work.
"If we do that, we can be even more successful in the future."