Matt Hancock: GPs should prescribe concerts and mixtapes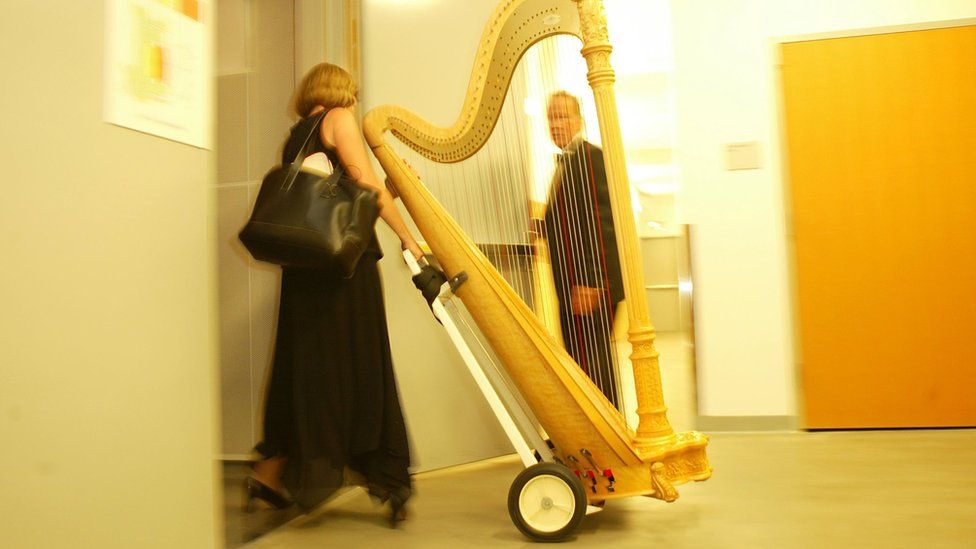 Doctors should prescribe song playlists as well as medication, the health secretary has said.
Patients with mental health conditions could be given dancing and music classes, under new "social prescribing" plans.
Matt Hancock has criticised the reliance of treating long-term illnesses with drugs, and said culture therapy could save the NHS money.
But the Alzheimer's Society has said that the arts is not a "silver bullet".
"Social prescription reduces over-prescription of drugs," said Mr Hancock, speaking at the King's Fund health think tank on Tuesday.
"It can lead to the same or better outcomes for patients without popping pills. And it saves the NHS money. Because many of these social cures are free."
The health secretary called the arts an "indispensable tool" for doctors to help patient recovery, and said culture could be considered in place of drugs to treat long-term medical conditions such as dementia.
Under the new plans, trips to libraries and concert halls - as well as 'personal playlists' of music - could be prescribed to help patients and their families cope with the symptoms of degenerative mental diseases.
A National Academy for Social Prescribing will also be established as a base for GPs to receive training about how the arts can improve health.
"We've been fostering a culture that's popping pills and Prozac," said Mr Hancock. "When what we should be doing is more prevention and perspiration."
Professor Helen Stokes-Lampard, chair of the Royal College of GPs, said social prescribing "is not a new phenomenon", but that encouraging patients to take up new hobbies could have a positive impact.
"Preventing people from becoming ill by emphasising the importance of preventative measures is a step in the right direction, but we need the right resources if we're going to be able to deliver far more of this kind of care," she said.
The Alzheimer's Society said it "cannot see music and the arts alone as some kind of silver bullet for people with dementia".
"What we really need to see in addition to social prescribing is GPs giving people with dementia access to the right support and medication when needed and, crucially, the government ensuring adequate funding for care is addressed," said the charity's director of policy, Sally Copley.
The need to match Mr Hancock's plans with sustained funding was also raised by the mental health charity, Mind.
"Local services have been subject to substantial cuts over the past decade," said chief executive Paul Farmer.
"This prevention strategy must be matched with long-term investment, if we want to see it become a reality and making a real difference to people's everyday lives."
Mr Farmer also said it was important that 'social prescribing' isn't seen as a replacement for other treatments: "We want self-care techniques to be seen as complementary to, rather than as a substitute for, mental health services, such as counselling or cognitive behavioural therapy (CBT)."
Mark Rowland, chief executive of the Mental Health Foundation, said the arts can have a positive effect on mental health, but that the government's strategy will hinge on its accessibility.
"Our concern is that social prescribing options including music, arts and volunteering aren't being accessed by the poorest in our community. If we're going to make the biggest difference to prevention and recovery the government needs to show how it will reach those most at risk."
In July, the health secretary pledged £4.5 million for 23 'social prescribing' projects in the voluntary sector across England, including walking and gardening clubs.
Related Internet Links
The BBC is not responsible for the content of external sites.