Mid-term elections 2018: Do celebrities really influence voters?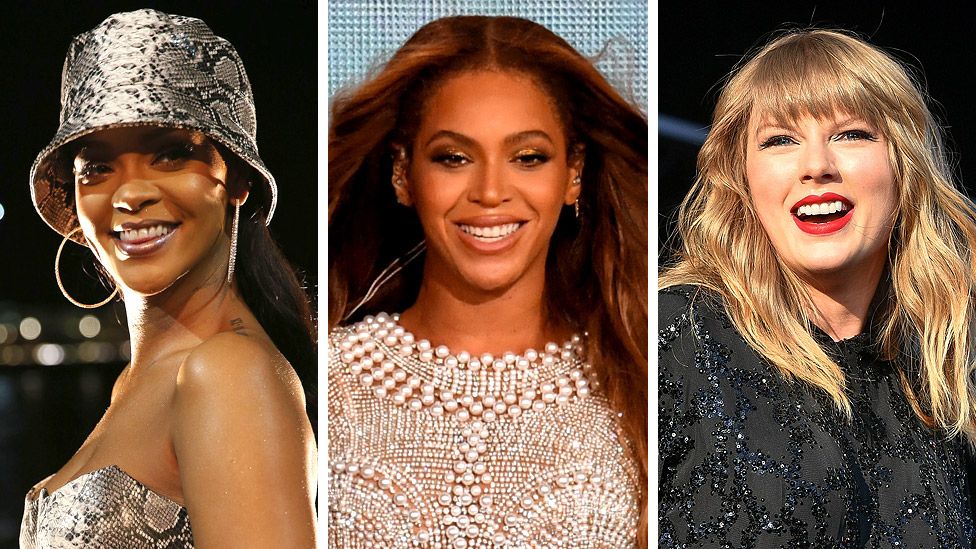 Whenever an election comes around, there are always celebrities who throw their support behind their favoured candidates and hope their fans will follow their lead at the ballot box.
In Tuesday's US mid-term elections, however, many of the high-profile stars who had publicly supported candidates were left disappointed. So how much is a celebrity endorsement actually worth?
Beyonce's last-minute backing for Democratic Senate hopeful Beto O'Rourke, who also had the support of Travis Scott and Lin-Manuel Miranda, among others, couldn't help him upset Republican rival Ted Cruz in Texas.
In Florida, Rihanna's endorsement wasn't enough to make Democrat Andrew Gillum the state's first black governor.
Oprah Winfrey, Diddy and Will Ferrell were among the stars to stand up for another Democrat, Stacey Abrams, in her bid to become governor of Georgia. At the time of writing, Abrams was trailing Republican Brian Kemp as the last votes were being counted.
The BBC is not responsible for the content of external sites.
He lost, and Republican commentators have taken great delight in the fact.
The BBC is not responsible for the content of external sites.
Skip twitter post by Candace Owens
Allow Twitter content?
This article contains content provided by Twitter. We ask for your permission before anything is loaded, as they may be using cookies and other technologies. You may want to read Twitter's cookie policy, external and privacy policy, external before accepting. To view this content choose 'accept and continue'.
The BBC is not responsible for the content of external sites.
End of twitter post by Candace Owens
The BBC is not responsible for the content of external sites.
Swift had mixed fortunes, though - Jim Cooper, who she supported for the House of Representatives, did win.
The history of celebrity endorsements goes back to the birth of modern celebrity. Warren Harding won the 1920 US presidential campaign with the backing of a raft of film stars of the day.
In 1960, John F Kennedy had the support of Rat Pack members Sammy Davis Junior and Dean Martin.
However, after the 2004 presidential election, a study found that friends and family were more influential than celebrities on young voters.
"Celebrities may have looked pretty, but they were not particularly influential on first-time voters," the report said.
A survey in Ohio in 2016 concluded that star endorsements had no effect on most voters' intentions in that year's presidential race - and some celebrities actually put people off. An endorsement from Beyonce was, apparently, the biggest turn-off.
Scott Lucas, professor of American Studies at the University of Birmingham, told the BBC that there are two types of celebrity influence.
People are more likely to listen to the likes of Oprah and George and Amal Clooney because their campaigning work in politics, civil rights and activism gives them more credibility, he argues.
"I would distinguish that type of celebrity influence from let's say, listening to [Robert] De Niro because he flips off the president. I think you've got to have more of a constructive approach."
Although he's recently distanced himself from politics, Kanye West is someone else who is not in the "constructive" category.
The rapper has been a vocal admirer of President Trump, upsetting many of his fans and other hip-hop figures.
"If Kanye had said something that was comprehensible and that was meaningful, then Kanye has got a contribution," Prof Lucas says.
"But when Kanye does what he does, he becomes a figure of fun and everybody on the Republican side was quite happy for him to drop out of politics, whatever that meant."
John Curtice, professor of politics at the University of Strathclyde, believes that while celebrities provide a way of generating coverage and possibly help get a politician's message across, they can come with disadvantages.
The classic example in the UK, he says, was when comedian Kenny Everett appeared alongside Margaret Thatcher at the 1983 Conservative Party Conference, where his appeals to "bomb Russia" and kick Labour leader Michael Foot's walking stick away were probably not what the prime minister had hoped for.
"Celebrities are fine so long as they generating favourable publicity," Prof Curtice says. "But they can sometimes end up generating unfavourable publicity because they're not necessarily always politically nuanced."
Back to the US 2018 mid-terms, and Prof Lucas says it wasn't a surprise that Taylor Swift couldn't give Phil Bredesen the necessary push to beat Republican Marsha Blackburn in traditionally Republican Tennessee.
"Tennessee is one of the deepest red states in the union, so it was always going to be an up tail battle to take it," he says.
But he adds: "If you look at the youth vote in Tennessee and if you look at the youth vote across the US, then Taylor makes a difference."
In the two days after the star posted her original message on 7 October, Vote.org received 212,871 new voter registrations across the country, with the most in the 18 to 24 age group. In October 2016, there were an average of around 13,000 per day.
According to CNN, exit polls showed that around 69% of voters aged between 18-29 chose Bredesen on Tuesday. Nationally, 67% of that age group voted Democrat.
'Everything shifts' in 2020
In 2014, 54% of voters in that age group voted Democrat, CNN said.
That rise clearly isn't down to Taylor. There are many factors - especially the change of occupant in the White House - that mean young voters are more motivated to vote, and to vote Democrat.
But Prof Lucas believes the influence of figures like Swift in helping to mobilise a young electorate could be key in the next presidential race in two years' time.
"If I'm looking at 2020, if you get an increase in voter participation among 18-24s like we had yesterday and it keeps going, everything shifts in US politics," he says.
"That's where Taylor becomes important because they did get a surge in voter registration, especially among young people."