'Accidental album' up for major music prize
By Mark Savage
BBC Music reporter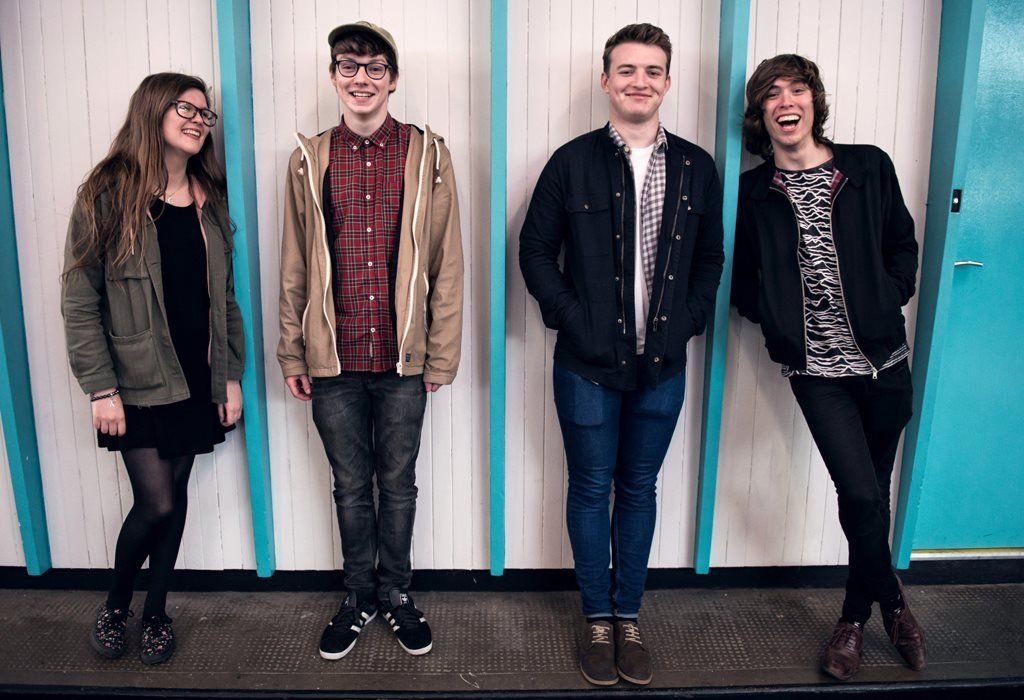 "It's quite ridiculous," says Taylor Johnson. "Completely outrageous."
The singer is reflecting on his band's nomination for album of the year in the Northern Ireland Music Prize, against the likes of Ash and Snow Patrol.
"We're probably the only band on the shortlist who have an album that was never meant to be an album," he says.
"It's a collection of 13 demos that we made by ourselves, on a nothing budget. Then we got signed and the record label loved it and wanted to put it out.
"We never, ever intended this to be a record. Ever."
The album in question is Seatbelts For Aeroplanes; and Taylor's band is called Brand New Friend.
They were formed just two years ago when the 23-year-old, who'd been gigging around pubs and clubs in the seaside village of Castlerock, enlisted his younger sister Lauren, 20, to join him on vocals and keyboards.
Bassist Aaron Milligan, 21, and drummer Luke Harris, 19, were added soon afterwards and together they concocted a contagious mix of indie hooks and exuberant pop harmonies that's seen them championed by BBC Radio Ulster, and booked to play the BBC Introducing Stage at Reading and Leeds.
Listening to their immediate, hooky indie-pop, you can see why Xtra Mile Recordings wanted to rush out the band's demos, even though Taylor still "cringes" at their imperfections.
"I think we're a far better band than that now," he says. "We're playing a million miles an hour because we had to do the whole thing in four days."
The band keep that energy on stage - promising to squeeze in seven songs during their 20-minute set at the Northern Ireland Music Prize ceremony at the Ulster Hall on Thursday night.
They'll arrive at the ceremony after clocking off from their day jobs: Taylor works as an estate agent in Ballymena ("I'm calling you from the office right now"), while his sister is studying in Queen's University, Belfast. Aaron, however, has found it harder to juggle work with the band's burgeoning success.
"He's the one who's suffered the most," says Taylor. "He's had five or six different jobs since he joined the band, he's had to sell his car, he's been unbelievably skint - like crazy skint - loads and loads of times.
"I think in 2018 it is unrealistic to think you could make a living from this. Obviously that's the dream but we don't mind going to work as long as we know we can pick up our guitars that night and let off steam."
"Being nominated might help a band get a bit of funding, it might help secure an agent, it could secure a tour, it may encourage more streams," she says.
"That's the reason for the prize: How do we help ensure that the artists have a better chance?"
'Space colliery synth album'
The Northern Ireland Music Prize is now in its sixth year, with previous winners including Foy Vance, Soak and Ciaran Lavery.
This 2018 ceremony is the biggest yet, with new categories including best live act and best single, in recognition of the scene's rude health.
"There's certainly more bands making albums, playing shows, and vying for attention than I can ever remember," adds Snow Patrol's Gary Lightbody, who'll receive an outstanding contribution award on Thursday night in recognition of his support for the local scene.
"Kitt Phillipa, for example, is someone I really love. I think they're an extraordinary songwriter. Someone that could be an artist to watch in the future. I think they could be an international act."
Phillipa is up for best single for Human, an emotional, graceful track that explores the complexities of their non-binary identity; in a category that also includes Ash's visceral Buzzkill, and Roe's anti-bullying pop anthem Hey Thomas.
This best album list is "the most diverse ever," says Dryden - with dance duo Bicep rubbing shoulders with punk jazz collective Robocobra Quartet and rock architects And So I Watch You From Afar.
But Dryden says "the most leftfield of them all" is Hannah Peel.
The Craigavon musician describes her third album Mary Casio: Journey to Cassiopeia "as a space colliery synth album" that mixes analogue synths with the sounds of a traditional brass band.
She was commissioned to write the piece as a response to Mike Oldfield's Tubular Bells but, somewhere along the way, it morphed into a meditation on the EU referendum.
"On the news they kept focusing on things like, 'Oh there's this guy in Barnsley and he's giving off on why we should be out of the EU' and I just felt like, 'right I'm going to take you all into space, and it's all going to be connected again'.
"There's an amazing quote from Carlo Rovelli, who's a physicist: 'We have a hundred billion neurons in our brains, as many as there are stars in a galaxy.' And that, for me, just connected everything. Despite all these wars and divisions and everything we do to segregate ourselves, we're all the same. We're all still stardust."
Peel says awards like the Northern Ireland Music Prize provide an important corrective to the more commercially-minded Brit Awards and Mercury Prize.
"I don't think you get a chance any more in the Mercury to hear the outer edges of Britain," she says. "There's definitely a commercialism to it now that there didn't seem to be 10 years ago and that's really sad.
"I do think that maybe that should change - maybe the winner from each country should be automatically entered into the Mercury, as something you should listen to, no matter how obscure it is."
"There's definitely something in that," says Dryden. "The Mercury is the one everyone looks to, but it could be argued that there's been a bit of under-representation from Wales, from Ireland, from Scotland over the years.
"Maybe this could help generate a bit of fresh excitement - even a little bit of curiosity - about completely new stuff. So yeah, I would be all for that."
Northern Ireland Music Prize - album of the year shortlist
And So I Watch You From Afar - The Endless Shimmering
Ash - Islands
Bicep - Bicep
Brand New Friend - Seatbelts For Aeroplanes
Ciaran Lavery - Sweet Decay
Girls Names - Stains On Silence
Hannah Peel - Mary Casio: Journey To Cassiopeia
Malojian - Let Your Weirdness Carry You Home
Robocobra Quartet - Plays Hard To Get
Ryan Vail - Distorted Shadows
Snow Patrol - Wildness
The Wood Burning Savages - Stability
Related Internet Links
The BBC is not responsible for the content of external sites.