Bob Dylan and Neil Young co-headline UK festival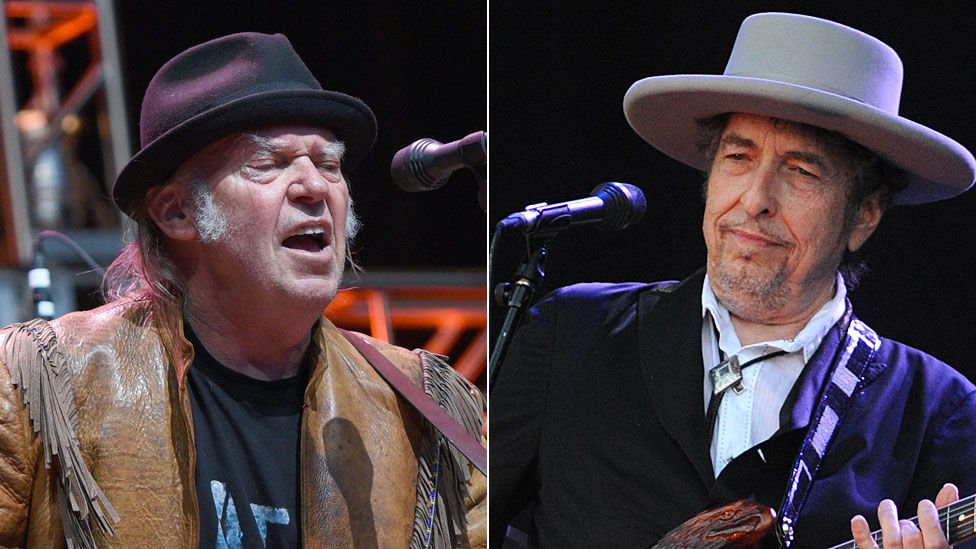 For the first time, veteran singers Bob Dylan and Neil Young have been announced as joint headliners at a UK music festival.
Both musicians will play London's Hyde Park as part of British Summer Time on 12 July though it's not yet clear in which order they will play.
The pair have shared a stage many times previously, beginning in 1976 at a farewell show for Dylan's backing band.
They have also named-checked each other in several songs.
In 2005, Young told Time magazine he was a "B" student of Bob Dylan, adding: "I'll never be Bob Dylan.
"He's the master. If I'd like to be anyone, it's him."
Dylan repaid the compliment in 2007, telling Rolling Stone: "He's sincere and he's got a God-given talent. With that voice of his and the melodic strain that runs through absolutely everything he does... There's nobody in his category."
Dylan, who won the 2016 Nobel Prize in Literature, toured the UK last summer while Young played the O2 in London two years ago
Earlier this summer, artists including Roger Waters, Bruno Mars and Michael Buble played the Hyde Park festival.
Tickets for Dylan and Young go on presale on Tuesday and general sale on Friday.