Books 2019: Which top fiction picks will you choose?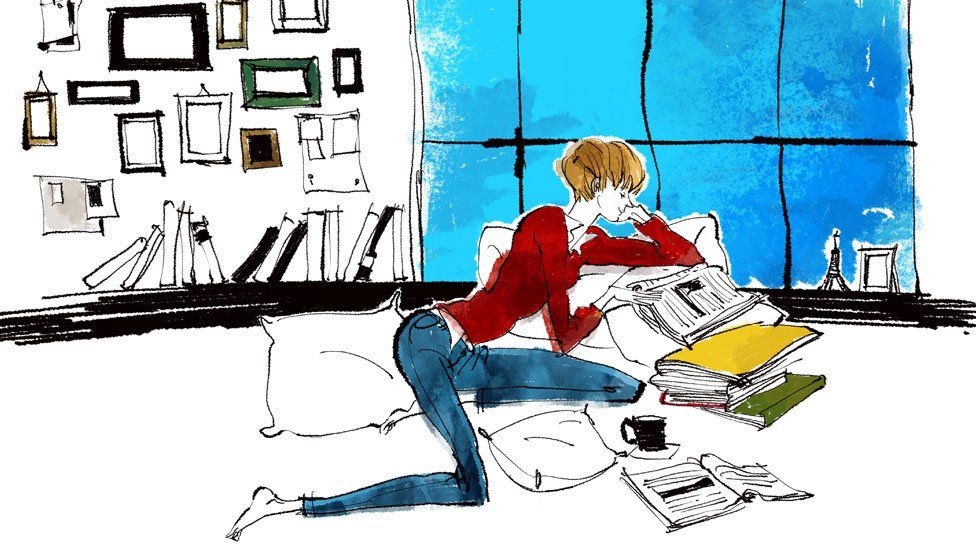 Each new year brings a frisson of excitement among book lovers as they anticipate the happy hours ahead absorbed in a library's worth of fresh reads.
And 2019 looks to be bumper year.
To whet your appetite we've picked a selection of fiction titles from a range of established and new authors.
The list is by no means exhaustive. It may not even end up tempting you. But take a look - and hopefully you'll find something to enjoy.
Fiction by literary heavyweights
Ian McEwan - Machines Like Me
Credentials: McEwan is the best-selling, Booker-nominated author of works including Atonement, Amsterdam, The Children's Act and On Chesil Beach. Most of his books shoot straight to the top in the charts and many have been adapted for the screen. His last novel was Nutshell.
The new book: In this, McEwan has taken his creativity into a subversive alternative 1980s London. Britain has lost the Falklands war, Margaret Thatcher battles Tony Benn for power and Alan Turing achieves a breakthrough in artificial intelligence (AI). But if you've ever wished AI could create you the perfect partner, the young couple at the centre of McEwan's story find out the danger in inventing things beyond our control.
Machines Like Me is published on 18 April 2019 by Jonathan Cape in the UK.
Margaret Atwood - The Testaments (a sequel to The Handmaid's Tale)
Credentials: Though first published in 1985 (and nominated for the Booker Prize), Atwood's Handmaid's Tale is considered to have become increasingly relevant and has acquired a cult following. It's a story about life under a totalitarian regime in the US. Offred is one of many women who have been stripped of their previous identities and rights and forced into sexual servitude by the commanders of the Gilead regime. Two hit series of the story have recently been made for TV.
The new book: Exciting but frustrating in equal measure, all we know is that The Testaments is set 15 years after Offred's final ambiguous scene in The Handmaid's Tale, where the van door slams on our heroine's future. But Atwood has also let on that the story will be narrated by three female characters, adding: "Dear Readers: Everything you've ever asked me about Gilead and its inner workings is the inspiration for this book. Well, almost everything! The other inspiration is the world we've been living in." The new book will be the 79-year-old's first novel since the Shakespeare-inspired Hag-Seed was published in 2016.
Testaments will be published in September 2019 by Chatto and Windus.
Joanne Harris - The Strawberry Thief
Credentials: Harris is best known for captivating hearts with her 1999 novel Chocolat, the story of Vianne Rocher, who opens an unusual chocolate shop in the sleepy French village of Lansquenet. It was turned into a film starring Juliette Binoche and Harris went on to create a mini-series of Vianne with three more stories. Fans have been holding out for a final instalment (while Harris went off-piste to write fantasy novels under the name Joanne M Harris) - and here it is.
The new book: Vianne and her magical daughter Rosette are well settled in Lansquenet, the place that once rejected them. Even Reynaud, the grumpy priest, has become a friend. But trouble lies ahead, unleashed by the death of old Narcisse, the florist, throwing the village once more into disarray. The arrival of Narcisse's relatives and the opening of a mysterious new shop, uncomfortably like Vianne's, seem to herald impending turbulence, perhaps even murder...
The Strawberry Thief is out on on 4 April 2019 published by Orion Fiction.
Mark Haddon - The Porpoise
Credentials: Haddon's name has become synonymous with the global 2003 hit The Curious Incident of the Dog in the Night-Time, which won him the Whitbread Book of the Year and created a West End stage phenomenon. He went on to hone his art of domestic dramas with A Spot of Bother and The Red House. He then turned to short stories in The Pier Falls, for which he (surprisingly perhaps) reworked two mythical legends to bring them into the contemporary world.
The new book: The Porpoise is Haddon's first new novel in seven years and proves he's found a taste for the ancient. The story is based on the epic tale of Pericles, Prince of Tyre. At its core is a fractured family adrift at sea, desperate to get home while battling against violent forces. The Porpoise is a ship and the story leaps from the modern era to ancient times with a diverse cast, including pirates and ghost women with ghastly teeth. The Porpoise sounds a rough ride. Be brave, don the life jacket and dare to jump aboard.
The Porpoise is published in May 2019 by Chatto and Windus.
Graeme Simsion - The Rosie Result
Credentials: Simsion's 2013 comic novel The Rosie Project became an international bestseller with the unorthodox story of the socially inept geneticist Don Tillman and his scientific questionnaire, schedule-based search for love. He eventually finds the spirited Rosie, who derails his methods and makes him question his secure, technical approach to life. The Rosie Effect followed in 2014 and charts the inevitable strain - and near disaster - brought to the relationship by impending parenthood.
The new book: If you've read the first two Rosie books, you'll jump for joy at this long-awaited finale. Happiness and calm at last might be your wish for Don and Rosie but since when did that make for attention-sustaining entertainment? So, here we see Don's "contentment graph" taking a steep downwards turn. His son is struggling and Don and Rosie have big worklife strife. Can Don trust friends to help him through the turmoil, can he allow his son independence - and will he finally understand himself?
The Rosie Result is out on 4 April, published by Penguin/Michael Joseph.
Jeanette Winterson - Frankisstein
Credentials: Winterson is best known for her award-winning Oranges Are Not the Only Fruit, a semi-autobiographical novel about a sensitive teenage girl rebelling against her draconian mother and trying to work out who she really is, in particular in terms of her sexuality. Winterson returned to that material in her painful yet humorous memoir Why Be Happy When You Could Be Normal? Overall she's written 10 novels as well as children's books and screenplays.
The new book: Winterson reboots Mary Shelley's Frankenstein for the 21st Century, launching us into a hold-on-to-your hat modern-day horror story about very modern-day neuroses and issues, including identity, technology, gender and sexuality. Starting in 1915, Mary Shelley writes a story about AI. Zoom forward to post-Brexit Britain and we enter a world of a transgender doctor struggling with his feelings for a celebrated professor leading the AI debate. Elsewhere new generation sex dolls are being mass produced and a cryogenics facility is holding a mass of dead bodies waiting to come back to life. Challenging reading, to say the least.
Out 23 May 2019, published by Jonathan Cape.
Two extras of potential interest: The latest novel from Tracy Chevalier, The Single Thread, will be out on 5 September (Harper Collins) and Ali Smith brings out Spring, the third instalment in the novel cycle the Seasonal Quartet, on 28 March, published by Penguin/Random House.
Richard Roper - Something to Live For
Credentials: Richard Roper was inspired to write his first book by a newspaper article about the council workers who have the grim task of dealing with the homes and belongings of people who die alone. Searching high and low for clues to next-of-kin is a priority. Otherwise it's the council that pays for the funeral, a send-off that forcibly needs to be "cheap", ending in an unmarked grave.
The debut book: The inspiration for Something To Live For may not sound too appealing. But the story Roper tells is a charming, humorous and life-affirming tale about human kindness that strikes a chord in a world where loneliness is a growing problem.
The protagonist is Andrew, one of the council staff whose livelihoods depend on death. And he goes the extra mile by attending the otherwise mournerless funerals. But Andrew is equally alone. In his dismal flat he eats beans on toast and plays with his toy trains. His biggest problem is the lie he's told people about having a beautiful wife and gorgeous children, to get his irritating colleagues off his back. Andrew could drift on like this forever but when a young woman named Peggy joins the team, his equilibrium begins to shake.
Something to Live For will be published on 27 June 2019 by Orion Fiction.
Beth O'Leary - The Flat Share
Credentials: O'Leary wrote her first novel on her work train commute to a children's publishers. She's now a full-time writer. Her inspiration for The Flatshare came from living with a doctor boyfriend who worked nights. They were in the house for the exact opposite hours so never saw each other. O'Leary started noticing the small things that told her how he was and it got her thinking about how much you could learn about somebody just from domestic clues. She was also inspired by her and her friends' often soul-destroying experiences of renting in London.
The debut book: Tiffy and Leon share a flat. Tiffy and Leon share a bed. Tiffy and Leon have never met. These are the taglines for O'Leary's story, which taps firmly into the current-day housing crisis. The two end up in the same flat out of desperation. Tiffy can only afford somewhere cheap to live. Leon also needs to raise money to help his brother. But since he works nights, he never sees his lodger and bedsharer. Nonetheless, like amateur detectives, they come to know each other very well - through a series of post-it-notes, left-overs and friends. But could Tiffy and Leon finally meet? That's for you to explore.
The Flat Share will be published in April by Quercus.
Soren Sveistrup - The Chestnut Man
Credentials: If you were a fan of The Killing, you probably know Sveistrup, the creator and writer of the Danish Scandi Noir crime series. It revolved around Detective Inspector Sarah Lund and each new series followed a murder case day-by-day. Its fiendish plot twists and bleakness made the show an international hit. With this in mind, Sveistrup has all the ingredients to write novels just as gripping as his TV work.
The new book: The Chestnut Man is set in Denmark and tells the story of Rosa Hartung, minister of social affairs. She's just returned to her job a year after her daughter disappeared. But as Rosa returns to try to rebuild her life, elsewhere another family's is being torn apart. A young single mother is found murdered, with one hand cut off and an ominous chestnut figure hanging nearby. It's just the first in what evolves into a series of similar crimes. And bubbling under the surface is the increasingly urgent question as to whether the murders are linked to Rosa's own personal loss. The answer is for the story's two detectives - and the reader - to discover.
The Chestnut Man comes out on 10 January, published by Michael Joseph (Penguin).
Candice Carty-Williams - Queenie
Credentials: Carty-Williams comes with a strong professional and cultural background from which to launch herself into her first novel - and the topic within. She started out in publishing, then launched a BAME short story prize, became a mentor and still writes for Beat magazine.
The debut book: At its heart, Queenie is about the search for identity, told with a humour and lightness of touch.
Queenie Jenkins is a 25-year-old black woman living in London, who works in journalism. With great friends, affectionately known as the Corgis, and seemingly oozing confidence, everything seems rosy in Queenie's world. But it's a facade. Underneath, she's struggling with loneliness and her lack of self-worth, stemming from a dark secret in her childhood. A romantic break-up and the resulting change of home sets in motion a downward spiral of self-destruction for Queenie that the reader is willing her to fight against, and learn to be happy.
Queenie is published on 11 April by Orion Books.
Last, but hopefully not least, there is the usual crop of celebrity-written books on the horizon. Here are just a few:
Prue Leith - The Lost Son
She's known as a queen of the kitchen and one half of the judges for TV ratings smash The Great British Bake Off. But when not wielding a spatula, Leith's (metaphorically) brandishing a pen. The Lost Son is the third and final instalment in The Angelotti Chronicles, a decade-sweeping saga about an Anglo-Italian family and their struggle to rise above the turmoil and sadness of the past. (Oh, and the family patriarchs are in the restaurant business.) Published on 18 April by Quercus.
Melvyn Bragg - Love Without End: A Story of Heloise and Abelard
Even without knowing he's a novelist, most of us would see Bragg as a man with a big brain and one oozing culture. It's fitting therefore that the basis of his new book is one of the most enduring love stories in history - the romance between Heloise, "the cleverest woman in France", and the celebrated philosopher Abelard, in Paris during the 12th Century. Bragg's story moves backwards and forwards between the past and the modern day, in which the learned Arthur, who - with his passion for the famous love story - could remind you of Bragg himself. Published on 7 March by Hodder.
Russell Brand - Mentors: How To Help and Be Helped
Never lost for words, Russell's latest book (following his bestselling Recovery) is again full of his own particular "brand" of wisdom. He tells us about the people who have, and have had, a significant positive impact on his life and encourages us to look to others to become better individuals. He says we "are works in progress and through a chain of mentorship we can improve individually and globally". Mentors is released on 24 January by Bluebird.
Also to come later in 2019 is Elton John's autobiography in the autumn, as is one from Louis Theroux, both from Macmillan. And a new novel from Dawn O'Porter called So Lucky reaches us at Halloween, published by Harper Collins.