Kit Harington: Focused on stage despite 'emotional' Thrones goodbye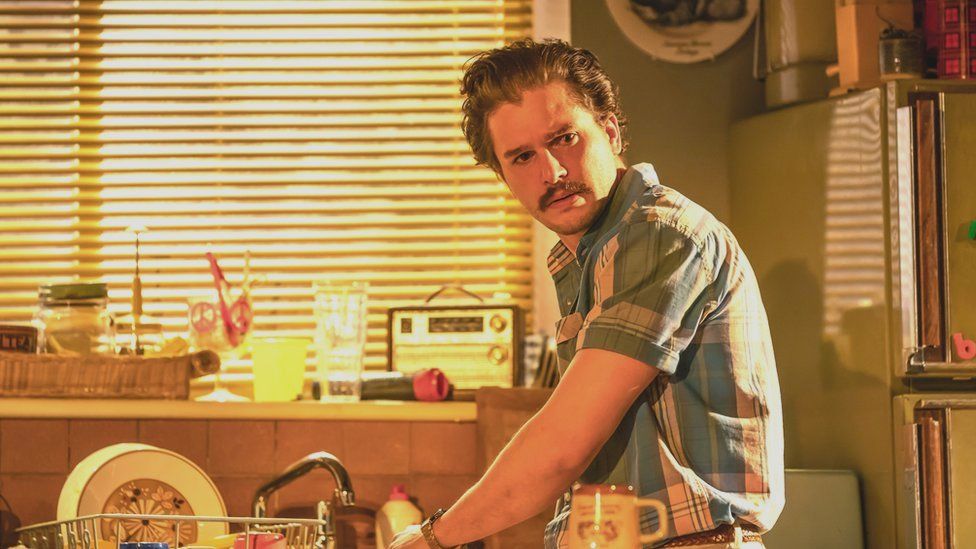 Kit Harington spent much of his 20s in the sprawling fantasy world of the international TV hit Game of Thrones. But now it's just him and his (pretend) brother slugging it out for dominance in a kitchen in California in the modern stage classic True West.
Director Matthew Dunster says it didn't take long to work out that Harington and Johnny Flynn would be perfect casting for the big roles in True West. But the thing he loved first was the title.
"As a writer, Sam Shepard had a gift for the poetry of a great title - there's Buried Child and Fool for Love and True West and Far North. Each of them is so evocative."
Shepard died last year aged 73 - Dunster regrets that he never met him. "It's the first London production of a Shepard play since then so it's our tribute to the talent that made him a major American playwright for 40 years."
True West is the intense story of two brothers. Austin - played by Harington - is an aspiring Hollywood writer who hopes to sell a screenplay to a producer. His brother Lee initially appears hopelessly shambolic but the balance of power between them shifts.
Harington says the two men can be seen as two halves of the same person. "By the time Sam Shepard wrote it he'd had a lot of experience in Hollywood and definitely one of the things he's writing about is creative integrity. Shepard is a very American playwright but also he's telling a story about fraternal rivalry which is universal."
The actor's last appearance on stage in London was in 2016 in Doctor Faustus. "I got a lot from playing that role but often I felt very alone doing it and at times I knew I'd leapt into something where I was a little out of my depth. But in True West I share the stage with Johnny and I knew at once it would be fun to do."
Flynn says he and Harington are building a sense of trust and companionship off stage. "It's a four-character play but inevitably it's the Austin-Lee dynamic which dictates the action. I know that on stage there's already an energy passing between us and that will only get more profound as the run progresses."
That energy manifests itself in a prolonged fight between the brothers. Dunster has brought in fight arrangers Rachel Bown-Williams and Ruth Cooper-Brown to choreograph.
"Actually the difficult part has been persuading Kit he can't always be the winner," he says. "At one point in rehearsal Johnny put a cable around Kit's neck for maybe five seconds and Kit freaked - he wasn't happy at all." Harington insists the biggest problem has been carpet-burn.
On screen Harington has had his fair share of action scenes playing Jon Snow in Game of Thrones since 2011. Shooting for the eighth and final season ended in June. Harington has been in the series throughout (despite having been bloodily killed off in season five).
He's used to fending off journalists' questions about episodes to come. Asked to describe the final story, which he filmed this summer, he volunteers that "there's a really big dance number" - which doesn't feel hugely reliable.
"It was emotional to leave the job definitely," he says. "But I wouldn't say I was sad: if like me you go all the way back to the pilot of Game of Thrones that's almost 10 years of your life - that's really unusual in an actor's career. It was a huge emotional upheaval leaving that family. But would I want to go back and do more? Not on your life."
HBO is currently at work on a prequel, reportedly set centuries before Game of Thrones. What if he were asked to film a single scene, maybe as an ancestor of Jon Snow? His answer remains an unequivocal no - he's enjoying stage-work too much.
Flynn has a second career as a musician. He's composed several pieces for the play, at Dunster's request. "But Matthew was insistent we avoid what could have been the musical clichés a British person might expect - probably slide guitar and cod blues.
"Partly the play is about the appropriation of narrative so I got thinking about the original people who might have lived in this landscape before Austin and Lee. I listened to a lot of music of the Hopi people and also Navajo and Mojave music - basically using a lot of drums and flute music. It has a medicine ceremony aspect to it which might involve ancestral spirits. It's been a great thing to explore."
There's only a tiny list of plays from the last 50 years which have had multiple revivals both in London and in New York. True West is on that list - and a different revival is to open on Broadway at the end of December, starring Paul Dano and Ethan Hawke.
Dunster says he's happy to be opening first. He thinks the play's continued popularity has two explanations.
"Partly it's commercial and practical: True West only needs four actors, which is great for producers watching the money. It's not a particularly long play and it doesn't call for a massive set.
"Yet somehow Sam's writing makes it feel epic - it's the way he handles the tensions on stage. Oddly, you could even compare it to the huge canvas of Game of Thrones: a lot of what kept us addicted there was division within families and between brothers.
"Family tensions are one of the most universal themes in all story-telling. We've all known those tensions but it takes a Sam Shepard to turn them into great drama."
True West is playing at the Vaudeville theatre in London.