Miya Folick: The pop star who started a band on Tinder
By Mark Savage
BBC Music reporter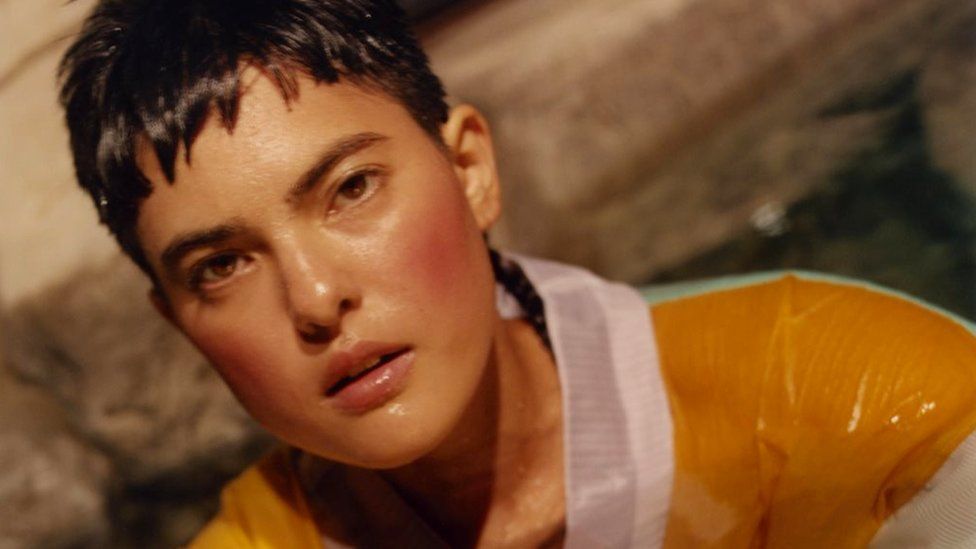 People go onto Tinder looking for lots of things - but a musical career isn't normally one of them.
But that's exactly what LA songwriter Miya Folick did, tapping up the dating app to find herself a band. And it worked.
"You can make a profile on TInder and have it say whatever you want," says the singer.
"I realised that most people in LA were on Tinder and, of those people, many were probably musicians - so I just made a profile that said 'looking for a band' and put my Instagram handle on it. My bass player Brian reached out to me, and that was that."
That was three years ago, since when Folick and her band have roamed the paths of California folk-rock, spiky punk-pop and self-excavating electronic balladry.
In fact, the songs on her debut album, Premonitions, often sound like they could have come from different albums, even different artists.
Tying it all together are the 28-year-old's otherworldly vocals, which soar and dive like a jumper in a tumble dryer, only more tuneful.
She phoned the BBC from her tour bus to talk about her unique sound; the accuracy of her Wikipedia page; and how one of her songs was inspired by Black Panther star Lupita Nyong'o.
I'm interested in why Premonitions has so many moods and textures. Usually, a debut album sticks to one genre to establish the artist in the public's consciousness.
I know what you're saying and that's definitely something I was fearful of at first. It's easier to have one sound that people can digest easily - like a calling card or a very specific aesthetic, but that's not what I was interested in making.
I was obsessed with the idea of making an album like Bjork's Post which is really eclectic and creates a dynamic and interesting world.
That's a high bench mark to set for yourself.
Yeah! Just an obscure little album.
With streaming, people are increasingly listening to individual tracks and playlists - so maybe diversity isn't the problem it used to be. Your album has something for everyone.
Right. It's interesting because people allow for that diversity in certain genres of music but not in others. I'm from the indie world, where people expect you to have a very specific sound. But then I look at artists like Rihanna. Anti was not a homogenous album at all, but nobody bats an eyelid.
Your lyrics often take seemingly insignificant moments - eating breakfast, or painting your nails - and use them to reveal deeper emotional truths. You could almost have a second career as an observational comedian.
I love that because stand-up comedy is the most terrifying thing in the world to me! I think I'd be horrible at it, so I'm glad to be compared in any way to a comic.
But my favourite artists are those who can make something very small and mundane feel really huge and significant. I think there's a lot of pop music about spectacles and partying and having a larger-than-life experience - but I'm more interested in the little things. Like the "tiny happinesses" I describe in What We've Made.
That song is really romantic - but at other points you're very hard on yourself. On Premonitions, you ask people to challenge you on your "bad behaviour". Was that inspired by anything in particular?
Um... Yes?! That song was about a specific relationship. I felt like I was taking advantage of somebody's kindness and I didn't like that.
When you first listen to the song, you think, "OK, she's being hard on herself" but if you keep listening, it's also saying to the other person, "You shouldn't let people walk all over you".
That's a classic end-of-relationship thing: "I feel bad for stringing you along but, at the same time, haven't you noticed I've lost interest?"
Yeah! It's kind of like, "Before I go, you should know that you shouldn't let someone treat you like I have."
Deadbody is a very powerful and timely song about sexual abuse and the #MeToo movement. What prompted that lyric?
I wrote that when all the Harvey Weinstein information was coming out. Specifically, I had read an article by Lupita Nyong'o, the actor, and there are lyrics in that song that are directly taken from her story. Not word for word - but the idea of pouring coke and vodka and telling her to drink it, and saying, "Baby, be a nice girl and drink the drink I got you".
It's not something that's been tackled a lot in music, apart from maybe Lady Gaga's 'Til It Happens To You. Why do you think that is?
I've heard a lot of revenge or "screw you" songs, and for good reason. But I wanted to make something that wasn't really about the other person. A song that makes you feel you're not alone - and less about saying, "You suck".
And then I found music. I found it later in life… I think if I'd discovered it in high school, I would have wanted to do that, but I just didn't know.
In Leave The Party, you have a lyric about "reading Wikipedia until my eyelids fall down". Can we take a moment to fact-check your Wikipedia page?
You were raised as a Buddhist and learned to play Taiko drums in church.
You started your first band on Tinder.
Well, I started the band I play with now on Tinder.
You studied acting in New York and initially intended to go into the film industry.
Yeah, so I went to NYU in New York and my intention was to be an actor. But it turned out that I didn't really like auditioning, which is pretty critical.
Does that stage training come in handy when you play live?
It definitely does. But I think it affects my lyric-writing more than my performance. Because we used to study the text, I'm always asking myself, "What does this mean and why am I communicating it this way?" It forces me to be a little harder on myself: If I can't say why I'm saying something, I won't say it.
Premonitions is out now on Terrible Records.
Related Internet Links
The BBC is not responsible for the content of external sites.