'Funny/scary' Bros documentary becomes surprise Christmas TV hit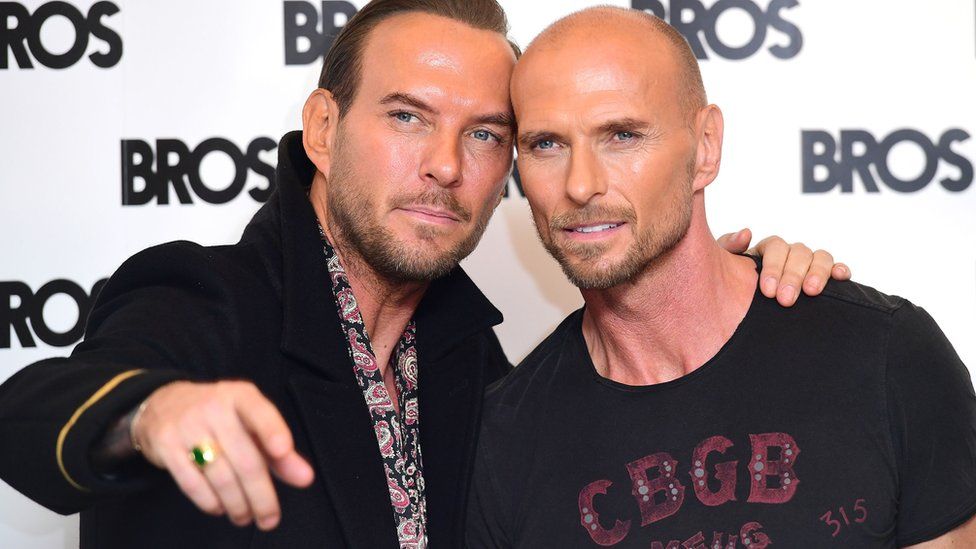 A documentary about the tense reunion of pop band Bros has become one of the surprise must-see shows of Christmas.
Described in one tweet as "the funniest/scariest, most eye gougingly enjoyable piece of modern day celluloid", the film follows twins Matt and Luke Goss's ill-fated 2017 reunion.
After The Screaming Stops was shown on BBC Four on 23 December.
Fewer than 250,000 viewers watched it live, but many others have since discovered it on BBC iPlayer.
Skip twitter post by Julian Shea
Allow Twitter content?
This article contains content provided by Twitter. We ask for your permission before anything is loaded, as they may be using cookies and other technologies. You may want to read Twitter's cookie policy, external and privacy policy, external before accepting. To view this content choose 'accept and continue'.
The BBC is not responsible for the content of external sites.
End of twitter post by Julian Shea
Skip twitter post 3 by Phil McNulty
Allow Twitter content?
This article contains content provided by Twitter. We ask for your permission before anything is loaded, as they may be using cookies and other technologies. You may want to read Twitter's cookie policy, external and privacy policy, external before accepting. To view this content choose 'accept and continue'.
The BBC is not responsible for the content of external sites.
End of twitter post 3 by Phil McNulty
Skip twitter post 4 by Amol Rajan
Allow Twitter content?
This article contains content provided by Twitter. We ask for your permission before anything is loaded, as they may be using cookies and other technologies. You may want to read Twitter's cookie policy, external and privacy policy, external before accepting. To view this content choose 'accept and continue'.
The BBC is not responsible for the content of external sites.
End of twitter post 4 by Amol Rajan
'Compulsive viewing' - what the critics said
It was originally screened at the London Film Festival in October, when The Independent's Adam Sherwin said it was "the best music film since This Is Spinal Tap", the cult 1984 'mockumentary' about a British heavy metal band playing their own comeback tour.
"For 90 minutes, the 50 year-olds, whose signature hit asked When Will I Be Famous?, scratch away at each other's fragile egos and insecurities, apparently oblivious to the camera crew documenting each perceived slight and hissy fit," he wrote.
Writing on music blog Get Into This, Peter Guy said: "It's the lack of self-awareness and endless reams of quotes from the brothers which has resulted in a real-life Spinal Tap which is as hilarious as it is wince-inducing.
"Part David Brent, part Alan Partridge and part Metallica, After The Screaming Stops is compulsive viewing."
How the director captured 'epic fights'
Director Joe Pearlman told BBC Radio 5 Live: "The reaction's been unbelievable, it's playing exactly like we thought it would.
"We sat down with Matt and Luke in Los Angeles to discuss the prospect of making a film and the first conversations we had, you knew that not only were they ready to talk and ready to put some of their differences aside but also they they were just perfect characters to make a film about."
The film was made by James Corden's production company Fulwell 73 and opens with the brothers having a passionate argument in the dressing room of ITV's This Morning.
Pearlman said he had full editorial control of the film because Matt and Luke "wanted to show how raw the emotion was".
He added: "They've barely spoken in 25 years and bringing them together... they were ready to show the world what they thought of each other.
"The fights are epic to say the least."
A few of their best one-liners...
"I made a conscious decision because of Stevie Wonder not to be superstitious" Matt Goss
"I'm a Londoner. Embankment. Big Ben. Cab drivers." Luke Goss
"The best toy we had growing up was a dart. No dart board, just a dart." Matt Goss
"One of my songs is called We're All Kings. Which is about a man sweeping the road - he's one of my kings because I'm thankful I don't have to sweep the road." Matt Goss
"The letters H.O.M.E. are so important because they personify the word home." Matt Goss
Bros were fleetingly the biggest band in Britain, achieving eight UK top 10 singles between 1987-89 and inspiring devotion among an army of Brosettes.
Their debut album Push topped the charts in 19 countries and sold more than seven million copies.
They sold out Wembley Stadium in 1989, shortly before the band's Scots bassist Craig Logan left.
The initial demand for tickets did not meet expectations, however, and all but the shows at London's O2 Arena and a gig in Manchester were cancelled, with the brothers blaming "unforeseen logistical circumstances".