Bafta winner Letitia Wright talks about depression struggle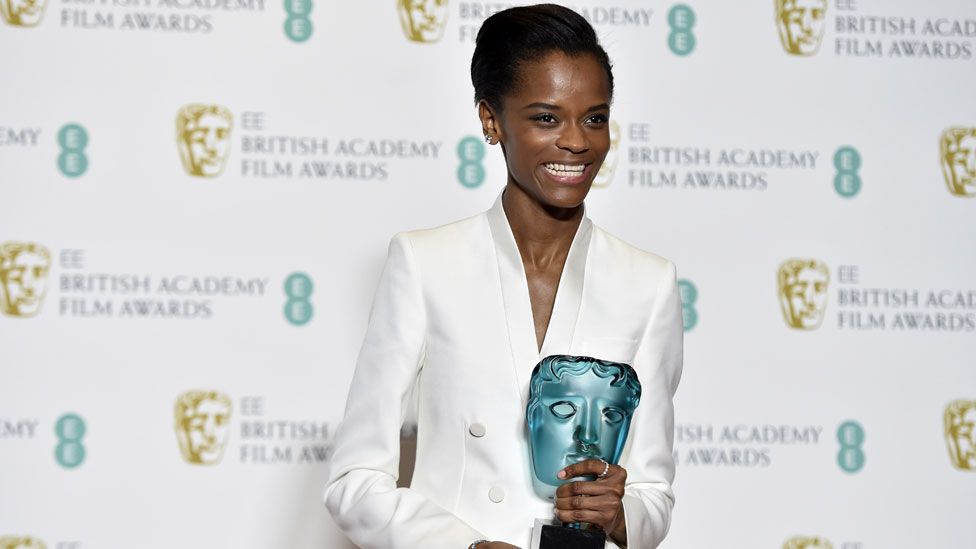 Black Panther star Letitia Wright has revealed she almost gave up acting.
"A few years ago I saw myself in a deep state of depression and I literally wanted to quit acting," she said.
Wright was speaking after winning the Bafta Rising Star Award on Sunday - the only one to be voted for by the public.
"The only thing that pulled me out of it was God, my belief, my faith and my family, and an email from Bafta asking me to become part of the Bafta Breakthrough Brits," she said.
"I was like: "Let me try again'.
The actress was included on Bafta's Breakthrough Brits list in 2015 and has since starred in Avengers: Infinity War and Black Mirror as well as Black Panther.
She continued: "This wasn't an overnight thing, this wasn't a click of a finger success, and I'm still a work in progress, but I want to thank God, my family, my team…
"I want to thank everybody who said yes to me, that gave me a chance, and just saw my talent and saw what God placed in me, and said 'yes'.
"I want to encourage young people. You don't have to be young, you can be any age, but I want to encourage you - anyone going through a hard time... God made you and you're important, there might be some of you here who might be going through a hard time.
"I just want to encourage you and God loves you. Just let your light shine.
"And the category I'm in… this means so much to me, you guys all inspire me. All of you have inspired me so much, so God bless you, thank you, Jesus thank you, thank you."
Speaking backstage after her win, Wright said her award was the result of "years of hard work and dedication and picking myself back up".
"It's a tough business, but I pride myself in having faith and ploughing through," the 25-year-old told reporters.
The actress, who recently appeared at London's Young Vic theatre in The Convert, said her speech on the stage of the Royal Albert Hall had come "from the heart".
"I was struggling with stuff before that many people in the industry are struggling with and are hiding away from... and that was my opportunity to say, 'I see you and I understand what you're going through.'
"A red carpet and a nice dress looks great, but people on the inside are feeling sad and feeling broken, so how can I encourage them tonight?"
In her excitement, though, she admitted she had forgotten to thank her parents "and all of her good friends".