Disney fans mock Will Smith's Genie in Aladdin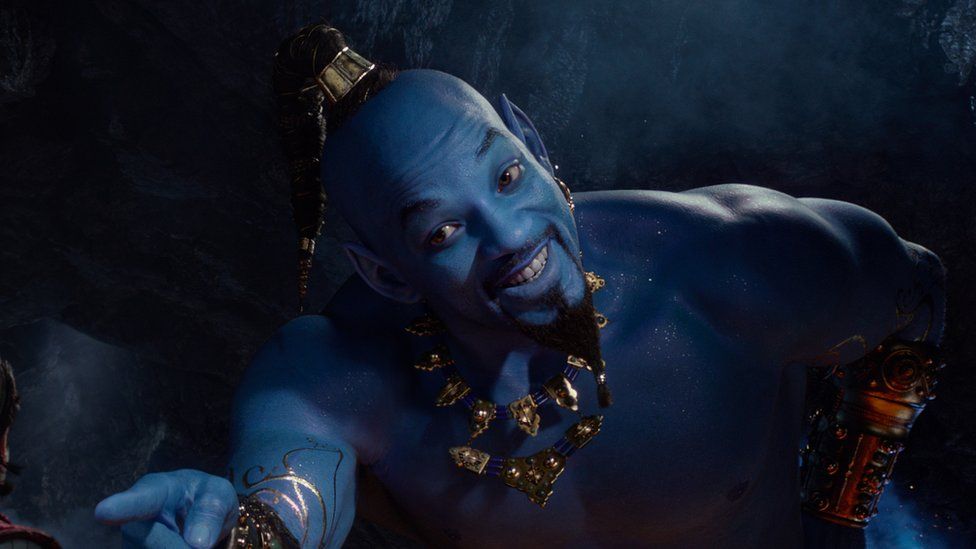 Disney granted everyone's wish on Sunday when they finally gave a first look at Will Smith's blue Genie in the new live action version of Aladdin.
Unfortunately many fans were not impressed with what they saw and were quick to say so on social media.
"It turns out that Will Smith's Aladdin Genie will haunt my nightmares," tweeted one user.
Another added: "I'll never sleep again and it's all Will Smith's fault."
The trailer for director Guy Ritchie's latest offering was revealed midway through the Grammy Awards, and sees Aladdin approaching the Cave of Wonders in search of the lamp.
When Disney first released images of the upcoming film, Smith admitted it was "always terrifying" whenever "you're doing things that are iconic".
The actor told Entertainment Weekly he tapped into his roles from Bad Boys and The Fresh Prince of Bel-Air to shape his Genie.
When teasing what the blue immortal would look like, Ritchie said he wanted a "muscular 1970s dad".
He added: "He was big enough to feel like a force - not so muscular that he looked like he was counting his calories, but formidable enough to look like you knew when he was in the room."
All three of my wishes would be to unsee the Will Smith genie

— childish Sambino (@HelloSamLloyd) February 11, 2019
If I were a child seeing that Will Smith genie CGI, I would have nightmares for a smooth week and a half.

— Morgan Jerkins (@MorganJerkins) February 11, 2019
However, other film fans said they would wait to make their minds up when the movie is released in May.
Yeah, that Will Smith Genie looks a liiiiiiitttle off, but I reckon in the full thing it'll look wild as heck in a good way. Intrigued.

— Ben M-J (@V_Ben) February 11, 2019