Karl Lagerfeld: Designer's cat Choupette 'named in his will'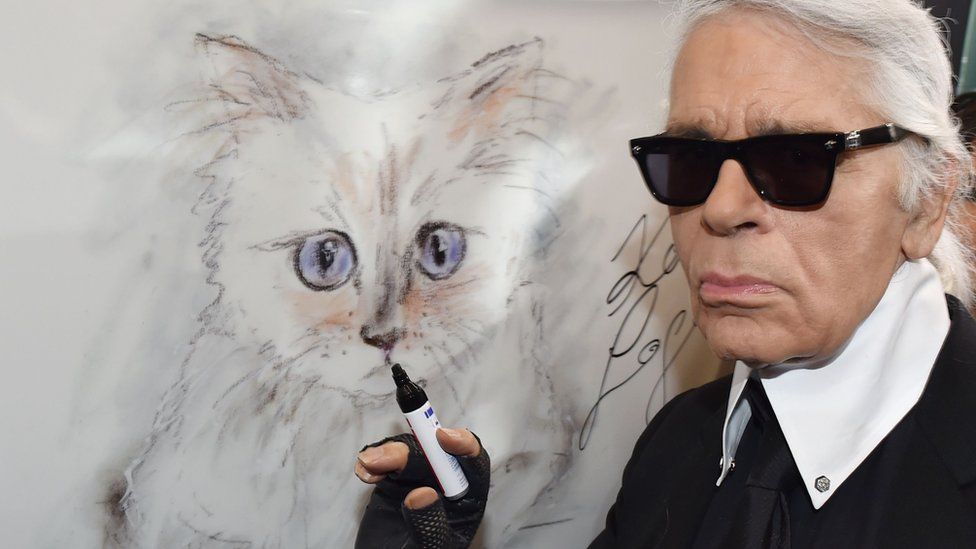 It has emerged that the late fashion designer Karl Lagerfeld has left some of his $200m (£153m) fortune to his cat.
The German designer, who was the creative director for Chanel and Fendi, died in Paris on Tuesday.
The designer became a devoted cat owner and lavished attention on his pet after Choupette was given to him in 2012.
In the interview, he said Choupette was in his will, "among others". But he added: "Don't worry, there is enough for everyone."
Choupette already has a substantial fortune to her name, having earned $3m (£2.3m) doing adverts for a German car firm and a Japanese cosmetics brand with Lagerfeld.
In a separate interview with Numero, Lagerfeld revealed he employed two maids to look after the pampered animal who, he said, has "four different dishes prepared for her" each day "served in fabulous bowls".
He also made Choupette a social media sensation, with her own Twitter and Instagram accounts that have a combined following of about 200,000.
A tribute to the designer was posted on the cat's Twitter account on Tuesday.
She is also the hero of a book, Choupette: The Private Life of a High-Flying Fashion Cat, for which she was photographed in the arms of supermodel Linda Evangelista and snuggling with the model and actress Laetitia Casta.
The book includes recipes for her favourite meals prepared by some of the best restaurants in Paris.
One typically lavish meal is a mixture of king crab, smoked salmon and caviar.
Choupette's help was sometimes sought by those trying to persuade Lagerfeld to adopt their ideas.
French actress and animal rights activist Brigitte Bardot wrote her a letter in 2015 asking her to "purr in the ear" of her owner so he would "stop using fur in his collections".
Chanel duly became the first major fashion house to go fur-free.
Lagerfeld is not the only celebrity to want to make provision for their animals' welfare in their will.
But Bubbles, the chimpanzee once owned by the late singer Michael Jackson, was not so lucky.
When he grew into an adult and started showing signs of aggression, he was sent to an animal sanctuary. Once he'd been moved to the home, Jackson did not pay for Bubbles' upkeep.
Bubbles has been earning his keep, though. Some of his artwork has been sold to raise money for the sanctuary.
Paws for thought: Five other famous felines
1. Larry, the Downing Street cat
Larry lives with the PM at Number 10, and is the Cabinet Office's chief mouser. He has his own Twitter account, which often passes comment on the issues of the day.
I've been asked by a lot of people if I'll be joining The Independent Group of MPs. We cats have been independent all along...

— Larry the Cat (@Number10cat) February 20, 2019
2. Palmerston, the Foreign Office cat
Not to be outdone, Palmerston also has his own Twitter account, and there's even a parody Twitter account, where he makes it clear that it is he - and not Foreign Secretary Jeremy Hunt - who is really in charge of proceedings.
Already shown Jeremy where the food is and how many times a day it should be administered, his litter tray duties and all the places he's not allowed to sit. Been a busy day so now time for a quick 17 hour lie down. https://t.co/cZau3MLM6P

— Palmerston the Cat (@PalmerstonFOCat) July 9, 2018
3. Venus, the cat with two faces
In 2012, Venus was briefly the most famous feline on the planet when a YouTube video of the unusual tortoiseshell was viewed more than a million times. A rare quirk of her genes means she has two distinctly different sides to her face. One half is solid black with a green eye and the other half has tabby stripes and a blue eye.
Exotic short-hair Snoopybabe, or Snoop for short, hails from from Chengdu in China's Sichuan Province. The wide-eyed feline has amassed more the 300,000 Instagram followers.
Fatso - AKA Keyboard Cat - passed away in 1987, but found posthumous fame as an internet meme. Fatso's owner Charles Schmidt uploaded a video, in which he was manipulated to look like he was playing a keyboard, to YouTube in 2007, and promptly broke the internet.