Peter Tork: Tributes to Monkees musician who has died aged 77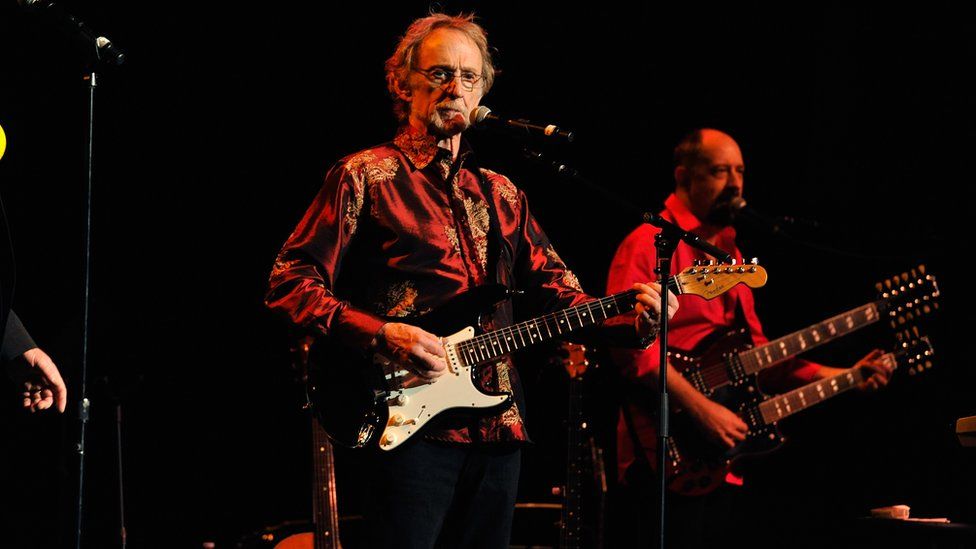 Peter Tork, a member of the made-for-TV pop group The Monkees, has died at the age of 77.
"There are no words right now... heartbroken over the loss of my Monkee brother Peter Tork," bandmate Micky Dolenz tweeted.
Tork, who played keyboard and bass for the group, was diagnosed with a rare form of tongue cancer in 2009.
The Monkees were huge in the 1960s, with hits like I'm A Believer and Daydream Believer.
It said: "Our friend, mentor, teacher, and amazing soul, Peter Tork, has passed from this world."
A message posted on the band's official Twitter page said that Tork had "passed peacefully" and invited fans to share their favourite memories by adding their comments.
"Peter's energy, intelligence, silliness and curiosity were traits that for decades brought laughter and enjoyment to millions, including those of us closest to him.
"We ask that our family have time and space to grieve in privacy," it added.
Tork's contemporary, Brian Wilson of The Beach Boys, tweeted:
I'm sad to hear about Peter Tork passing. I thought The Monkees were great and Peter will be missed. Love & mercy to Peter's family, friends and fans. pic.twitter.com/NquzjTmtFx

— Brian Wilson (@BrianWilsonLive) February 21, 2019
The Monkees - Davy Jones, Micky Dolenz, Michael Nesmith and Peter Tork - were brought together for an American TV series in 1966.
They were famous for their clean-cut image and were marketed as the American answer to The Beatles, notching up nine Top 40 hits.
As well as playing instruments for the band, Tork also sang on many of the tracks.
Among those to pay tribute on Thursday were Canadian singer-songwriter Ron Sexsmith and Blur guitarist and solo artist Graham Coxon, who simply tweeted: "RIP Peter Tork - my favourite Monkee."
Award-winning songwriter Diane Warren, who contributed to the 80s hit Nothing's Gonna Stop Us Now by Starship, tweeted "Oh no" and thanked Tork for "giving me your love beads... when I was a little girl".
The post on Tork's Facebook told fans: "We want to thank each and every one of you for your love, dedication and support of our 'boss.'
"Having you in our world has meant so very much to all of us. Please know that Peter was extremely appreciative of you, his Torkees, and one of his deepest joys was to be out in front of you, playing his music, and seeing you enjoy what he had to share.
"We send blessings and thoughts of comfort to you all, with much gratitude, the PTFB team."
Tork was born in Washington in 1942. He learned to play multiple instruments, including the piano and the French horn.
As recently as October last year, he addressed "some concerns" about his health on Facebook.
The Monkees ran for just two television series, but that was enough to win an Emmy Award for outstanding comedy.
He added: "There was a magic to that collection... they got the right guys."
In 2012, following the death of Jones from a heart attack in February at the age of 66, Tork reunited with Nesmith and Dolenz for a US tour in what was the musicians' first live shows together in 15 years.