K-pop group BTS to take 'extended' break from performing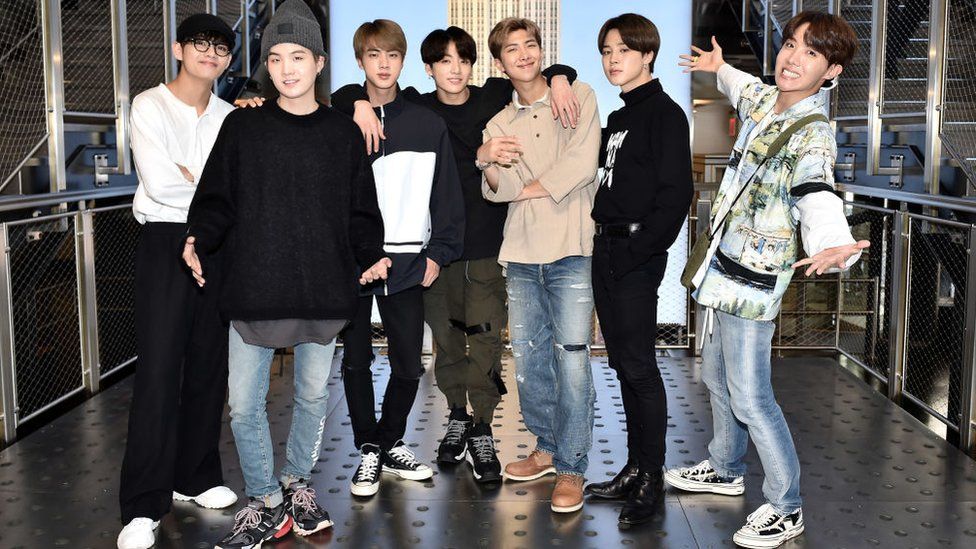 K-pop superstars BTS have announced that they will be taking an "extended" break from performing following a concert in Seoul on Sunday.
Their agency Big Hit Entertainment said the seven members would be undergoing a "period of rest and relaxation".
It added that the break would "provide them with a chance to enjoy the ordinary lives of young people in their 20s, albeit briefly".
This is the first time BTS will have taken time off since their 2013 debut.
It is not clear how long the break will last but they are scheduled to perform in Saudi Arabia in October as part of their world tour "Love Yourself: Speak Yourself".
It's possible their break is necessary because South Korean males still have to complete two years of compulsory military service between the ages of 18 and 28.
All of the BTS band members fit this age bracket.
Exemptions are occasionally granted - Tottenham forward Son Heung-min avoided military service for South Korea last year after helping his country beat Japan 2-1 in the Asian Games football final.
A gold medal at the event, along with an Olympic podium finish, is the only automatic way for a South Korean footballer to be excused a call-up.
BTS is one of the world's biggest boy bands, and boasts a huge and devoted fanbase.
Known for their meticulously choreographed dance style and boyish good looks, they were the first K-pop group to reach number one on the US album charts.
On Twitter, many BTS fans - who call themselves ARMY - said the boys deserved the hard-earned break.
Pls take care and stay safe. I'll miss you lots, but this is what you deserve and need the most 😭 Love you with my whole heart 💜💞 P.S Leaving this here as a reminder we only got each other, and no matter what we'll always love and protect you 😌 #RestWellBTS #HappyVacationBTS pic.twitter.com/2KrF99GXFs

— Mai 🥺 Winter Bear 🌨️❄️🧸 & BTS enthusiast 😭 (@MaijaKoko) August 12, 2019
"For the first time since their debut" 😭
BTS thank you sm for all your working hard
You deserve take rest moments, you never stopped working for their dreams
now time to go on vacationdd spend private quite days

BTS we love you , rest & sleep well
be healthy &happy#RestWellBTS pic.twitter.com/d3SdLaskUC

— Yoonmin City (@YoonminLove14) August 11, 2019
The band has been performing since 2013. In 2017, their album Love Yourself: Her was the first K-Pop album to crack the top 10 US album charts, rising to number seven.
It also hit the number one spot on iTunes in more than 70 countries.
K-pop was conceived in South Korea in the 1990s as a Western-Asian hybrid and is now a multi-million dollar industry with many bands winning audiences around the globe.