Game of Thrones writers Benioff and Weiss leave Star Wars trilogy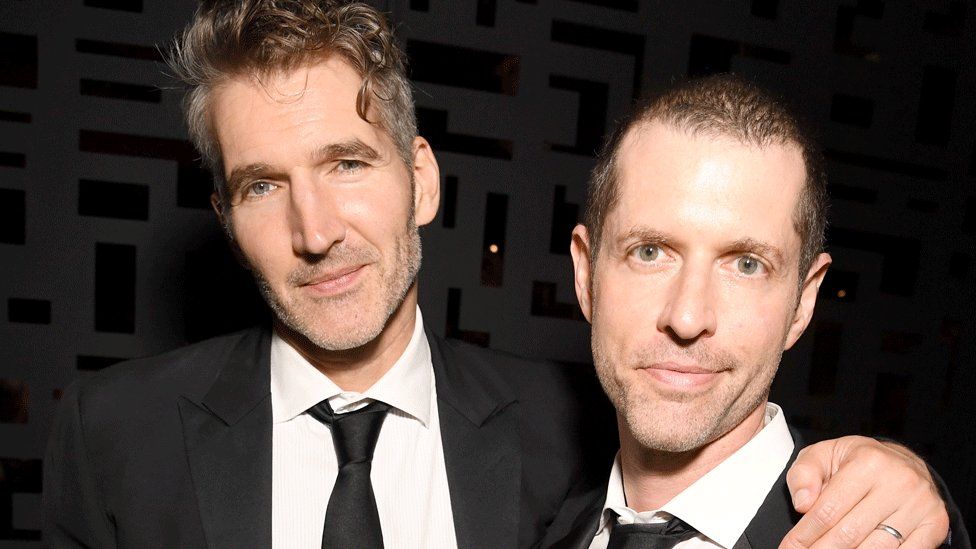 Game of Thrones writers David Benioff and DB Weiss have left the next Star Wars trilogy, which is due to launch in 2022.
"There are only so many hours in the day, we could not do justice to both Star Wars and our Netflix projects," a statement given to Deadline read.
They added that "getting to talk about Star Wars" with creator George Lucas had been "the thrill of a lifetime".
They said: "We love Star Wars. When George Lucas built it, he built us too."
Lucasfilm president Kathleen Kennedy said that they would be welcomed back in the future. "David Benioff and Dan Weiss are incredible storytellers," she said.
"We hope to include them in the journey forward when they are able to step away from their busy schedule to focus on Star Wars."
According to a Disney release schedule published in May, the trilogy is due to be the next set of Star Wars films, following this December's The Rise of Skywalker, the final chapter of the Skywalker family chronicles.
The next films are scheduled for 2022, 2024 and 2026, and are set to usher in a new era for the famous franchise.
Kevin Feige to the rescue?
Analysis by Lizo Mzimba, BBC entertainment correspondent
Benioff and Weiss aren't the first film-makers to unexpectedly leave the Star Wars universe before getting to realise their vision of a galaxy far, far away.
Josh Trank left a planned Boba Fett spin-off, Lego Movie makers Phil Lord and Chris Miller departed the Han Solo film, Colin Trevorrow left Star Wars Episode IX, and even Rogue One's Gareth Edwards found that someone else was brought in to oversee re-shoots.
In most cases, it seems the original directors' visions eventually clashed with that of Lucasfilm head Kathleen Kennedy. That perhaps isn't the case with Benioff and Weiss. When their Netflix deal was announced, many wondered what might take priority and whether Netflix might have to wait until after the planned Star Wars trilogy to see the results of their $250m (£195m) deal.
The pair's departure isn't a huge body blow to Star Wars, though. The recent news that Marvel chief Kevin Feige will develop at least one Star Wars movie, and perhaps even take on a larger role, is good news for the franchise. One of his great strengths with Marvel has been taking directors with disparate visions and allowing them to make films that simultaneously reflect their differing talents and still make the movies feel part of the same cohesive universe.
Game of Thrones 'film school'
The Change.org petition argues that Benioff and Weiss "have proven themselves to be woefully incompetent".
The pair made a rare public appearance at the weekend at the Austin Film Festival, according to Metro, where they admitted that the experience working on Game of Thrones was like an "expensive film school".
When asked why they didn't bring in more writers to the show, they replied: "Because we didn't know better."
Many have been wondering how duo would combine their work for Netflix with the Star Wars commitments.
When I reported on Benioff & Weiss' questionable 5-year $250M Netflix deal, source said Netflix was briefed on #StarWars plans: "It's not going to be 10 years [until] Netflix sees their first output." A SW trilogy would have kept them occupied to 2026. https://t.co/bq4iLovgVW

— Lesley Goldberg (@Snoodit) October 29, 2019
Speculation has also begun about who will replace them, with some on social media pointing out the lack of diversity behind the camera for Star Wars films to date.
Hey, Lucasfilm, consider how many people who aren't white men LOVE #StarWars, and would be more than happy to be a part of the next phase of the franchise!

It's of course a crazy pressure-filled job, but Benioff/Weiss stepping away means new opportunties for new voices! pic.twitter.com/DVIYaFIQlT

— Liz Shannon Miller (@lizlet) October 29, 2019
Meanwhile, fans have been treated to a new trailer for Disney Plus's Star Wars TV series The Mandalorian., which takes place after the fall of the Empire in 1983's The Return of the Jedi.
Disney Plus will launch in the US on November 12, but no date has yet been announced for the UK.