BritBox: UK broadcasters enter the streaming wars as new service launches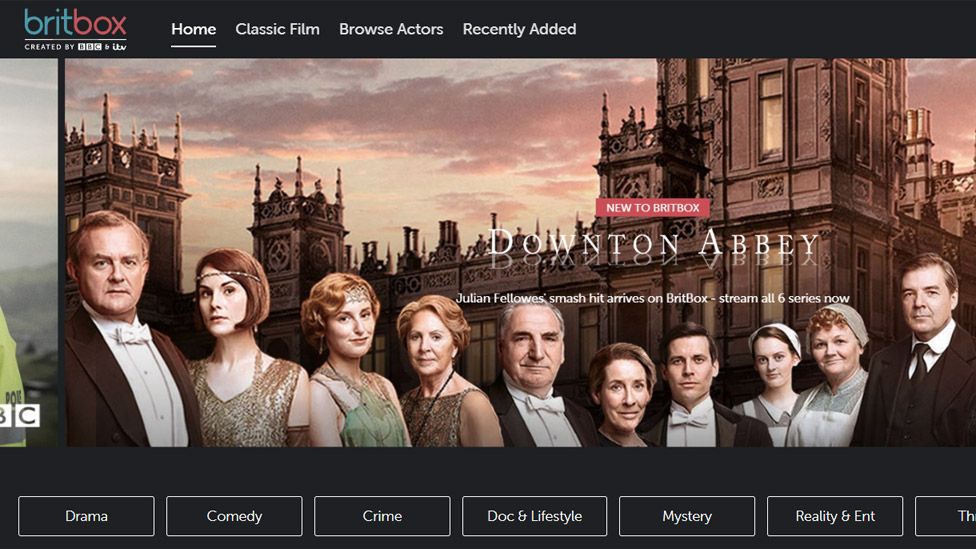 BritBox, a streaming service offering shows from ITV, the BBC, Channel 4 and Channel 5, has launched in the UK.
Downton Abbey, Gavin & Stacey, Wolf Hall, Love Island and Broadchurch are among the shows available.
C4 and C5 have come on board after ITV and the BBC announced BritBox as a way to get into the paid streaming market.
The service will cost £5.99 per month and will mostly feature classic series, but will also include new shows, beginning with Lambs of God.
The drama stars The Handmaid's Tale's Ann Dowd, The End of the F****** World's Jessica Barden and Essie Davis from The White Princess as nuns living on a remote island. It was originally shown on Australian TV in July.
Reemah Sakaan, ITV's group director for streaming, said there was a "whole slate of original programmes" in development for BritBox.
While the service would be a second or third subscription for many viewers, it will be able to rival the likes of Netflix, Amazon Prime and Apple TV+, she said.
"It's got the widest range of UK box sets of any service," she said. "Ostensibly the other streamers are US-focused so they make dramas for the US market, whereas BritBox is the faces, people and places that you know."
Some archive programmes that have been on services like Netflix will now move to BritBox, she said.
"For some time we've been bringing our shows back home and now that we've got a destination in BritBox, that's something we'll be doing more actively. We'll still be working in partnership with Netflix and Amazon and all of the other streamers."
How does the price compare with other services?
BritBox - £5.99 per month for HD and multi-screen viewing
Netflix - £5.99 for basic package rising to £8.99 for a standard plan, including HD on two screens
Amazon Prime - £5.99 on up to three screens simultaneously
Now TV - £8.99 for entertainment pass, with optional extras - Cinema Pass (£11.99), Sports (£33.99), Kids (£3.99)
YouTube Premium - £11.99
Dramas on the service at launch include Cracker, Prime Suspect, Brideshead Revisited and Ashes to Ashes; while comedies include Absolutely Fabulous, Extras, Blackadder and Fawlty Towers.
More than 600 classic episodes of Doctor Who - broadcast between 1963 and 1989 - will be available to stream for the first time by Christmas.
Shows and movies from Channel 4 and Film4's back catalogue will be available in 2020, and original shows from Comedy Central UK will also feature.
Sakaan said having a big catalogue of classic shows "shouldn't be underestimated" by those assessing BritBox's chances of success.
"The new battleground, quite often in streaming, are shows like Friends, which are 20 years old and are the top performers," she told BBC Radio 4's Today programme.
By Amol Rajan, BBC media editor
What we don't know is how good the product will be, in terms of the quality and uniqueness of the content, and the user experience. And we also don't know just how big the market for subscription-based video-on-demand services around the world is.
Several big American companies, including Disney, are launching new services, betting that this market is still immature.
BritBox is launching with a similar hope. The obvious criticism - that it contains a lot of repeats - means the user experience and a high quality of curation will be vital.
The broadcasters have been in negotiations for years, because they have very different needs and interests. The BBC wouldn't want to damage iPlayer too much. ITV, Channel 4 and Channel 5 need to keep their advertisers on side.
That they have all reached agreement despite these different priorities shows they feel they simply have to make a big, joint play in the streaming market.
What a pity, though, that regulators didn't have the foresight to see that a decade ago.
Some of the biggest hits of recent years, such as Killing Eve, Peaky Blinders and Bodyguard, will not be on BritBox at first.
This is either because existing deals are in place with other streaming services, or because they are still on the broadcasters' own catch-up platforms.
Shows are not expected to appear on BritBox until they have dropped off the BBC iPlayer, ITV Hub and All 4, which do not require paid subscriptions. The BBC was recently given permission to keep programmes on iPlayer for one year.
TV critic Scott Bryan said the idea of rival channels teaming up to try to compete with the likes of Netflix was "quite big news".
"The issue is whether people are willing to pay towards them," he continued. "And it will be interesting to see which shows end up being on which service.
"Some shows might be a co-production between the BBC and Netflix for example, and that might end up on Netflix.
"So for many of us there's going to be a lot of confusion trying to work out which show is going to be on which platform."
On social media, some users questioned why they were being asked to shell out to watch programmes they had effectively already paid for.
Does this #BritBox streaming site mean we have to pya twice for all the #BBC content we have already paid for with our license fees 🧐

— Elizabeth (EC) Fremantle (@LizFremantle) November 7, 2019
#bbcnews so licence fee payer will have to pay £5.99 a month to watch old BBC programs on Britbox that have already been paid for by licence fee payers

— tony burke (@tonyburke8) November 7, 2019
"That was the BBC saying, there's a secondary market - you pay for content after we've shown it," he said. "This is just a modern-day version of that, and an even better version of that, because it used to be infuriating when you'd seen a programme on the BBC and you couldn't get hold of the DVD."
Any money the corporation makes will be put back in to programme-making, he said. "I think this is wins all round for the licence fee payers."
BritBox launched in the US two years ago and has a different catalogue of content, with 650,000 subscribers.