Coldplay to pause touring until concerts are 'environmentally beneficial'
Coldplay have put plans to tour their new album on hold, due to concerns over the environmental impact of concerts.
"We're not touring this album," frontman Chris Martin told BBC News.
"We're taking time over the next year or two, to work out how our tour can not only be sustainable [but] how can it be actively beneficial."
"All of us have to work out the best way of doing our job," he continued, saying the band wanted their future tours to "have a positive impact".
Coldplay's new album Everyday Life is released on Friday and, instead of spending months on the road, they are playing two gigs in Jordan, which will be broadcast, free, to a global audience on YouTube.
The concerts, will take place in Amman on Friday at sunrise and sunset respectively, mirroring the two "sides" of their new album.
The UK band last travelled the world with their A Head Full of Dreams Tour, which saw them stage 122 shows across five continents in 2016 and 2017.
"Our next tour will be the best possible version of a tour like that environmentally," Martin said. "We would be disappointed if it's not carbon neutral.
"The hardest thing is the flying side of things. But, for example, our dream is to have a show with no single use plastic, to have it largely solar powered.
"We've done a lot of big tours at this point. How do we turn it around so it's no so much taking as giving?"
The WWF welcomed Coldplay's initiative, saying: "It is fantastic to see world-famous artists stepping up to protect the planet.
"We all have a responsibility to lead by example in the face of this climate and nature crisis - inaction is not an option if we are to preserve our planet for future generations," said Gareth Redmond-King, the organisation's head of climate change.
Speaking to BBC entertainment correspondent Colin Paterson, Martin said Jordan had been chosen because "we wanted to pick somewhere in the middle of the world where we normally don't get to play".
He said the new record - which will be released on Friday - reflected the band's global perspective.
"If you've had the privilege of travelling around the world, you know we're all from the same place," he went on.
"In a very gentle British way, this record is us saying we don't feel different from any human on earth."
"Journalism at its best finds these individual stories that reinforce our shared humanity," he explained.
Coldplay will perform a one-off concert for fans at the Natural History Museum in London on 25 November.
All proceeds from the show will be donated to an environmental charity.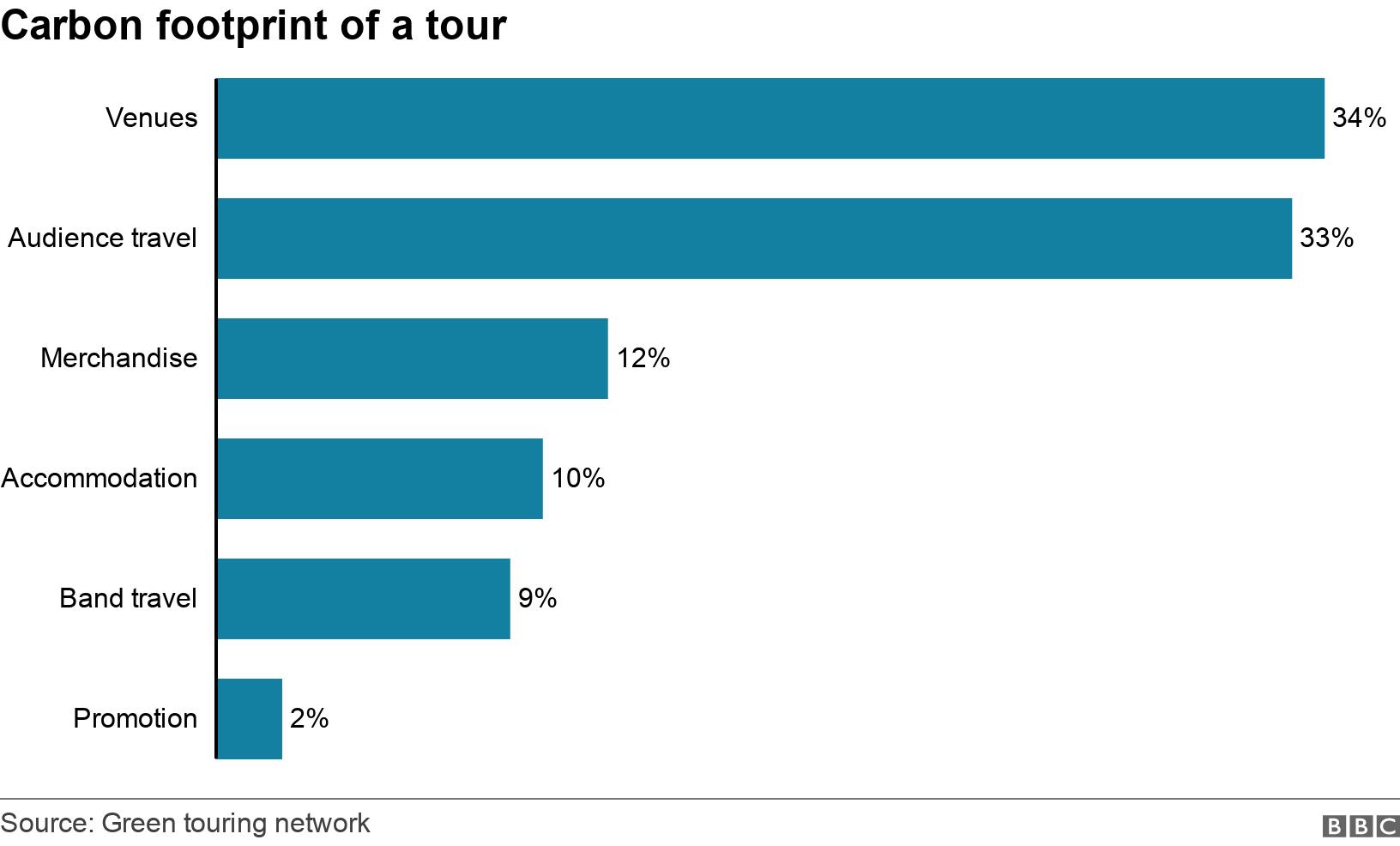 Touring's environmental impact - Mark Savage, BBC Music reporter
Staging a world tour isn't as simple as bunging Chris Martin and his bandmates in the back of a mini-van with a map and a year's supply of digestives.
In fact, the band's last tour employed 109 crew, 32 trucks and nine bus drivers, who travelled to five continents, playing to 5.4 million people at 122 concerts.
There's no easy way to calculate the band's carbon footprint; but the music industry's most recent figures suggest that live music generates 405,000 tonnes of greenhouse-gas emissions in the UK every year.
It's not just flights that cause the problem. Fans travelling to and from shows are the biggest source of pollution; but there's an environmental cost to producing merchandise, powering the spotlights and moving stages from venue to venue.
At the most extreme end of the scale, the ambitious "claw" structure that U2 took on the road in 2009 required 120 trucks to shift it around. According to one environmental group, the band generated the equivalent carbon footprint of a return flight to Mars.
Since then, the industry has stepped up its efforts to become more sustainable.
Radiohead swapped spotlights for LEDs, which use a fraction of the power needed for a traditional lighting rig. The 1975 have stopped making new merchandise, and are donating £1 from every ticket sold to One Tree Planted, a non-profit organisation that plants trees all over the world. And U2 have enacted a number of changes, from recycling guitar strings to using hydrogen fuel cells.
Coldplay are going one step further. They don't just want to be carbon neutral, but to have tours that are "actively beneficial" to the planet. And by putting their concerts on hold, they're giving up a huge pay day: The Head Full of Dream tour made $523m.
The industry will be watching to see what solutions they come up with.
Related Internet Links
The BBC is not responsible for the content of external sites.