BTS art project includes balloons and scribbles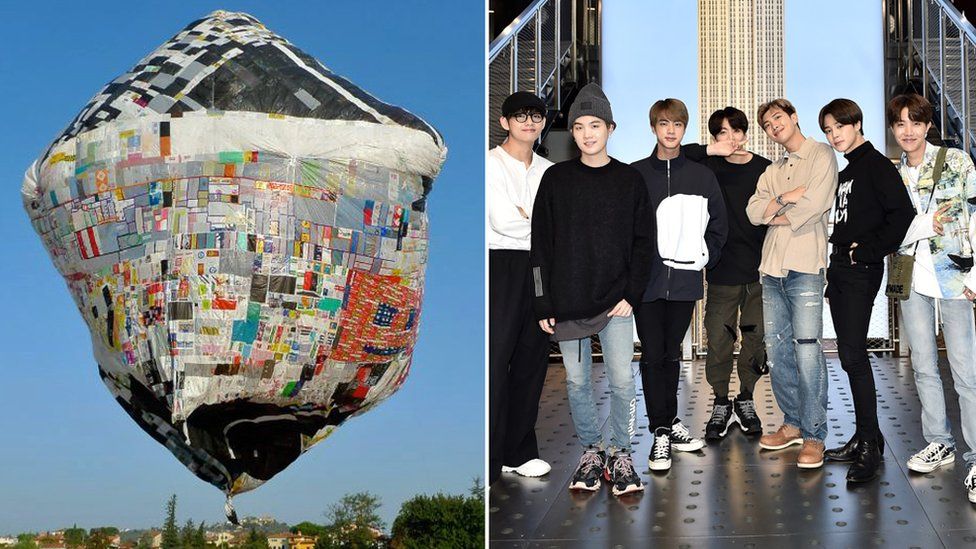 K-pop band BTS are joining forces with some of the world's leading artists for an ambitious global art project.
Called Connect, BTS, it will see Sir Antony Gormley creating a giant aluminium "scribble" in New York, and the creation of a "virtual forest" inside London's Serpentine Gallery.
In Argentina, Tomás Saraceno will "float" a human above the Salinas Grandes in a solar-powered balloon.
BTS said the project was meant to send a "positive message for the world".
Installations will go on show in London, Berlin, New York, Buenos Aires and Seoul, funded in part by the band's seven members.
"What was meaningful for us is how these artwork are completed through the experience of the people who see them," said band-member Jeon Jung-kook.
"We also feel our performances are made complete with our fans. So we found a common ground between what we do with the music and with the art."
One of the works, Yiyun Kang's Beyond The Scene, is billed as a "re-imagining of BTS' signature dance movements", projected onto the walls of the Dongdaemun Plaza in downtown Seoul.
Kang said she had studied the band's choreography for hours while developing the installation. "Sometimes my eyes cannot focus on the screen anymore, because I've been watching so many videos on YouTube," she told the BBC.
She also interviewed the band's fans, known affectionately as the "BTS Army", to give her piece added context.
"Just copying the choreography doesn't make sense," she said. "The essence of the BTS phenomenon is that you have to be more inclusive, to be more sustainable so we can live together. "
Not to be outdone, Angel of the North sculptor Sir Antony Gormley is creating a "drawing in space" on Brooklyn Bridge in New York using 16km of aluminium tubing that loops around and turns in on itself.
The artist confessed he hadn't heard of BTS until he was approached to take part in the project last month.
"I had to do a very rapid, self-taught course on K-Pop," he said.
Tomás Saraceno will attempt to set several world records in Argentina, as he "floats" a human into the sky, lifted by a balloon "powered only by the sun and the air we breathe, without fossil fuels, solar panels, batteries or helium".
"The way it flies is simple: The hot air inside expands and becomes lighter than the cold air outside, lifting the sculpture," he explained.
The artist also announced plans to send a self-powered balloon from London to Seoul, with the help of BTS fans.
The craft, which is made of recycled plastic bags, will be launched in London and travel across Europe, Russia and China before reaching its final destination in Korea - with fans tracking its progress online, and helping out if it gets marooned.
"It's a way to connect people across countries, across energies, across generations," Saraceno told the BBC (Organisers of Connect, BTS have clarified that this project is not an official part of their programme, although it was inspired by it).
In Berlin, 17 performance artists will explore themes of healing and community; while London's Serpentine gallery is host to Catharsis, a digital recreation of an ancient forest by Danish artist Jakob Kudsk Steensen.
Visitors will find themselves seeing everything from the trees' underground roots to the view from the forest canopy high in the sky as it changes with the effects of sunlight and wind. Fans can also experience the "virtual forest" online at catharsis.live.
Serpentine Gallery artistic director Hans-Ulrich Obrist said the project was about "bridge-building".
"It's about connecting everyone who is interested with BTS with everyone who is interested in contemporary art. It's all about creating these new junctions."
It has not been disclosed how much the whole Connect, BTS project will cost.
Since their debut in 2013, BTS have become one of the biggest bands on the planet, playing two sold-out nights at Wembley Stadium last year.
Speaking by video-link from Seoul, the septet said the art project was an attempt to "give back some of the amazing love that we receive".
"We have always been inspired by the ability of music to communicate across borders, which is not very different to what art does," they said.
"I just became a fan of what they call fine art and visual art from last year, so I'm just a beginner," added singer Kim Nam-joon, who is also known to fans as RM.
"So currently my favourite hobby is to visit all the galleries and museums and see all the great pieces. It gives me a whole other world of thrill and shock and inspiration."
The project has been curated by renowned Korean artist Daehyung Lee, who pulled together the various strands in just seven months.
"Connecting five different cities means connecting five different time zones and five different [art] institutions," he explained. "So conceptually, 'connect' is a beautiful word - but physically and mentally and biologically it's quite dangerous."
He said the goal was to unite people of "different cultural backgrounds, social classes, ethnicities genders and identities", reflecting the way BTS's music had broken down borders.
Sir Antony Gormley said it was this philosophy that had persuaded him to take part.
"This is such a refreshing break-out," he said. "We have become used to the silos of the culture industry. We have been used to receiving art through the agency of the gallery, the museum, the art fair and the Biennale. All of them are speaking to the converted.
"This is a little, self-serving art world. Here is an opportunity for us to jump out of our silos."