Plácido Domingo apologises to women who accused him of sexual harassment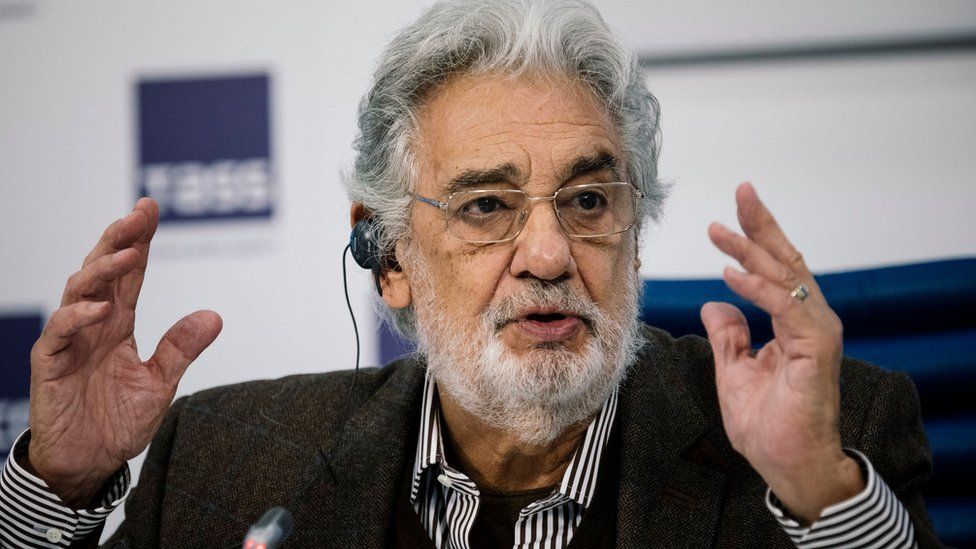 Plácido Domingo has apologised for "causing hurt" to several women who have accused him of sexual harassment.
A total of 20 women have now accused Domingo of harassment and inappropriate behaviour. He denies all the claims.
"I want them to know that I am truly sorry for the hurt that I caused them,"
He added: "I accept full responsibility for my actions, and I have grown from this experience."
His statement was issued following an investigation into Domingo by a US union which represents opera performers.
The investigation found Domingo had "engaged in ​inappropriate activity, ranging from flirtation to sexual advances, in and outside of the workplace".
It said Domingo had frequently pressured women into sexual relationships, and sometimes professionally punished those who rejected him.
In his statement, Domingo said he had "taken time over the last several months to reflect on the allegations that various colleagues of mine have made against me.
"I understand now that some women may have feared expressing themselves honestly because of a concern that their careers would be adversely affected if they did so. While that was never my intention, no-one should ever be made to feel that way."
Meanwhile, London's Royal Opera House says Domingo will still perform there as scheduled this summer.
He is starring in Don Carlo from 29 June until 19 July.
Domingo, who is 79, is one of opera's biggest stars, commanding sell-out audiences around the world.
He has been married to his second wife, the soprano Marta Ornelas, since 1962.