Coronavirus: West End shuts down as Boris Johnson's advice sparks anger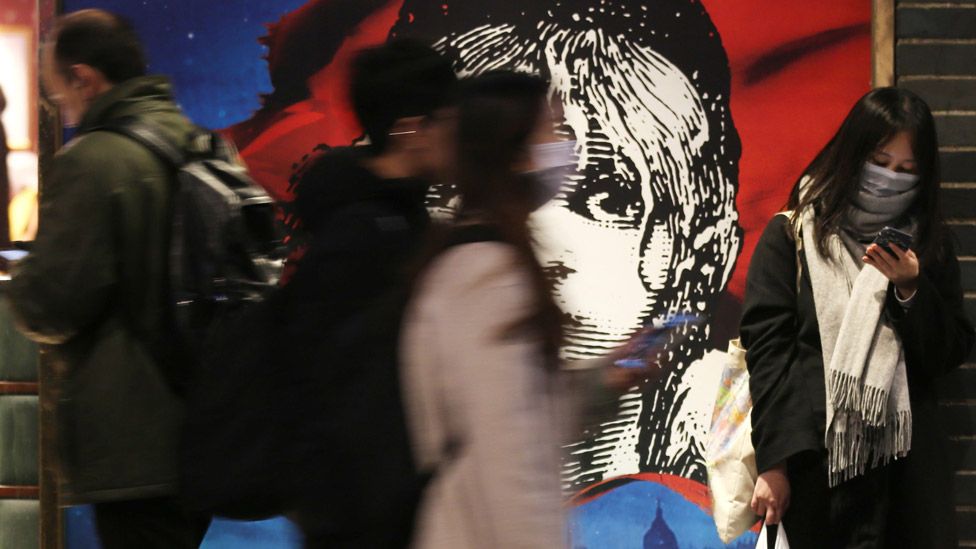 Theatres in London's West End and around the UK have shut after PM Boris Johnson advised people to avoid such venues as coronavirus spreads.
"You should avoid pubs, clubs, theatres and other such social venues," he said.
However, he stopped short of forcing venues to close, leaving some in the affected industries in limbo.
The Society of London Theatre, which represents the West End, said theatres would close from Monday night until further notice.
Sister organisation UK Theatre said its 165 venues around the country would take the same step.
Speaking during his first daily news briefing on Monday, Mr Johnson said the government advice was that "public venues such as theatres should no longer be visited".
He added: "The proprietors of those venues are taking the logical steps that you would imagine, you are seeing the change happen already.
"As for enforcement, we have the powers if necessary but I don't believe it will be necessary to use those powers."
Mr Johnson said that from Tuesday mass gatherings were something "we are now moving emphatically away from".
He also said people should now avoid "non-essential" travel and contact with others.
'Huge uncertainty and confusion'
But many figures from the worlds of theatre, music and nightlife were angry that Mr Johnson advised people to stay away while not forcing venues to close, which could have given them financial protection.
UK Music, which represents the music industry, said the hundreds of likely gig and festival cancellations would cause "immense damage", and Mr Johnson's comments risked exacerbating the problem.
"The prime minister's latest advice on mass gatherings has resulted in huge uncertainty and confusion over what exactly it will mean for the music industry," acting chief executive Tom Kiehl said.
"The government must spell out whether there will be a formal ban, when that might come into effect, which venues and events will be impacted and how long the measures will remain in place.
"The virus is having a catastrophic impact on the UK music industry and will threaten many jobs and businesses across our right across our sector."
Patrick Gracey, producer of Tom Stoppard's latest play Leopoldstadt, said the prime minister "has just doomed an entire industry by telling people not to attend the theatre".
He added: "By not enforcing a shutdown, production insurance will not apply so producers and shows will go bankrupt, and tens of thousands of people will be without pay."
London nightclub owner Fraser Carruthers echoed those concerns.
The BBC is not responsible for the content of external sites.
Tamara Rojo, artistic director of the English National Ballet, said she wanted the government to come up with "clear plans to how they are going to support the industry when we are all going dark".
She told BBC Radio 4's Today programme: "This is an industry that provides £111bn annually to the economy, that employs two million people, and a third of them are freelancers.
"So, for many, this sudden closure without a clear ban - which means that many venues, theatres, museums won't be able to claim compensation for a devastating loss - means a lot of uncertainty and potentially a lot of loss of employment and income."
Caroline Norbury, chief executive of the Creative Industries Federation, said: "As the social distancing measures announced are only advisory, rather than an outright ban, we are deeply concerned that creative organisations and cultural spaces will find they are unable to claim compensation for the huge losses they will experience as a result of COVID-19."
Society of London Theatre and UK Theatre chief executive Julian Bird said: "Closing venues is not a decision that is taken lightly, and we know that this will have a severe impact on many of the 290,000 individuals working in our industry."
Meanwhile, the Museums Association called on the government to divert money from the planned Festival of Britain to help institutions that will find themselves in financial trouble.
"We are calling for an emergency fund to be created to support museums through this difficult period," MA director Sharon Heal said.
"The government had earmarked £120m for a Festival of Britain in 2022. We believe this should now be made available to support museums at risk of permanent closure as a result of the Coronavirus epidemic."
The Natural History Museum has closed its buildings in South Kensington and Tring; while Tate Modern, Tate Britain, Tate Liverpool and Tate St Ives will be shut until 1 May.
London's Serpetine gallery is also shut, but the National Gallery remains open for now.
'Financially devastating'
In other developments on Monday in the entertainment world:
A number of plays and gigs had already been scrapped as the virus continued to spread.
Earlier, Daniel Radcliffe's new play Endgame became the first major London production to be cancelled in the wake of the coronavirus pandemic.
Citing travel and other restrictions, the Old Vic said it was "becoming increasingly impractical to sustain business as usual at our theatre".
The theatre warned that giving full refunds for all lost performances would be "financially devastating for us", so asked ticket-holders to consider the ticket price as a donation.
Please include a contact number if you are willing to speak to a BBC journalist. You can also contact us in the following ways: