Coronavirus: EastEnders, Casualty, Doctors and Holby City suspend filming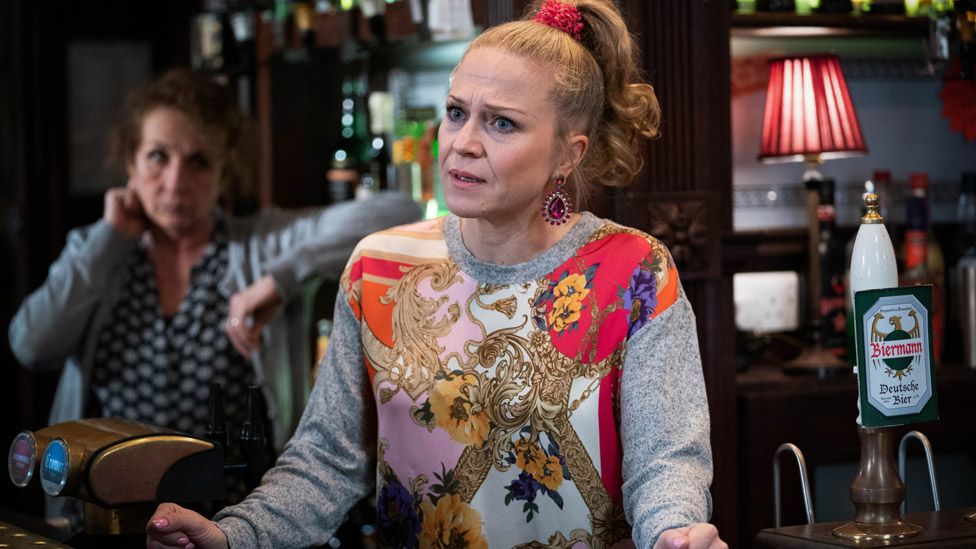 The BBC has suspended filming on dramas including EastEnders, Casualty, Doctors and Holby City "until further notice" amid the coronavirus outbreak.
The number of EastEnders episodes screened will also be cut from four to two per week, the broadcaster said.
That will allow it to make the existing recorded episodes last for "as long as possible", the BBC said.
ITV said Coronation Street would keep filming on a reduced schedule and would go down to three episodes a week.
Emmerdale will continue to air five episodes a week.
The BBC said the decision to suspend filming on its continuing dramas was made after the latest government update.
"In light of the spread of Covid-19, after much consideration, it has been decided that filming on EastEnders will be postponed until further notice," a BBC spokesperson said.
"We will continue to follow the latest news and advice from the World Health Organisation and Public Health England."
Since 2001, EastEnders has been broadcast every weeknight except Wednesdays. The show will now only air episodes on Mondays and Tuesdays.
Tracey Brabin, the shadow culture secretary and a former EastEnders, Coronation Street and Casualty actress, tweeted: "Thinking of all my friends on the show who must be pretty anxious right now."
EastEnders actress Natalie Cassidy joked: "I shall get my trumpet out at some point and entertain myself."
In reference to Casualty, Doctors, Holby City, Welsh soap Pobol y Cwm and Scottish drama River City, the corporation confirmed "it has decided that filming on all BBC Studios continuing dramas will be postponed".
ITV said filming on Coronation Street and Emmerdale would continue. But filming schedules will change from Monday and fewer episodes of Corrie will be broadcast.
"The continued transmission of both soaps is a priority to all of us at ITV and to our audiences who enjoy the shows," an ITV spokesman said.
"Whilst carefully adhering to the latest health advice from the government and Public Health England, our production teams are continuing to film episodes in Manchester and Leeds."
Emmerdale will continue to air five days a week. But Coronation Street will air only on Mondays, Wednesdays and Fridays, with one episode each night.
"With this change of transmission pattern it will ensure we have great new soap episodes coming to air every weekday night until at least the early summer," ITV said.
Corrie has already banned kissing scenes in an attempt to halt the spread of coronavirus on set. An ITV spokesperson said any scenes with kissing or close contact were being altered to minimise contact between actors.
Radio 4 drama The Archers has suspended recordings at its Birmingham studio.
In a statement, editor Jeremy Howe said there were "enough episodes... for the weeks ahead" and the team was "working on plans beyond this".
Meanwhile, Australian TV soap Neighbours has announced it will not film this week as a precaution, after reports suggested a person working on the show had come into contact with someone who tested positive for Covid-19.
The show's parent companies, Network Ten and Fremantle, have opted to take a break until Monday in order to adapt their filming schedules to minimise the impact of the outbreak.
On Tuesday, the BBC announced that news programmes including Politics Live and Victoria Derbyshire had been temporarily suspended, allowing the BBC News Channel to focus on "core news".
Question Time, which sees political figures and commentators take questions from the public, will move to a prime time 20:00 slot on BBC One. However, it will proceed without a studio audience for the time being.
After the EastEnders announcement, Huffington Post entertainment writer Matt Bagwell suggested: "This feels like the perfect excuse to run some classic EastEnders episodes like Den serving Angie with the divorce papers, Peggy and the ghost of Pat etc.
"So many younger viewers would never have seen them and a complete nostalgia fest for the rest of us."