What was the best year for music?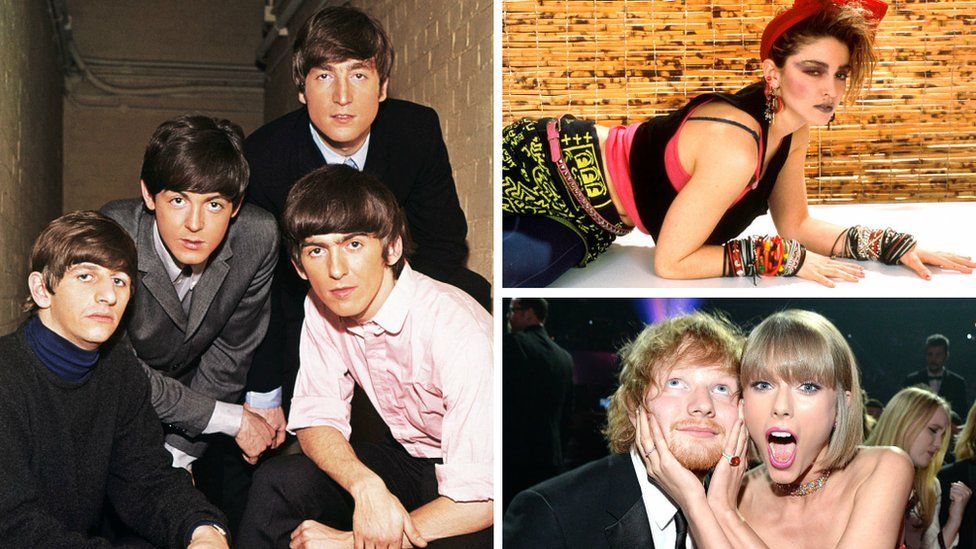 From the swinging 60s to punk, acid house to Britpop, everyone has a favourite era in music.
But is there a single year where rock and pop peaked?
Maybe it came with The Beatles' mould-breaking sonic experiments of 1968, or the mid-80s purple patch where Prince, Madonna and Michael Jackson pushed each other to ever-greater heights.
If you ask most people to choose a defining year in music, they'll almost certainly name one of their teenage years.
In adolescence, our brains are more active, we have more time to listen to music and we're experiencing a lot of things for the first time - all of which makes songs from that period more memorable.
Radiohead's Creep, for example, is a favourite amongst 40-year-old men. For people in their 20s, it doesn't even reach the top 300. For millennials, Carly Rae Jepsen's Call Me Maybe has a similar resonance.
But psychologists believe there's a deeper reason why we cling to those pieces of music.
"Music has an intrinsic capacity to regulate emotions [so] these songs naturally become embedded in our important memories, both positive and negative."
All of which is fascinating - but it still won't help us decide empirically which year produced the best music. Luckily, new research from music industry body the BPI helps narrow down the field.
By analysing all the music we streamed in the UK last year, they've drawn up a list of the most popular musical year for every decade of the rock and roll era.
So now we know that people have greater affinity for 1984 (Purple Rain, Wake Me Up Before You Go Go) than 1989 (Like A Prayer, Ride On Time). We also prefer the hits of 1977 (We Will Rock You, Stayin' Alive) to those of 1971 (Brown Sugar, Get It On).
2019 was the most popular year overall - but only because current chart hits account for a fifth (21.1%) of all streaming activity.
Here are the top 10 songs from each of those eras, revealed exclusively on the BBC before they appear in the BPI's yearbook: All About The Music 2020, which is released later this month.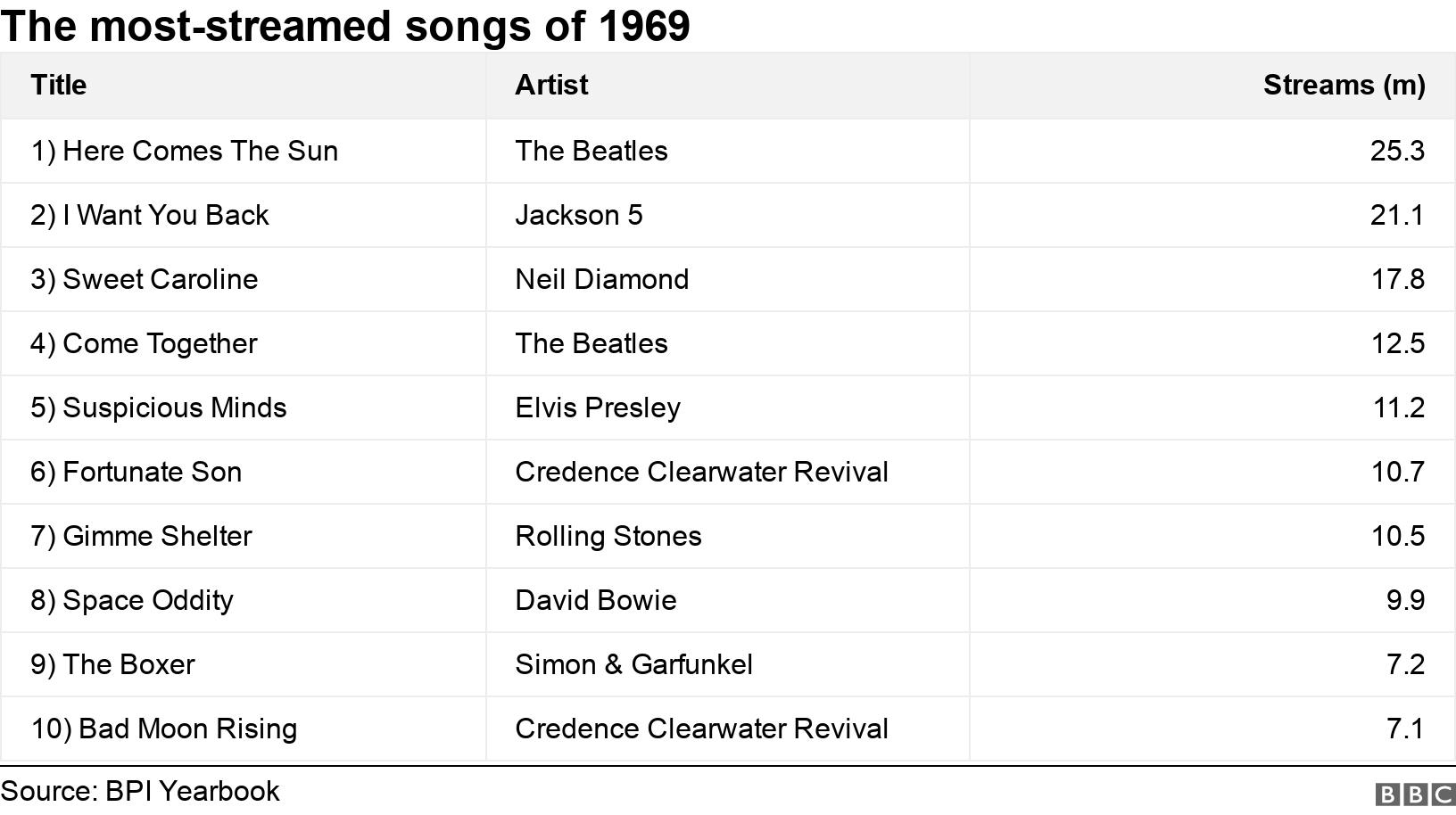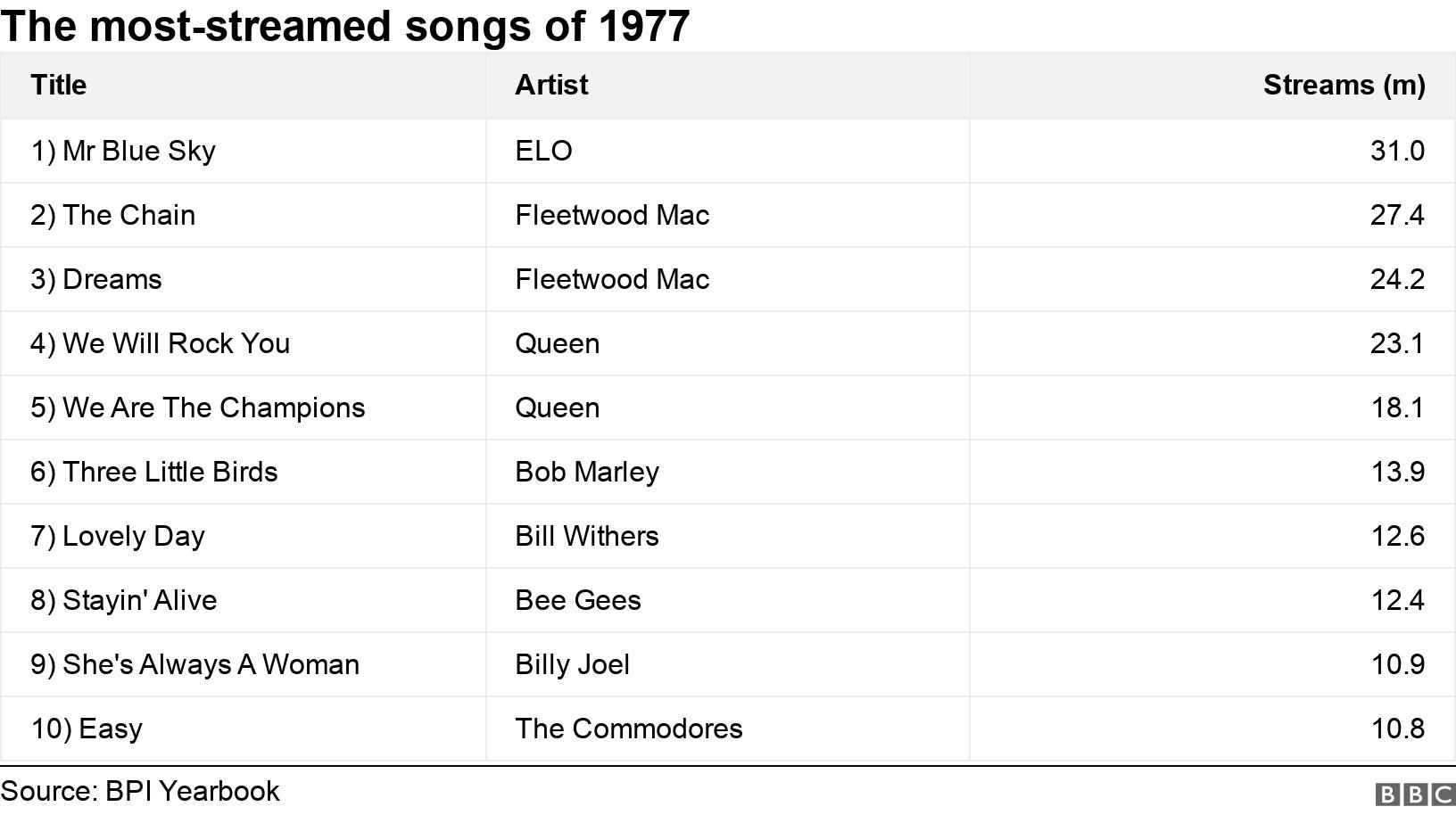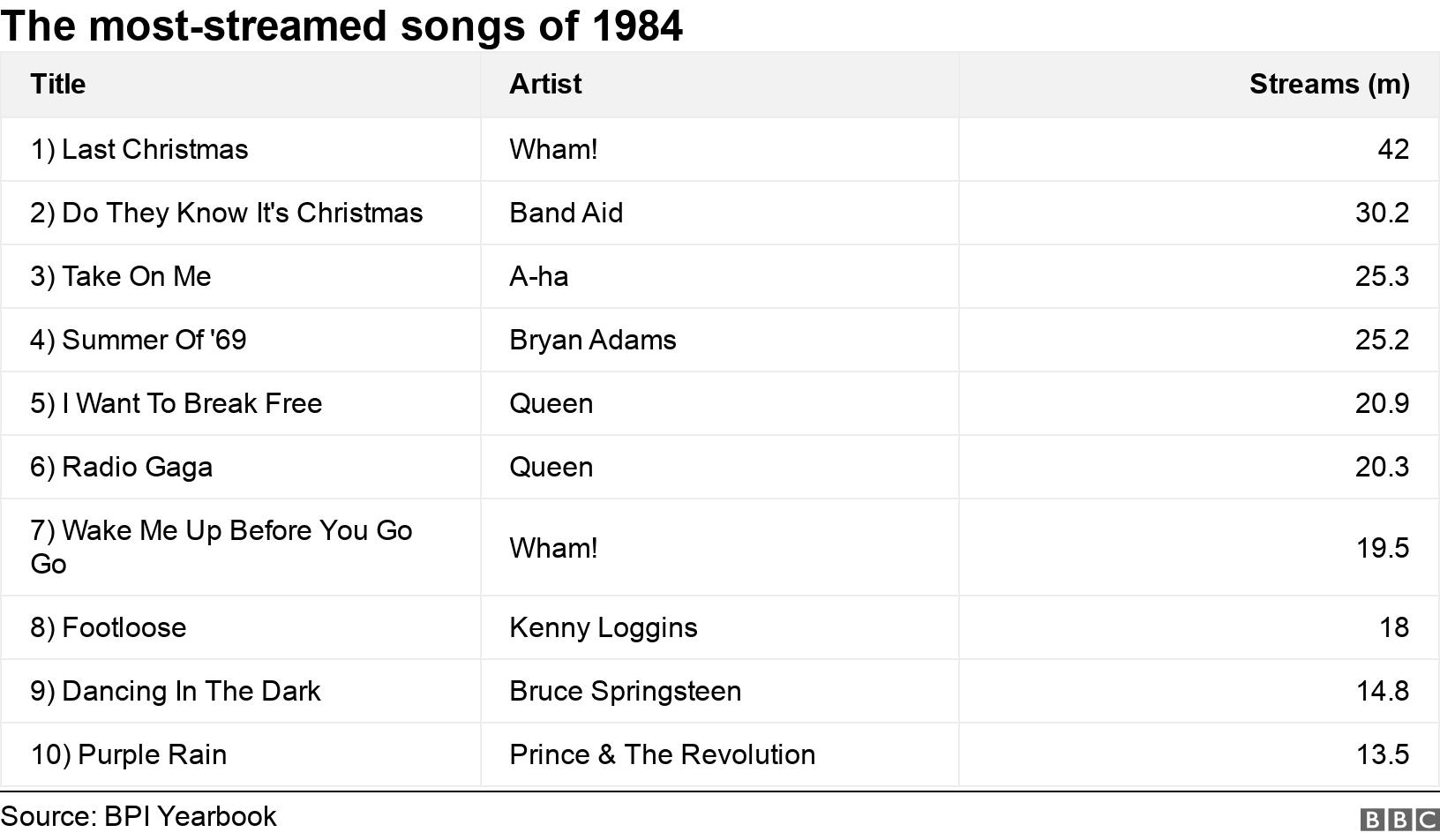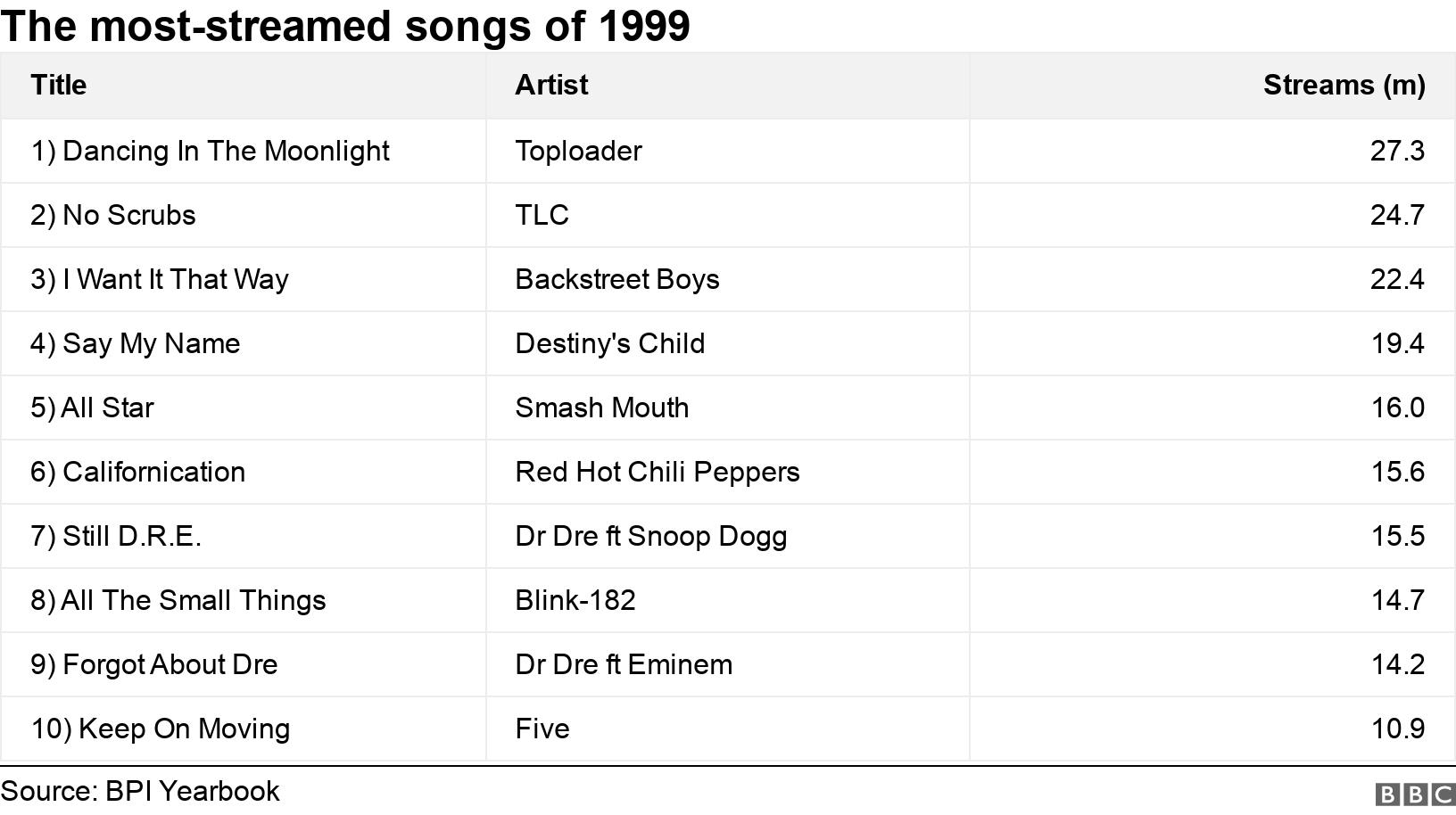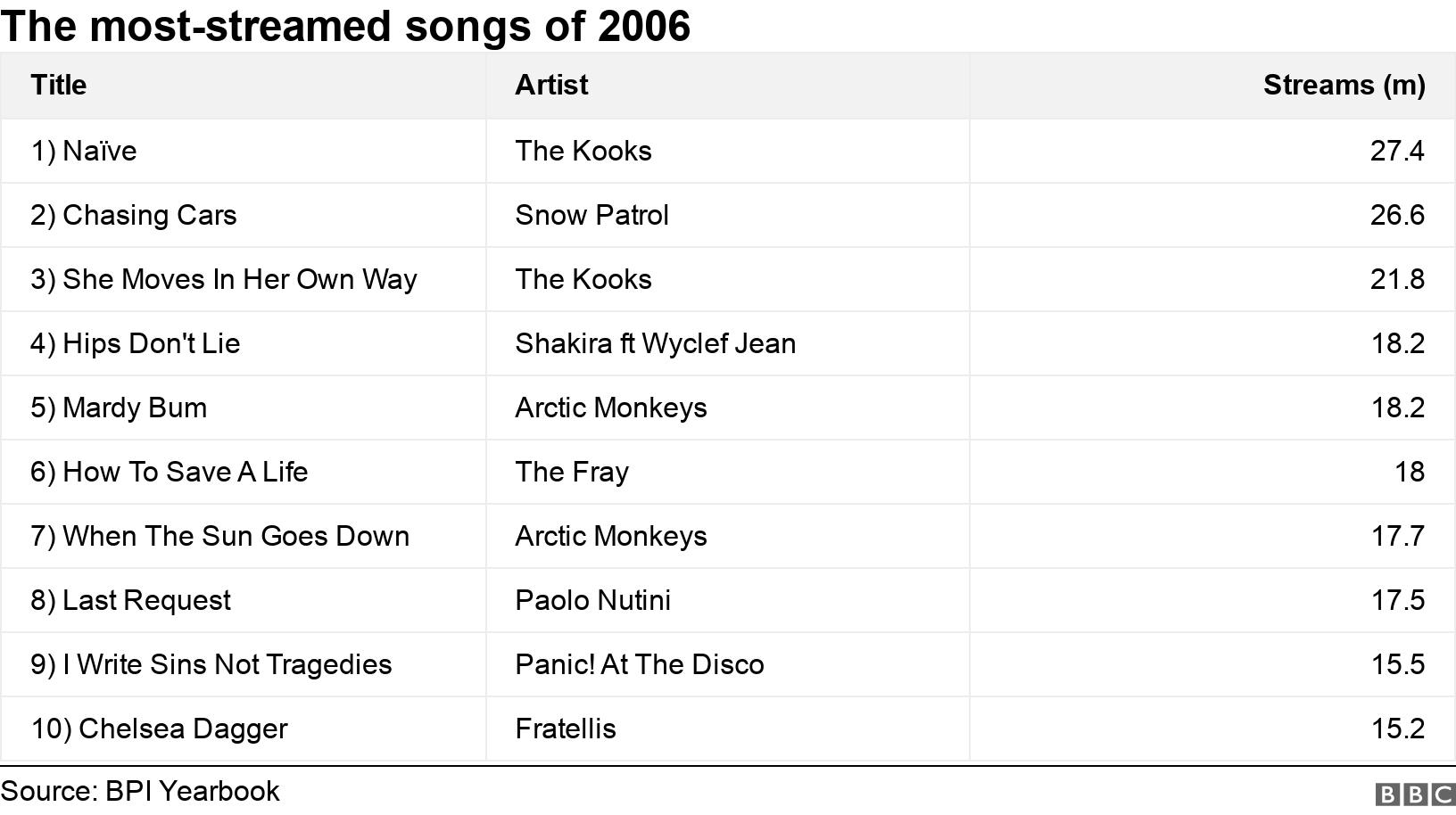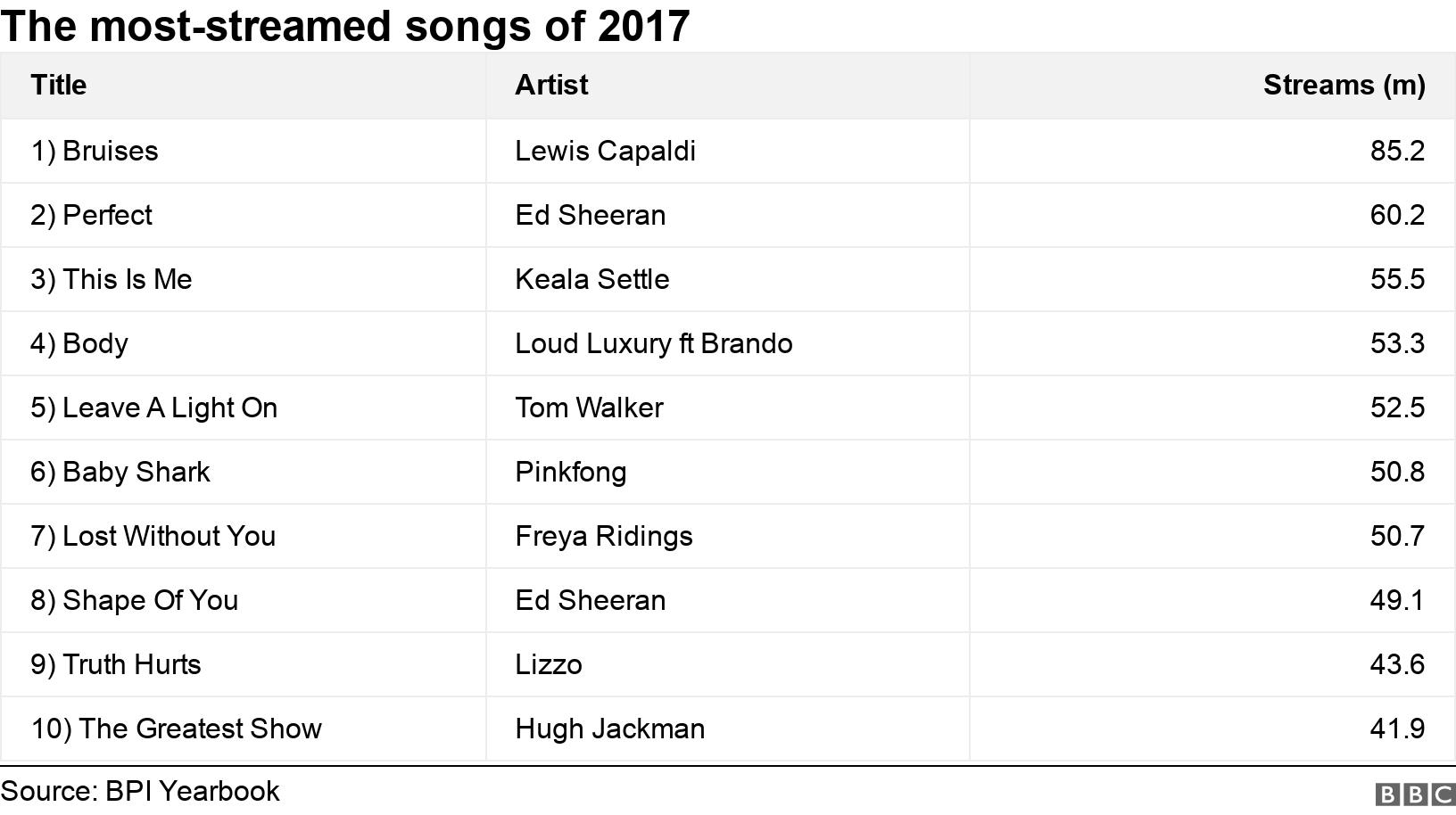 Interestingly, the most-streamed songs from those years don't always correlate to the hits of the era.
Wings' Mull Of Kintyre, which was the biggest-selling single of 1977, is nowhere to be found in that year's streaming data.
Meanwhile, Smash Mouth's All Star, which only reached number 24 in 1999, leaps into that year's most-streamed chart, having become a karaoke standard after being featured in the first Shrek film.
The most-played song of 1999, however, was Toploader's cover of Dancing In The Moonlight.
"It's one of the go-to happy songs, I think," said singer Joe Washbourn, explaining the track's enduring success.
"It still out there on the radio and getting streamed all over the world.
"People know the song more than the band, to be honest."
Queen are well-represented in the charts, thanks to the success of their Bohemian Rhapsody soundtrack, while the back catalogues of The Beatles, Wham! and Fleetwood Mac also remain popular.
Songs released in 2019 were discounted to stop recent hits flooding the data set, but the late-blooming success of 2017 recordings by Lewis Capaldi, Tom Walker and Lizzo (all of which hit the charts in the last 12 months) made that year the dominant player of the 2010s.
A separate chart of last year's most popular songs sees Ed Sheeran and Justin Bieber's I Don't Care take first place.
All of the top 10 were streamed more than 100 million times.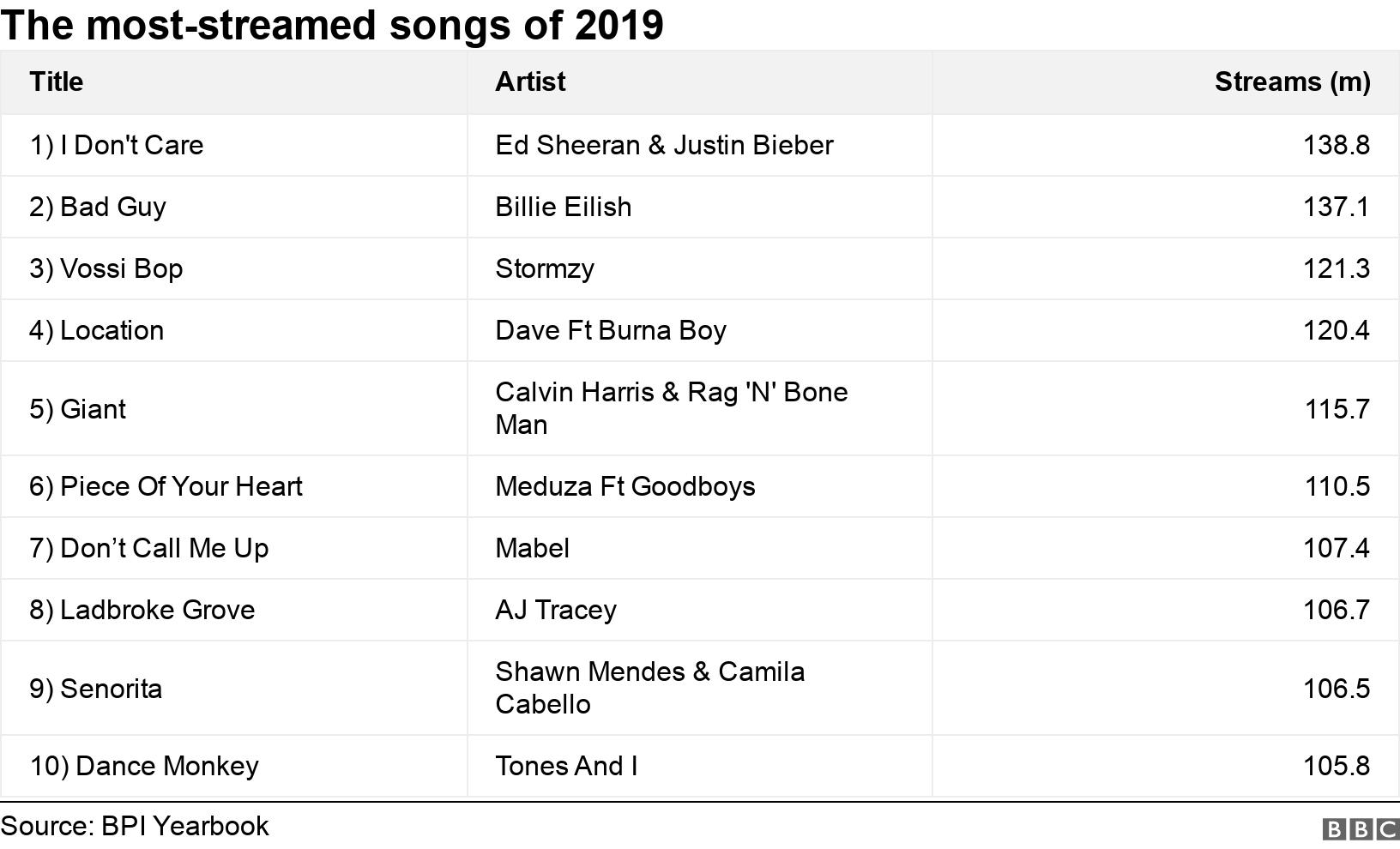 The popularity of streaming has been a lifeline for the music industry, after years of piracy and falling CD sales.
According to the Entertainment Retailers Association, people in the UK spent £1bn on music subscriptions last year, a rise of 23.5%, and played a total of 114bn songs.
By contrast, physical sales of CDs fell 17% to £318m - two-thirds smaller than the £873m market of 2010.
Related Internet Links
The BBC is not responsible for the content of external sites.