Fawlty Towers: John Cleese attacks 'cowardly' BBC over episode's removal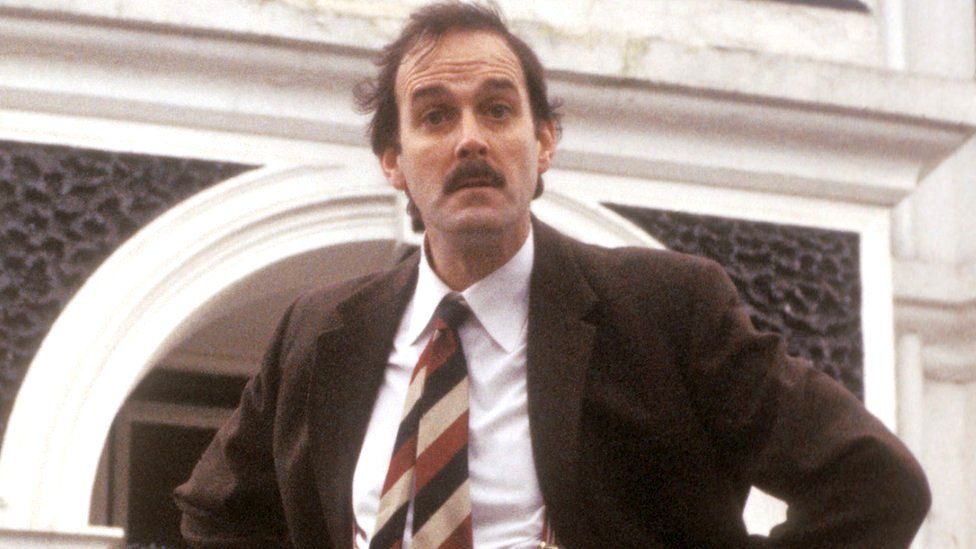 John Cleese has laid into the "cowardly and gutless" BBC after an episode of Fawlty Towers was temporarily removed from a BBC-owned streaming platform.
A 1975 episode titled The Germans was taken off UKTV's streaming service because it contains "racial slurs".
In it, the Major uses highly offensive language, and Cleese's Basil Fawlty declares "don't mention the war".
UKTV said it expected to reinstate the show with "extra guidance" in "the coming days".
He added: "I would have hoped that someone at the BBC would understand that there are two ways of making fun of human behaviour.
"One is to attack it directly. The other is to have someone who is patently a figure of fun, speak up on behalf of that behaviour."
I would have hoped that someone at the BBC would understand that there are two ways of making fun of
human behaviour

One is to attack it directly.

The other is to have someone who is patently a figure of fun, speak up on behalf of that behaviour

Thank of Alf Garnett...

— John Cleese (@JohnCleese) June 12, 2020
He went on to compare the situation with that of Alf Garnett, the racist character in sitcoms Till Death Us Do Part and In Sickness and in Health.
"We laughed at Alf's reactionary views. Thus we discredited them, by laughing at him," Cleese wrote.
"Of course, there were people - very stupid people - who said 'Thank God someone is saying these things at last'. We laughed at these people too. Now they're taking decisions about BBC comedy."
He continued: "But it's not just stupidity. The BBC is now run by a mixture of marketing people and petty bureaucrats. It used to have a large sprinkling of people who'd actually made programmes. Not any more.
"So BBC decisions are made by persons whose main concern is not losing their jobs... That's why they're so cowardly and gutless and contemptible. I rest my case."
UKTV also operates channels including Gold, and many of its channels and its digital player were taken over by the BBC's commercial arm BBC Studios last year. A BBC spokesman declined to comment.
A UKTV statement said it would update the episode with guidance and contextual information in line with similar warnings on other classic comedy titles.
"We will reinstate Fawlty Towers once that extra guidance has been added, which we expect will be in the coming days," it added.
"We will continue to look at what content is on offer as we always have done."
The Germans is still available to view on Britbox, which is part-owned by the BBC, with a message saying it "contains some offensive racial language of the time and upsetting scenes". It is also on Netflix, carrying a warning about "language, [and] discrimination".
Journalist and broadcaster Carl Anka described the removal as "a waste of time", noting many people would prefer it if UKTV and other companies simply "committed to hiring black creatives" instead.
Made me so annoyed. Rather than focus on the points of BLM, this has given a bunch of people a story to share on Social Media about how "They want to take away British culture."

You can tell the make up of the UKTV boardroom. Wanting to do something, not thinking of anything. https://t.co/MXhg9PayhI

— Carl Anka (@Ankaman616) June 12, 2020
In 2013, it was reported that Cleese agreed for the offending lines to be edited out when it was repeated on TV.
"But public attitudes have changed significantly since it was made and it was decided to make some minor changes, with the consent of John Cleese's management, to allow the episode to transmit to a family audience at 7.30pm on BBC Two."
This week, many channels and comedy figures have been making moves to reassess what is acceptable in today's society, following mass Black Lives Matter protests after the death of George Floyd.
HBO Max temporarily removed Gone With The Wind because of its "racial depictions", and Little Britain was removed from the BBC iPlayer and Britbox because "times have changed".
Netflix has also removed Little Britain plus David Walliams and Matt Lucas's Come Fly With Me, and The League of Gentlemen and The Mighty Boosh.
Meanwhile, Ant and Dec apologised for impersonating "people of colour" on Saturday Night Takeaway, and requested ITV remove the 2003 and 2004 sketches from its catch-up service.
Last week, comedian Leigh Francis issued an emotional apology for having dressed as black celebrities in the noughties impression show Bo' Selecta.