Conchata Ferrell: Two and a Half Men actress dies aged 77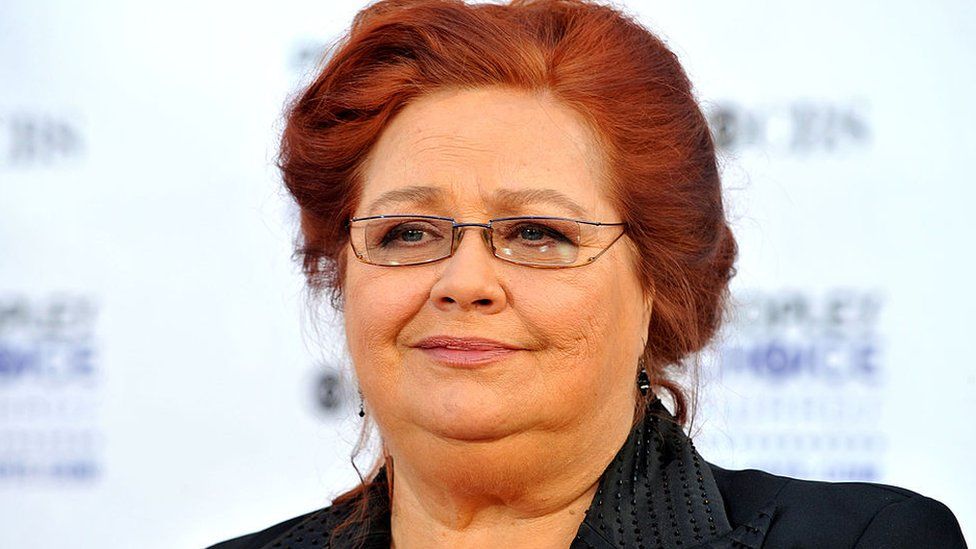 Actress Conchata Ferrell, who starred in the US sitcom Two And A Half Men, has died at the age of 77.
Ferrell played housekeeper Berta throughout the show's 12-year run, appearing alongside the likes of Charlie Sheen and later Ashton Kutcher.
She died on Monday in California after complications from a cardiac arrest.
Sheen paid tribute, describing the late star as "an absolute sweetheart, a consummate pro, a genuine friend [and] a shocking and painful loss".
He wrote: "Berta, your housekeeping was a tad suspect, your 'people' keeping was perfect."
an absolute sweetheart
a consummate pro
a genuine friend
a shocking and painful loss.

Berta,
your housekeeping
was a tad suspect,
your "people"keeping was perfect.

💕©️💕 pic.twitter.com/cJMK8APgQV

— Charlie Sheen (@charliesheen) October 13, 2020
Ferrell, who was known to her castmates as Chatty, earned two Emmy nominations for her role on the series, about hedonistic jingle writer Charlie Harper, his uptight brother Alan, and Alan's son Jake.
As well as Sheen, she acted opposite Jon Cryer and Angus T Jones. Cryer remembered meeting her for the first time. "She was a beautiful human, Berta's gruff exterior was an invention of the writers," he tweeted.
"Chatty's warmth and vulnerability were her real strengths. I'm crying for the woman I'll miss, and the joy she brought so many."
'The person I wish I could be'
In 2014, in an interview given to AV club, Ferrell said she was able to live vicariously through the much-loved-but-cantankerous character, who had originally been written as an eastern European woman.
"I love playing women who have the nerve to do things that I don't have the nerve to do, and Berta is certainly one of those," said Ferrell.
"Well, she's that person I wish I could be, and someone I think all of us kind of wish we could be: someone who can just say what's on her mind and not worry about it."
Two And A Half Men co-creator Chuck Lorre noted that everybody on the show "all loved her".
"Twelve years of highs and lows, and lots and lots of laughter," he said. "Through it all she was a rock. One of the greats. I was privileged to call her a friend."
Elsewhere in her career, Ferrell appeared alongside Julia Roberts in the 2000 biopic Erin Brockovich, as well as in Tim Burton's 1991 fantasy romance Edward Scissorhands, and the 1976 film Network.