Shakespeare First Folio fetches a record $10m at auction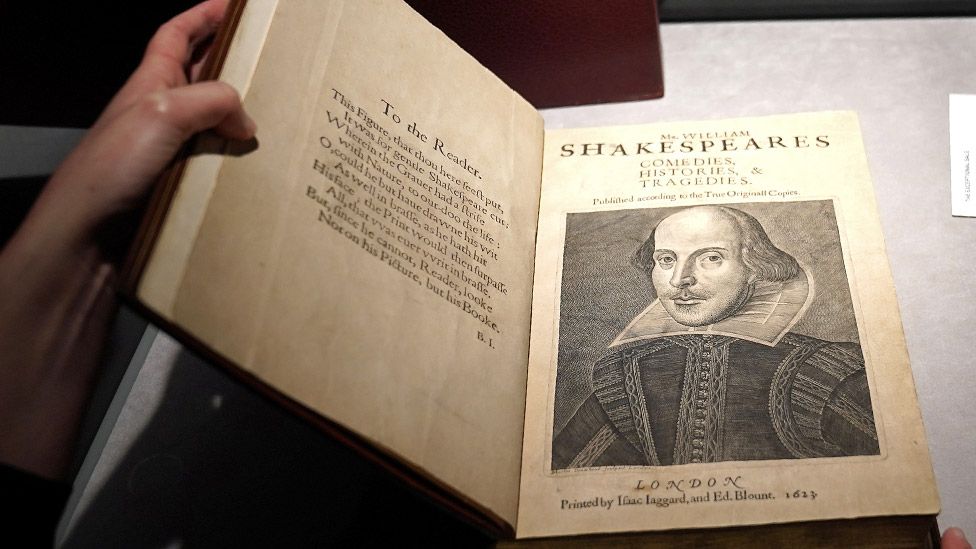 A copy of William Shakespeare's First Folio has been sold for a record $9.98m (£7.6m) at auction in New York.
The 1623 book, published seven years after the Bard's death, was the first collected edition of his plays.
About 235 copies of the book exist, but only a handful of complete versions are known to be in private hands.
The edition sold on Wednesday was the first complete copy to go under the hammer since 2001, when one fetched $6.1m (£4.9m) - the previous record.
It was sold by Mills College in Oakland, California - a private college that has owned it since the 1960s. The identity of the buyer was not immediately known.
Auction house Christie's had conservatively estimated its value at between $4m-$6m.
The First Folio brought together 36 plays, 18 of which would otherwise not have been recorded. Without its publication there would be no copy of such plays as Macbeth, Twelfth Night, Julius Caesar and The Tempest.
Most of the 235 copies known to exist are incomplete. One, owned by Oxford University, sold for £3.5m in 2003. Five or six complete versions are believed to be in private hands.