Sarah Harding: Remembering the Girls Aloud star's life and career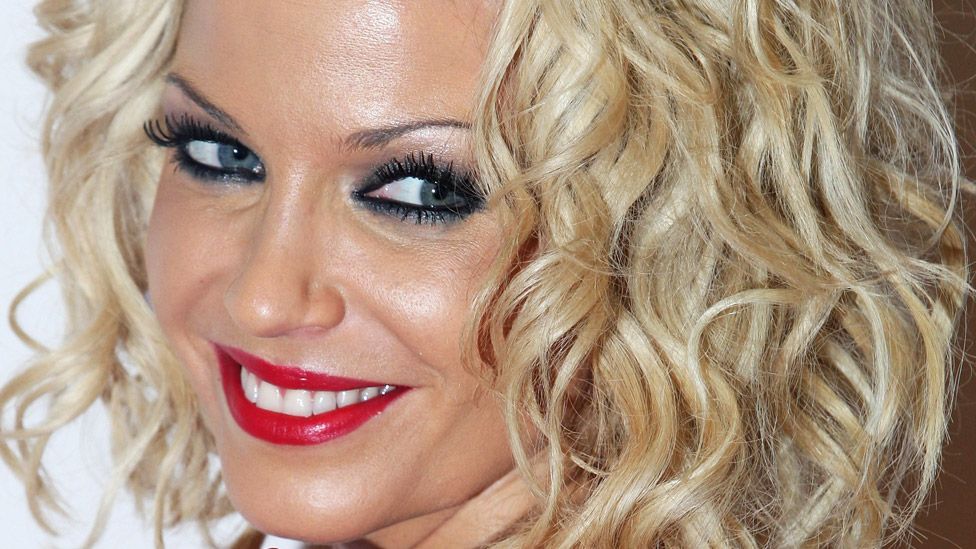 An irrepressible and immensely likeable pop star, Sarah Harding, who has died at the age of 39, helped Girls Aloud become Britain's biggest-selling girl group of the 21st Century, but also had a "wild child" reputation and a turbulent personal life.
Harding's natural warmth, energy and glamour were key parts of the chemistry that helped Girls Aloud soar and blow a breath of fresh air through the charts.
Her vocal capabilities and wide-eyed exuberance were put in the national spotlight on 2002 TV talent show Popstars: The Rivals.
When judge Louis Walsh rebuked the 20-year-old for failing to remember dance moves in one episode, her excuse was: "I'm too much of a loon."
When Walsh then told her she was through to the next round anyway, she proved herself right by hugging him round the neck, skipping into the corridor screaming, jumping into two peoples' arms and collapsing on the floor.
Wearing her emotions on her sleeve endeared Harding to viewers.
In the final, five spots in the band were up for grabs. Cheryl Tweedy, Nicola Roberts, Kimberley Walsh and Nadine Coyle had all been told they were in - meaning it was between Harding and Javine Hylton for the last seat.
When Harding's name was read out, she staggered, sobbing uncontrollably, to sit alongside her new bandmates.
Three weeks later, Girls Aloud were number one. They were the first band to have a Christmas chart-topper with their debut single and the first girl group to debut at number one.
It helped that the track, Sound of the Underground, was one of the best and most innovative pop songs of the decade. "They landed in a gulf in a drab pop landscape," wrote the Telegraph's Alice Vincent in 2017.
It was the first of four UK number ones and 21 Top 10 hits over the course of a decade. Girls Aloud's other slices of pop brilliance, crafted by writers and producers Xenomania, included Love Machine (2004), Something Kinda Ooh (2006), Call the Shots (2007) and The Promise (2008).
The last of these earned the band a Brit Award for best single.
The success fulfilled a dream Harding had held since her father, a session musician, started taking her into recording studios when she was three years old.
"It was all I wanted to do," she told The Sun. "I always loved being the centre of attention and ever since I can remember I've wanted to be a star."
Harding was born Sarah Hardman on 17 November 1981 in Ascot, Berkshire, and moved with her family to Stockport, Greater Manchester, at the age of 14. But she struggled to settle in at her new school and dropped out before taking her GCSEs.
She gigged in pubs, clubs and caravan parks around the north-west of England and north Wales and formed her own short-lived girl group. She also signed with an Italian label to sing on dance tracks - only to get cold feet three days before she was due to fly out.
At college she studied hair and beauty, and did jobs ranging from pizza deliveries to directory enquiries. It was while working in a bar that she applied for Popstars: The Rivals.
Despite her grounding in music, Harding had little idea about what to expect from stardom.
"These days there is a lot more talent coming out of shows like that, so people are now partly aware of what is going to happen," she told the Daily Star in 2015. "With social media, you kind of see what is coming. We didn't have all that back in the day."
A nickname, Hardcore Harding, was coined by her karate teacher "because she's left loads of men injured" - but it also suited her party lifestyle. Her twenties were "all heartbreaks and hangovers", she once said.
"I was young and naive and played up to my lairy character," she told The Sun. "It overshadowed the real me."
As for the heartbreaks, her boyfriends included socialite Calum Best, TV presenter Steve Jones, producer Mark Foster, actor Danny Dyer and DJ Tom Crane, to whom she was engaged.
She told another interviewer: "The drinking was more to give me more confidence, especially when I was going through my little wild-child stage."
But her lifestyle calmed down in her thirties, and she enthused about how she preferred tending her vegetable patch in her Buckinghamshire garden to partying.
Girls Aloud reassembled for their 10th anniversary in 2012 only to part ways again the following year, having sold a total of 4.3 million singles and four million albums.
Explaining the band dynamic to Look magazine after the split, Harding said: "Me and Nadine are more music orientated - more vocals - and the other three are more about dancing. I'd put my foot down about the music side of things. Nicola was more about the clothes. Choreography is Cheryl's forte.
"When there's five of you, it's difficult to have a say in everything. I'm looking forward to having more control."
By that time, the other four had all launched solo careers. Harding started work on hers in 2011, but ditched the songs and started again a few years later with more input into the songwriting. "This is my angry song but there's some real heartbreak stuff that I've written," she said of her debut solo single Threads, which came out in 2015.
Threads missed the UK Top 100, however, and her solo career was over.
Harding also got into acting, appearing opposite Dominic Cooper, Rosamund Pike and Riz Ahmed in the 2009 BBC Two drama Freefall. She appeared in St Trinian's 2: The Legend of Fritton's Gold the same year and acted alongside Dyer and Denise van Outen in the 2012 flop Run For Your Wife.
Coronation Street signed her up for four episodes in 2015, and she took part in such other TV shows as Celebrity Masterchef, the BBC's gymnastics contest Tumble - where she came second - and Channel 4's ski show The Jump.
But she dropped out of the latter after sustaining a ligament injury. Later that year, she blamed the injury for her withdrawal from her theatre debut in Ghost: The Musical, which had received poor reviews.
"I've been in constant pain with my knee injury," she said. "It can take a massive toll on your mental as well as physical well-being."
Harding then retreated from the limelight, only re-emerging in August 2020 to deliver the devastating news that she had been diagnosed with breast cancer.
In March 2021, an early extract from her memoir, Hear Me Out, revealed doctors had told her she wouldn't see another Christmas.
She wrote she was "trying to live and enjoy every second of my life, however long it might be".
The book also revealed that all five members of Girls Aloud had been reunited behind closed doors in the wake of her diagnosis.
The star admitted she was anxious about them all seeing her looking "bloated" due to the steroid treatment she was on, and having lost her eyelashes due to chemotherapy.
"It's not that I thought they wouldn't understand or be judgmental, of course; it's just that when we were together as a group, part of our thing was the glamour," she wrote.
While back together, the ex-bandmates watched the 2006 E4 documentary series Girls Aloud: Off the Record, "laughing" and "cringing" at their old antics.
"I have to say, I looked on fondly," wrote Harding. "'You only miss this when it's gone,' I told the girls."