BBC issues staff with new social media guidance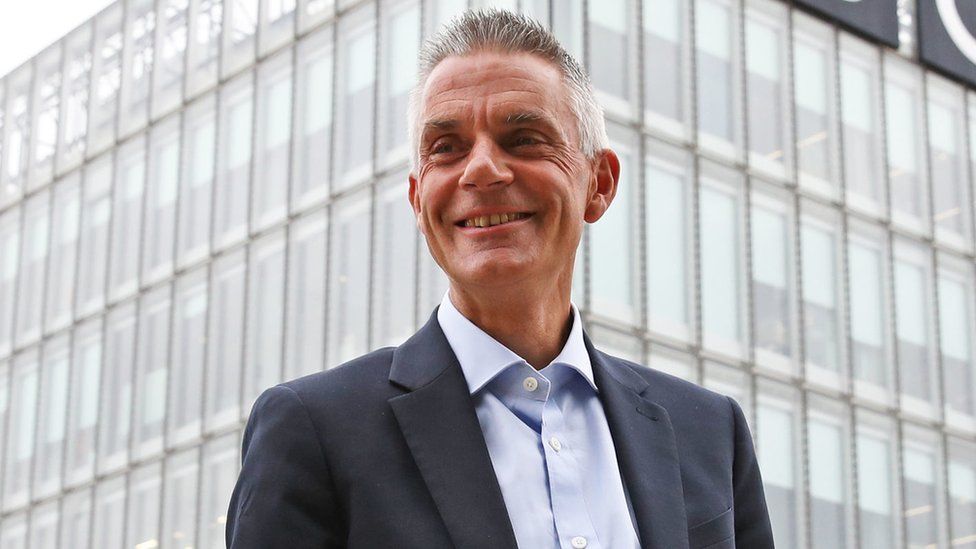 The BBC has issued new guidance on social media usage, which will force staff to maintain impartiality.
Employees will be told not to "express a personal opinion on matters of public policy, politics, or controversial subjects".
The announcement follows new director general Tim Davie's pledge last month to impose new social media rules.
The BBC will also tell staff to disclose their earnings outside of the corporation on a public database.
What are the new social media rules?
The BBC said it had considered impartiality in the context of public expressions of opinion, taking part in campaigns and participating in marches or protests.
The new guidance on social media will apply to staff whether they are using online platforms professionally or personally.
Staff will be told they must not bring the BBC into disrepute or criticise colleagues in public.
It adds: "If your work requires you to maintain your impartiality, don't express a personal opinion on matters of public policy, politics, or 'controversial subjects'."
Guidance will also be issued on avoiding bias through follows, likes, retweeting or other forms of sharing.
The BBC said there would be "tougher guidelines for some staff in news, current affairs, factual journalism, senior leadership, and a small number of presenters who have a significant public profile".
Some presenters have faced criticism for sharing personal views on Twitter in recent years.
They include Match of the Day presenter Gary Lineker, who often uses his Twitter feed to comment on non-football matters.
BBC cricket correspondent Jonathan Agnew took issue with this in 2018, asking Lineker to "observe BBC editorial guidelines" and keep his views on politics to himself.
Bobby Friction, a presenter on the BBC Asian Network, recently deleted a tweet which criticised the government after BBC management intervened.
The guidance states staff should avoid using disclaimers such as "My views, not the BBC's" in their biographies and profiles, as they provide no defence against personal expressions of opinion.
It also advises staff against using emojis which could reveal an opinion and undercut an otherwise impartial post, and to always assume they are posting publicly even if they have tight security settings.
The guidance states employees should "avoid virtue signalling" and adds: "Remember that your personal brand on social media is always secondary to your responsibility to the BBC."
The newly announced register of external engagements follows criticism of some high-profile BBC employees for extra work they've taken on outside the BBC.
Tim Davie said presenters and journalists risked their impartiality while earning large sums of money for corporate work.
Before now, BBC staff were required to seek permission before taking on commercial work, but there was no central database and they did not have to publicly disclose how much they had earned.
The BBC said it will now publish information about outside engagements and payments on a quarterly basis, starting in April 2021 (to cover the period from January-March 2021).
The corporation will be showing whether a fee was paid for each event and, if so, whether it was above or below £5,000.
The move follows press reports about outside speaking engagements for journalists including Fiona Bruce, Naga Munchetty, Simon Jack and Kamal Ahmed.
There will also be a new standardised approval process for external work to ensure consistency.
The BBC already publishes the salaries of its highest-paid stars as part of its annual report.
He said that in some cases, staff would be asked to suspend their Twitter accounts if they wanted to continue working for the BBC.
"I am prepared to take the appropriate disciplinary action, all the way to termination," he told the Commons Digital, Culture, Media and Sport select committee.
"Social media guidelines will make clear where the lines are," he said. "If someone is a face of the BBC, I think entering into party politics seems to me not the right place to be."
When he took over from Tony Hall at the beginning of September, Mr Davie told staff he wanted to renew the BBC's "commitment to impartiality".
"If you want to be an opinionated columnist or a partisan campaigner on social media then that is a valid choice, but you should not be working at the BBC," he said.
It is being headed by Professor Richard Sambrook, a former director of global news at the BBC who is now director of journalism of Cardiff University.