BBC staff can attend Pride parades, director general Tim Davie says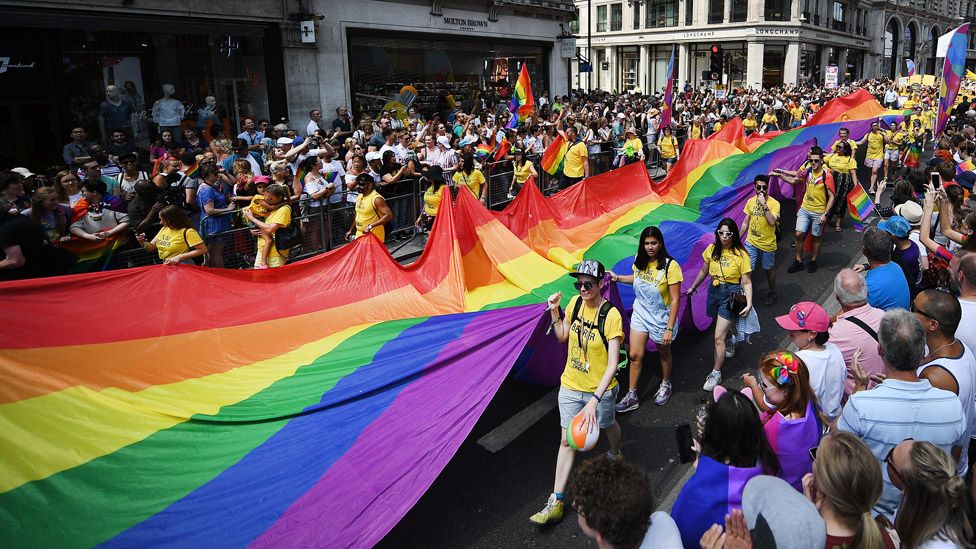 BBC staff can still attend Pride parades under the corporation's new impartiality guidelines, director general Tim Davie has said.
Some were reportedly told that meant they may not be able to join Pride events, which support LGBTQ+ rights.
But Mr Davie has said journalists could attend if they were not "taking a stand on politicised or contested issues".
Aimed at maintaining the broadcaster's impartiality, the new guidance said employees should not "express a personal opinion on matters of public policy, politics, or controversial subjects".
Mr Davie told staff on Friday: "There is no ban on attending Pride parades.
"The guidance that we published yesterday made it very clear that staff outside of news and current affairs and factual journalism may attend marches, demonstrations and protests as private individuals...
"There are different considerations for staff who work in news and current affairs and factual journalism (and senior leaders) but I want to be clear that there is no issue for these staff attending community events that are clearly celebratory or commemorative and do not compromise perceptions of their impartiality.
"If news and current affairs staff are participating in such events they must be mindful of ensuring that they do not get involved in matters which could be deemed political or controversial. There is no ban on these staff attending Pride events.
"Attending Pride parades is possible within the guidelines, but due care needs to be given to the guidance and staff need to ensure that they are not seen to be taking a stand on politicised or contested issues."
Mr Davie said commentary in the press and online on Thursday saying staff would be banned from Pride was "inaccurate".
BBC LGBT correspondent Ben Hunte said many people on social media were left "questioning why it took so long for the BBC to provide this reassurance to staff and audiences".
Hunte said: "LGBT staff at the BBC have told me that they are concerned that this statement has come far too late to undo the anger, resentment and confusion that was allowed to take hold for nearly 18 hours."
In response to Mr Davie's statement, the organisers of Pride In London said Mr Davie's message had "created ambiguity".
The event's director of communications Rhammel O'Dwyer-Afflick told the PA news agency: "While we welcome the news that all BBC staff can attend Pride events, we are concerned that the handling of this announcement and the policy itself have created ambiguity about the degree to which BBC employees can publicly show support for the rights of LGBT+ people.
"The rights of trans people, queer people of colour and black trans individuals in particular should not be up for debate.
"All BBC employees should be able to freely attend events in support of trans communities, such as Pride, as well as Black Lives Matter protests without fear of repercussions."
Bectu head Philippa Childs said: "We are frankly dismayed that unions were not properly consulted prior to the publication of such an important document.
"There is a huge amount of confusion and conjecture regarding what the guidelines mean and this is causing much distress amongst the Bectu membership and the workforce more generally."
The National Union of Journalists (NUJ) has called for an urgent meeting with Mr Davie to discuss the guidelines.
General secretary Michelle Stanistreet said she wanted to "address our members' concerns about the changes which could constrain individuals' ability to meaningfully participate and engage in issues that matter to them - whether that's in their trade union, their communities or in events such as Pride".
The new guidance also covers the use of social media, whether professionally or personally, in an attempt to avoid perceptions of bias; and said a new register of external and corporate work done by presenters, and how much they were paid, would be established.