The Crown: Ex-royal press secretary Dickie Arbiter criticises 'hatchet job'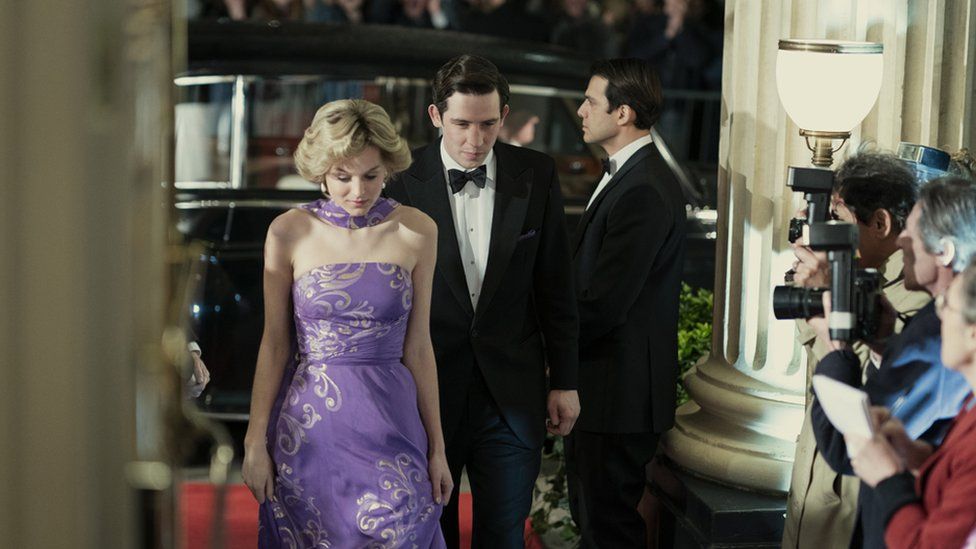 Netflix's The Crown has been criticised for "stretching dramatic licence to the extreme" by former Buckingham Palace press secretary Dickie Arbiter.
The latest series of the royal drama chronicles the Princess Diana years.
"It's a hatchet job on Prince Charles and a bit of a hatchet job on Diana," Mr Arbiter told the BBC. "You have to ask, is it necessary?"
The show's creator, Peter Morgan, has defended his right to have creative freedom after criticism of some scenes.
The show has come under scrutiny for its depictions of Charles and Diana in series four.
The opening episode features an imagined interaction between the Prince of Wales, played by Josh O'Connor, and his great uncle Lord Mountbatten, played by Charles Dance.
Viewers see the older man writing a letter warning Charles he is in danger of bringing "ruin and disappointment" to the family over his pursuit of the married Camilla Parker Bowles. On the show, the prince only reads the note after the IRA assassinated Lord Mountbatten in August 1979.
While no record of the letter exists, Morgan said the exchange was based on the truth.
Speaking on the show's official podcast, he said: "I think everything that's in that letter that Mountbatten writes to Charles is what I really believe, based on everything I've read and people I've spoken to, that represents his view.
"We will never know if it was put into a letter, and we will never know if Charles got that letter before or after Mountbatten's death, but in this particular drama, this is how I decided to deal with it."
Mr Arbiter took issue with the events depicted in the new series, including a meeting where the Prince of Wales's private secretary asks whether Diana was mentally fit enough to go on a solo tour of New York.
"That never happened," he said. "I was there. John Riddell, Charles's private secretary at the time, would never have said that.
He added: "The average person will see it as gospel."
The drama documents the relationship between Charles and Diana and its subsequent breakdown.
"It's just sensationalising, making Charles and Camilla out to be the villains. Charles is portrayed as vicious. He's not vicious."
Mr Arbiter praised Emma Corrin's performance as Diana, but took aim at O'Connor's physical portrayal of the prince.
He said: "Josh O'Connor trying to take his voice off, constantly stooped. Charles never stooped. Look at him now, he's 72 and he's upright. Covering the hand with your other hand during a handshake - Charles never does that. It's poorly portrayed."
Speaking about the depiction of Princess Diana's bulimia, he added: "Show her with her head over the toilet bowl, but you don't need to show it more than once."
"Thanks to the deficiencies in the teaching of history in this country, and the scarcity of teaching British history anywhere else in the world, too many will watch this and confuse fiction with fact," he wrote.
The Daily Telegraph has also reported royal sources saying Prince Charles refuses to watch the series, with friends accusing Netflix of exploiting the Royal Family's pain and saying it was "fiction presented as fact".
"The difficulty is knowing which is the truth and which isn't - particularly for the younger generation who haven't lived through this," she said. "They're going to believe what they see, they're going to see this as a documentary. We have to remember it's a drama."
O'Connor, who was nominated for a Bafta for his portrayal of Prince Charles in series three, has said the audience shouldn't forget that "it's not a real story".
He told BBC Breakfast on Monday: "What Peter does so brilliantly is he takes the historical facts... and then paints them in between these punctuation moments.
"There's a fascination with the royals... Sometimes people will want to believe this is what happened. It's always worth checking in and remembering that we're actors, we're not real and it's not a real story."
Princess Diana's former butler Paul Burrell also defended the series on Good Morning Britain on Tuesday.
"I don't think you can't just take one thing from The Crown and say that's wrong, you have to take it as a big picture," he said.
And Times TV critic Carol Midgley noted in her review that there is "the odd historical inaccuracy, but it is in my view Morgan's best series yet and, overall, five-star television".