Dolly Parton 'honoured and proud' to help Covid-19 battle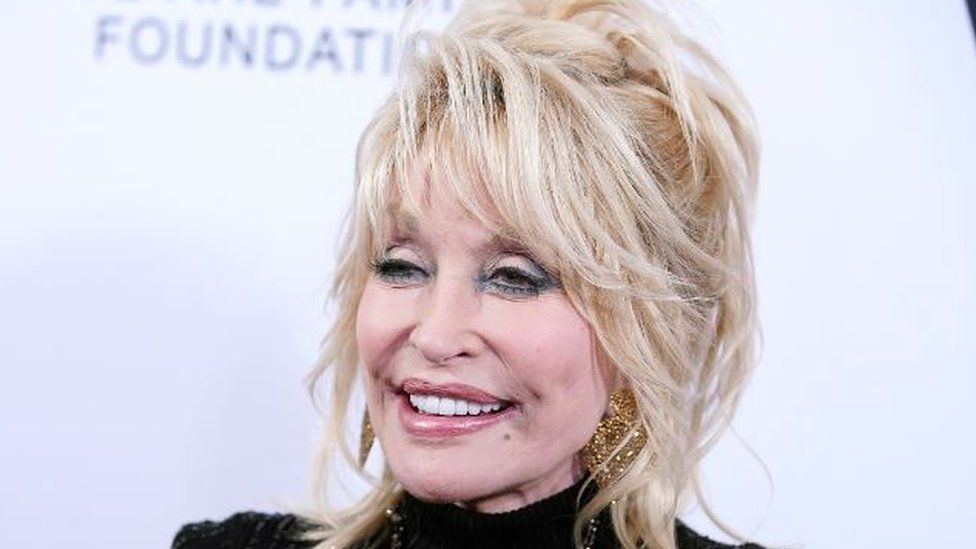 Country star Dolly Parton has said she feels "very honoured and proud" to have given money to research into one of the most promising Covid-19 vaccines.
In April she announced she was giving $1m (£750,000) to Vanderbilt University Medical Center in Nashville.
Speaking on BBC One's The One Show on Tuesday, Parton said she was "so excited" to hear the news.
"I'm sure many millions of dollars from many people went into that," she told co-presenters Alex Jones and Jermaine Jenas.
"But I just felt so proud to have been part of that little seed money that will hopefully grow into something great and help to heal this world."
"I'm a very proud girl today to know I had anything at all to do with something that's going to help us through this crazy pandemic," she continued.
A Vanderbilt spokesperson said Parton's "generous" gift was helping "several promising research initiatives".
A portion of the singer's money went towards funding an early stage trial of the Moderna vaccine.
'Very promising research'
Her donation is also supporting a convalescent plasma study and research involving antibody therapies, Vanderbilt University Medical Center spokesperson John Howser said.
Convalescent plasma is used to treat people who are battling a Covid infection.
"Her gift provided support for a pilot convalescent plasma study that one of our researchers was able to successfully complete," Mr Howser told BBC News.
"Funds from Dolly's gift are also supporting very promising research into monoclonal antibodies that act as a temporary vaccine for Covid. Two of these antibodies are now being tested by a global pharmaceutical firm."
Vanderbilt's plasma pilot showed enough promise for the US NIH (National Institutes of Health) to step in with $34m (£26m) in additional support to conduct a national, multi-site clinical trial into the benefits of convalescent plasma.
Announcing her donation on Instagram in April, the star said: "My longtime friend Dr Naji Abumrad, who's been involved in research at Vanderbilt for many years, informed me that they were making some exciting advancements towards that research of the coronavirus for a cure.
"I am making a donation of $1 million to Vanderbilt towards that research and to encourage people that can afford it to make donations."
The BBC is not responsible for the content of external sites.
Appearing on NBC's Today Show, the star added: "What better time right now, we need this. I felt like this was the time for me to open my heart and my hand, and try to help."
He added: "She cares so much about helping others and we are very grateful for her ongoing support. These funds will help us complete promising research that can benefit millions in their battle with the virus."
After her contribution to the trial was highlighted on Tuesday, fans took to Twitter to praise the Jolene and 9 To 5 singer.
The BBC is not responsible for the content of external sites.
The BBC is not responsible for the content of external sites.
This week, Moderna suggested its vaccine candidate was highly effective in stopping people getting ill and worked across all age groups.
Parton, 74, has a history of philanthropy that stretches back several decades. She has supported child literary initiatives through her Dollywood Foundation and has also given to and raised money for wildlife and HIV/Aids charities.