The people saving pantomime this Christmas - oh yes they are!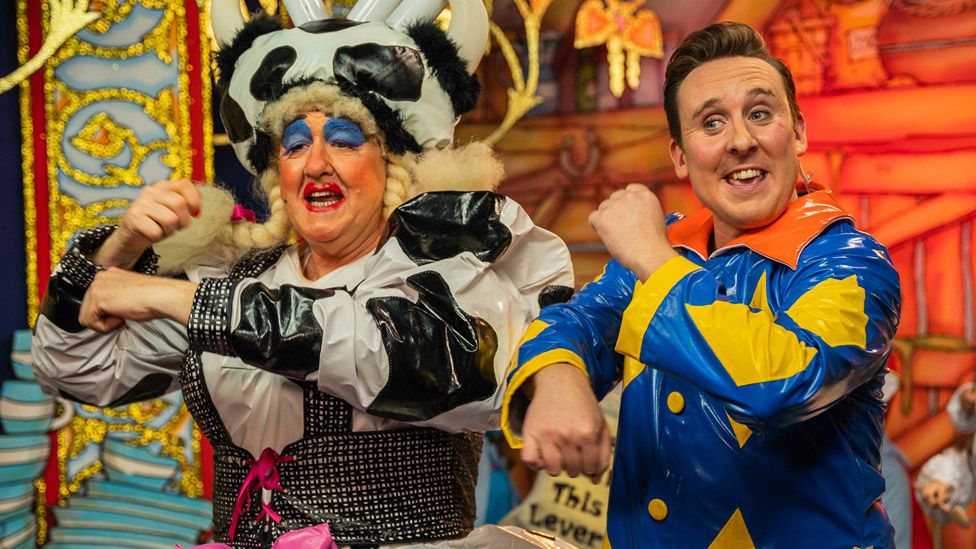 Many pantomimes have been called off this Christmas, but some theatres are making sure that, despite coronavirus restrictions, Jack can still climb his beanstalk, Puss can get her boots and Cinderella can go to the ball.
Every day at this time of year, Iain Lauchlan would normally be climbing into a selection of dazzling panto dame dresses, donning his wondrous wigs and arranging his bosoms, just as he has done for three decades.
"There are not many years in my working life that I haven't done panto," says Lauchlan, one of the UK's longest-serving panto dames.
"I wake up in the morning thinking, I should be doing a school show at half past 10. I do miss the live shows."
Lauchlan usually stars in Coventry's traditional festive family shows. But with the city's coronavirus restrictions at tier three, its theatre, the Belgrade, is shut.
There may be no live shows, but that doesn't mean there's no panto.
Lauchlan, who co-created children's TV favourite The Tweenies, has his own television studio, so has filmed a panto to be streamed via the Belgrade's website.
The Belgrade is one of a number of theatres putting their pantos online this year, and Lauchlan's TV knowhow has ensured his Jack and the Beanstalk is still hugely entertaining on screen instead of on stage.
"We thought, well, if anybody can do it, maybe we can do it," he says. "The biggest problem was there wasn't going to be a live audience."
It was, he says, very strange to perform panto to an empty studio, although he got around the absence of an audience by using sound effects to recreate shouts of "It's behind you!" for one routine.
Another traditional fixture of pantos is the jokes made at the expense of the people and things in the news - and Lauchlan found lots of material in lockdown.
In Jack and the Beanstalk, the king spoofs Boris Johnson's press conferences, while The 12 Days of Christmas becomes The 12 Days of Lockdown ("Eight Joe Wicks workouts, seven months of furlough, six home deliveries, five toilet rolls...")
"We tried to base it on lockdown rather than Covid because we were a bit concerned that people have had terrible experiences," Lauchlan adds.
For the filming, coronavirus rules meant Lauchlan had to put the cast and crew into three bubbles and arrange accommodation and catering to prevent them from mixing.
"We tried to stay as safe as possible," he says. "I found myself worrying about whether lunch was going to work one day, when I was supposed to be thinking about my performance. So it was quite an undertaking."
While an online show will never compare with watching a panto in person, it's better than nothing, he says.
"I wanted everything to look like panto, and it was important that when people watch it they think, I would love to be there just having a laugh. Hopefully it will go some way to giving some people enjoyment."
Meanwhile in tier two areas, where theatres can reopen, many venues have salvaged their pantos for socially-distanced audiences.
York Theatre Royal is in tier two, and is taking its panto on tour to community centres, church halls and social clubs in all 21 of the city's wards.
"People were really excited to be out of the house," says actress Faye Campbell, one of the five-strong cast, after the first night.
"There was such a great buzz - we could feel it as the cast. People were just really glad to be watching the show, because it's been so long."
Theatre Royal executive director Tom Bird says he was not ready to fully reopen the historic venue, and some audience members were not ready, or able, to travel into the city centre.
"We've noticed that people are coming out [of the show] almost emotional as though they've seen a deep drama rather than a pantomime, just because they're so emotional to have had a night out," he says.
Theatres have a role to play in lifting spirits, especially at Christmas, Bird believes.
"We don't pretend we're key workers," he says. "But we do know we're important and it's our job to entertain people, especially at times like this. So that's why we're determined to do it, despite the logistical mountain it gave us to climb to try to get this panto around the city."
How big is the logistical mountain? "It's an Everest," Bird replies.
"Risk assessing 21 different venues for Covid safety and working out how you do temperature checks and all the things we're doing in 21 different venues is of course crucial, but it's a huge challenge."
If Coventry joins York in tier two when restrictions are reviewed next week, Iain Lauchlan will play Santa in a smaller-scale live show for young children for five days. If not, it will be the first time in years that he hasn't been on stage at Christmas. But he'll be keeping busy.
"I'm a carpenter too, so I've just finished the gates for the churchyard in the village," he says. "I've got a bus shelter to make, you know!"
Pantomonium - how panto is surviving the pandemic
The BBC is not responsible for the content of external sites. YouTube content may contain adverts.
Skip youtube video by Panto Online
Allow YouTube content?
This article contains content provided by Google YouTube. We ask for your permission before anything is loaded, as they may be using cookies and other technologies. You may want to read Google's cookie policy, external and privacy policy, external before accepting. To view this content choose 'accept and continue'.
The BBC is not responsible for the content of external sites. YouTube content may contain adverts.
End of youtube video by Panto Online
Former Blue Peter presenter Peter Duncan was so determined to keep panto alive that he has written, directed and starred in his own production of Jack and the Beanstalk, and filmed it in his back garden in south London. It is being streamed online and shown in cinemas.
Liberty X singer Michelle Heaton is starring in Cinderella at Odeon cinemas in Liverpool, Wimbledon and London's Leicester Square. It's a combination of theatre and cinema - Michelle and four other actors will perform in person in front of the big screen, onto which the sets and special effects will be projected.
Fresh air is good for avoiding coronavirus, and it doesn't get any fresher than in December. Brighton Open Air Theatre is staging The Snow Queen and Hansel and Gretel? - with a question mark in the title - which is described as "a post-modern pantomime".
Comedian Tom Binns, known for his hospital radio DJ character Ivan Brackenbury, won't have to worry about socially distancing from any fellow cast members on his tour of Buttons: The One-Man Family Pantomime
The Parking Lot Panto will let you watch Cinderella from your car in cities including Liverpool, Cardiff, Edinburgh and Bristol as part of The Parking Lot Social's Winter Festival.
With London in tier two, Julian Clary, Elaine Paige, Ashley Banjo, Nigel Havers, Gary Wilmot and Beverley Knight have the go-ahead to star in Pantoland at the Palladium, at the London Palladium.
The National Theatre in London is where you'd normally expect to see heavyweight actors acting doing heavyweight acting, but this year it's putting on Dick Whittington, only the second pantomime in its history.
The BBC is catering for those missing pantos by broadcasting Cinderella on Christmas Eve, with a cast including Olivia Colman and Helena Bonham-Carter - both fresh from The Crown - alongside Guz Khan, Tom Hollander and This Country's Daisy May and Charlie Cooper as the evil step-sisters. That's on top of the annual CBeebies panto, Christmas in Storyland, for younger viewers.
Rapunzel is in lockdown in a real castle - Stirling Castle - in the National Theatre of Scotland's filmed production, which will be shown in cinemas as well as streamed online.
Expats have staged a panto in Basel, Switzerland, for 25 years, and claim Goldilocks and the 3 Bearz is the world's first interactive panto, Most has been filmed in advance, but a couple of live Zoom-style scenes allow online audiences to join in by shouting at the actors together. Oh yes they can!
Craig Revel-Horwood was meant to be sharing top billing with Sooty in Robin Hood at the Bristol Hippodrome this year, but that show was moved to Woking's New Victoria Theatre when Bristol went into tier three.
Manchester's main panto Sleeping Beauty, starring Jason Manford and Billy Pearce, was due to start this weekend - but that was scuppered when the city went into tier three. So the opening has been moved back to Christmas Eve, but that will only happen if Manchester moves to tier two at the next review.