Glastonbury 2021: Emily Eavis says 'we're doing everything we can'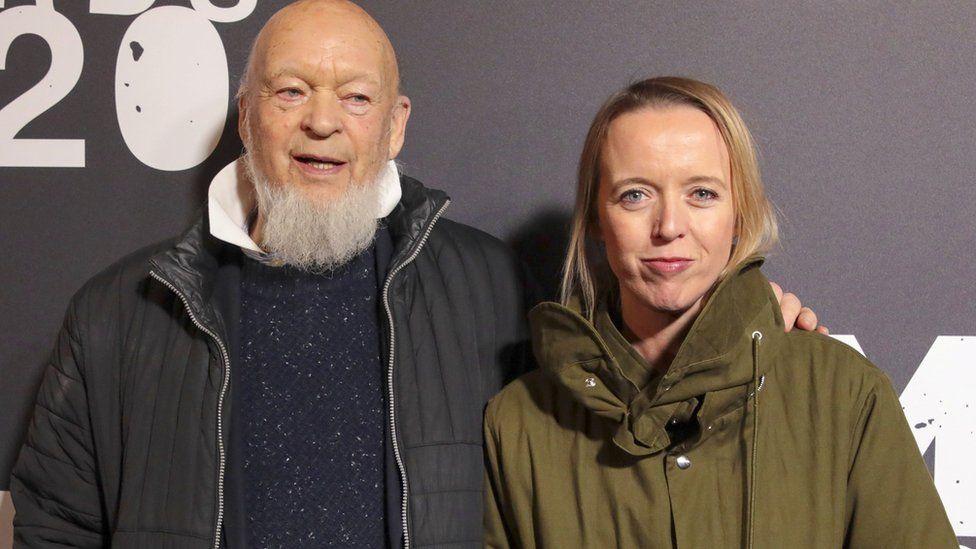 Glastonbury organiser Emily Eavis says she hopes the festival can go ahead in 2021, despite the "huge uncertainty" surrounding live music in the pandemic.
"We're doing everything we can on our end to plan and prepare," she told the BBC, "but I think we're still quite a long way from being able to say we're confident 2021 will go ahead."
Eavis said Glastonbury lost "millions" in 2020. Her father, Michael, has previously warned the festival "would seriously go bankrupt" if they had to cancel again next year.
But that scenario is unlikely "as long as we can make a firm call either way in advance", Eavis clarified to the BBC.
The live music industry has been hit particularly hard by Covid-19, with more than 90% of the gigs planned for 2020 cancelled.
Despite the arrival of a vaccine and rapid-turnaround tests, there are still uncertainties about when concerts can resume.
Organisers are also facing difficulties in obtaining cancellation insurance, putting huge sums of money at stake if an event is called off.
Eavis and other festival organisers are calling on MPs to create a fund that would cover the cost of events cancelled due to Covid-19 next year, following the example of the German government.
In an exclusive BBC interview, Eavis added that some sets could be live-streamed from Worthy Farm "if we can't run the full show next year"; and that this year's headliners - Paul McCartney, Taylor Swift and Kendrick Lamar - would all be welcomed back in the future.
You can read the full interview below.
2020 was due to be Glastonbury's 50th birthday party. How hard was the decision to cancel?
Oh, it was really hard. We obviously had so many plans for the 50th birthday, and it was set to be a full blown celebration. To be honest, we stayed optimistic about being able to run right until the 11th hour. I remember we had a meeting in February where we talked about there being a 10% chance of us being forced to cancel because of Covid. But that chance kept creeping up day by day, and by the middle of March, it had become clear there was simply no way we could plan, build and run the show. So we had to pull it. And within a week of us cancelling, the Covid crisis had moved up several levels and the whole summer's events had basically shut down.
Thousands of fans really want to be back at Worthy Farm next June. At this point, what would you say the odds are?
I can't tell you how much we'd love to welcome everyone back to the farm! It's been way too quiet here this year and we want to get people back here as soon as we possibly can. Obviously the vaccine news in recent weeks has increased our chances, but I think we're still quite a long way from being able to say we're confident 2021 will go ahead.
We're doing everything we can on our end to plan and prepare, but there are still just so many unknowns and factors which are completely out of our control. What we definitely can't afford to risk is getting too far into the process of next year, only for it to be snatched away from us again. We lost millions this year, and we can't risk that happening again.
What changes would have to be made to ensure the festival can go ahead?
That's sort of the issue, really: It's just too early to say. We're talking about a situation where the goalposts move weekly and sometimes daily. Clearly the vaccine is being rolled out, and that's great news, but there isn't yet any kind of clarity or consensus on what things will look like in May - when we'd usually have thousands of staff on site - or June, when we'd obviously have the festival.
We're doing everything we can to plan for next year. The hard part is understanding exactly what we'll be planning for, and what impact that will have on what we're able to do. But, right now, I'm not sure there's anything we could do that would completely ensure we can welcome 200,000 people to spend six days in some fields in June 2021.
Your dad said Glastonbury would go bankrupt if you had to cancel again in 2021. Is that still the case?
Well, it certainly wouldn't be good news if we got to the week of the Festival - having obviously spent a huge amount of time and money building the event - and then heard a few days before gates opening that we weren't allowed to go ahead. But, as long as we can make a firm call either way well in advance, then we'll be OK. The next few weeks are going to be crucial, really. They'll hopefully give us a much better idea of what is and isn't going to be possible.
The House of Commons culture select committee has launched an inquiry into the future of the festival industry. What support would you like to see being offered?
I think everyone - including government - wants there to be festivals next summer. But because of the huge uncertainty I just spoke about, and the fact that events take months to plan, there's a huge risk for organisers that they'll spend an awful lot of money and then see their events being cancelled for reasons completely outside of their control. And when those events go down, a huge number of jobs and livelihoods will disappear again too.
So, for that reason, I would certainly love for the UK government to offer some kind of support for events in the case that they are forced to cancel. Germany announced a €2.5bn (£2.3bn) event cancellation fund last week, and the whole UK festival industry would certainly welcome something similar from our government.
This summer, we should have seen Kendrick Lamar, Paul McCartney and Taylor Swift headlining the Pyramid Stage - what are the chances that they'll come back for 2021?
Well, I certainly hope they'll be coming at some point! Again, it's much too soon for us to be able to confirm line-up for 2021, but we were so pleased with our line-up for 2020 and I really hope all three of those headliners will be here at the farm before too long.
Now that Taylor has started recording indie albums in a woodland cabin, will she have to be re-booked for the acoustic stage?
Good question! She'd be great there, wouldn't she? Her album has been a soundtrack to us on Worthy Farm this year, and rather than imagining what could have been, I've definitely been listening to it imagining what eventually will be! That moment is definitely coming.
And when she does finally come and deliver a Pyramid headline set, she's welcome to play as many sets in other venues as she fancies! I certainly get the impression she'll be staying for the whole weekend and getting stuck in.
What was the music that got you through the lockdown?
Oh, so many things. It feels like we've had music on constantly. Taylor, Laura Marling, Nick Cave, Phoebe Bridgers, Michael Kiwanuka, Dua Lipa, Sault and Bob Dylan have all been on heavy rotation.
Livestreams and virtual gigs really took off this year. Did you tune in? And were there any that particularly impressed you?
They've been great, haven't they? We've watched quite a few. I absolutely loved Dua Lipa's one. It was designed by the team behind Block9, one of our late-night areas, and it really captured that proper club feel. It had us dancing around in the living room, by the fire. It really set the bar for live streams, I think, and I heard 5 million people tuned in, which is huge.
There's a unique feeling that comes with sharing a music event online with millions of others, knowing everyone else is stuck at home too. It's a new sensation, the 2020 version of gigs, and I think we've needed those connections.
We're actually looking into the possibility of streaming some things from here if we can't run the full show next year. We really want to get busy with planning some gigs - even if they're to be streamed!
The BBC is not responsible for the content of external sites. YouTube content may contain adverts.
Skip youtube video by BBC Music
Allow YouTube content?
This article contains content provided by Google YouTube. We ask for your permission before anything is loaded, as they may be using cookies and other technologies. You may want to read Google's cookie policy, external and privacy policy, external before accepting. To view this content choose 'accept and continue'.
The BBC is not responsible for the content of external sites. YouTube content may contain adverts.
End of youtube video by BBC Music
The BBC showed highlights from its Glastonbury archive over the summer… Did you wallow in the nostalgia like the rest of us?
Absolutely! It was certainly a bittersweet weekend for us, but the BBC created what I was just talking about, a shared weekend of musical reflection and connection. And I don't normally get to watch Glastonbury on the telly! It was really lovely.
And there's no doubt that watching crowds of people experiencing something together has a new level of emotion attached to it now. That's why I think live music is going to return bigger and brighter - and also more moving and joyous - than ever. I can't wait for the next time I'm at a big show.
Outside of music, what's the main thing that's helped you survive 2020?
I was thinking the other day, actually, it almost feels like we've been as busy this year as any year, trying to plan and manage the difficult situations we've found ourselves in. But at the same time, I am hugely aware that I'm really lucky to have experienced these crazy times in good health and with my family, surrounded by Somerset countryside. Those are things which have definitely made this whole thing much easier to survive than the experiences of so many other people. I really can't complain at all.