Finding Alice: How Keeley Hawes drama offers 'authentic' image of grief
By Rebecca Thomas
Arts and entertainment reporter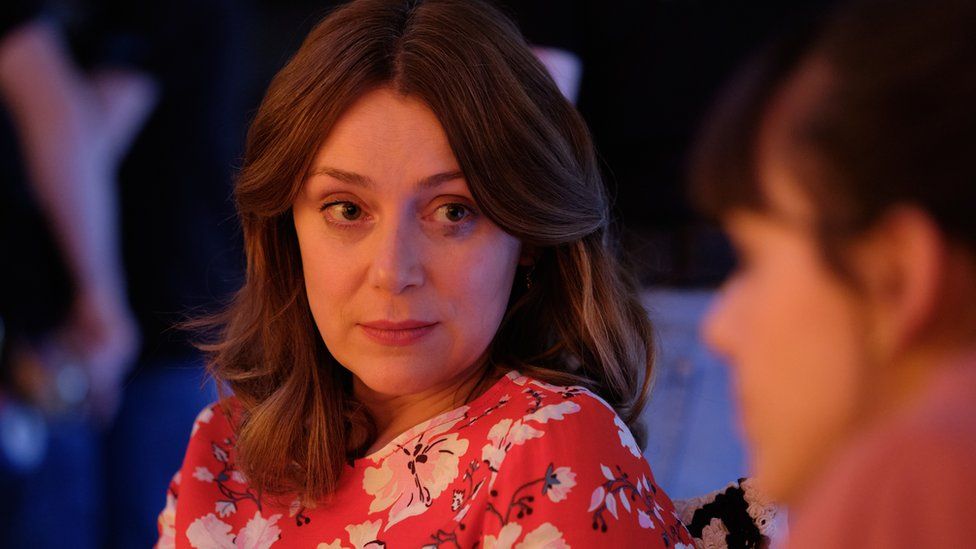 It is rare for a fictional TV show or movie to capture real grief effectively and honestly, given the difficulty in striking a balance between over-sentimentality and abject gloom.
But taking on such a challenge was considered worthwhile by the producers of the six-part ITV drama series Finding Alice.
Alice is a young woman left suddenly floundering and trying to "find" herself after her partner Harry dies from apparently falling down the stairs of their flash dream "smart" home, which he devotedly built himself.
Harry was Alice's rock, the one she relied on for everything and who gave her a sense of self, even though she is mother to 16-year-old Charlotte.
And if the pain of Alice's loss and disorientation is not enough, Harry's death unearths a seething cauldron of loose ends, secrets and hidden debt, and stirs up wider family divisions that threaten to engulf her.
The idea for the drama originated with Roger Goldby, notable as a director on the ITV series The Durrells.
And it was his two closest colleagues on that show - its star Keeley Hawes and writer Simon Nye - that he enlisted for his new project.
"Death in its instance is very traumatic and horrendous but it's the legacy of the grief that comes after that we're all touched by at some point in our lives to varying degrees," says Goldby about the genesis of his idea.
If you, or someone you know, have been affected by bereavement, the BBC Action Line lists organisations that can offer help and support.
Further information is available from Widowed and Young, a UK charity for people aged under 50 whose partner has died.
"It can be destabilising, catastrophic, shocking and all-encompassing when the rest of the world is carrying on around you," he continues. "It's negotiating your way through that journey that interested me rather than the death itself.
"And one of the most important things was to be authentic, real and truthful and treat it with respect. It's not a documentary, but we wanted to be very honest."
Hawes, who is also an executive producer on the show along with Goldby and Nye, plays the bewildered Alice, who we watch reel from one shock to the next in the wake of Harry's demise.
She also has to deal with Harry's parents, the permanently furrow-browed Minnie (Gemma Jones) and gruff Gerry (Kenneth Cranham), who keep turning up uninvited for reasons that are not clear cut.
Whilst Alice's own parents, the snivelling Roger (Nigel Havers) and acerbic snob Sarah (Joanna Lumley), only add to her problems, which include suspicious police, unexpected visitors and the realisation that business debt wasn't Harry's only secret.
Writer Nye believes this layered process to the story-telling lends the drama authenticity.
"Alice is making it up as she goes along. She's finding her way, particularly in relation to the other members of her family who don't make it easy for her to have a smooth passage towards rebuilding her confidence," he says.
"There are stages of grief and there is huge difference between dying suddenly in your 40s and dying quietly when you're 85 and you've had time to clear up your loose ends and hide your tracks if you have any secrets, which many people do."
The smart house - akin to something you might see on Grand Designs - is a physical memory of Harry, and his legacy, but which now becomes the focal point for many of Alice's problems.
She has to resist attempts to take it away from her in the financial maelstrom that follows his death.
And for all its hi-tech sleekness, it also adds to, and becomes symbolic of, Alice's disorientation, as she struggles to even find the fridge. Yet it also brings reasons to laugh (no matter how uncomfortable that might feel), says Hawes.
"The complexity of the house is where a lot of the humour comes from and also the frustration. The house was Harry's dream so he is everywhere, in the fabric of the building."
Alice doesn't behave as society would expect of someone grieving. There is no filter to her thoughts and emotions. She can be childish, make inappropriate jokes, dress flamboyantly - and be dogged in indulging her whims, such as burying Harry in the garden.
"It is unexpected in the way she reacts sometimes but that is due to how she is as a person and her nature. She doesn't turn into a completely different person because of her grief," says Hawes.
"As well as the emotion there is so much light. There is a gallows humour. People naturally go towards the lighter aspects, it helps you and she does put her foot in it a lot and so does her mother - it's a trait she gets from Sarah."
Lumley, who plays the shoot-from-hip Sarah, totally gets the black humour often found in the saddest situations. She's also quite enamoured of the idea of being laid to rest at home.
"We all know there is a terrifying edge of absurdity sometimes which makes you want to laugh at funerals. The smallest thing, because your sensibilities are so heightened," she says.
"Words come out, things you didn't mean to say or do happen because of this extreme sense of heightened awareness, responsibility and anxiety.
"And why shouldn't Alice bury Harry in the garden? I think people around the country will go, 'Good for her.' It did make me wonder what's wrong with the idea."
Alice's erratic behaviour does however have a profound effect on her young daughter Charlotte, played by Isabella Pappas.
'I only play unsympathetic characters'
While her mother flails about, Charlotte has to step up to try to assert some control.
"It's confusing for her because she's already lost one parent and now she's having to step into the role of another," says Pappas.
"They can be screaming at each other and then make up, but that's what it's like in true life and I could relate to that with my mum. No relationship is ever easy and my mum says if you never argue then someone is lying. "
Charlotte nonetheless has an unexpected ally in the seemingly hard-hearted Sarah, who considers Alice's neglect as yet another reason to be critical.
Sarah's embittered by the cards she's been dealt. Once a beautiful young model she married the up-and-coming lawyer Roger, who, she thought, was destined for a glittering career.
But decades later her dreams are in tatters and she's developed a crab-like shell. Yet Lumley has sympathy for her.
"I've moved into that era in my life where I only play unsympathetic characters; I think Patsy [in Absolutely Fabulous] had something to do with that, she is hard-hearted beyond belief," jokes the 74-year-old.
"I have met self-centred, disappointed women who don't seem to have any kindness. But if you stick with those people, you'll find something happened or something is going on in their lives that you didn't know."
Sarah and Roger are however still considerably more well-off than Harry's working-class parents. It's a disparity that creates just one of the cracks in the wider family.
And Nye believes conflict is all too common after a family death, and perhaps we'd all do well to take note.
"Fights at funerals happen even before the will is read. Money just messes everything up, especially if there is no will. So I hope it's a lesson to us all, to try not to let your family fall apart as a result of death," he says.
"Even after a death, most of us are programmed to seek the light. When Alice falters in that, we hope showing her moments of despair will make for cathartic viewing."
Finding Alice begins on ITV1 on Sunday 17 January at 21:00 GMT.