MPs urge chancellor to save summer music festivals as live music faces ruin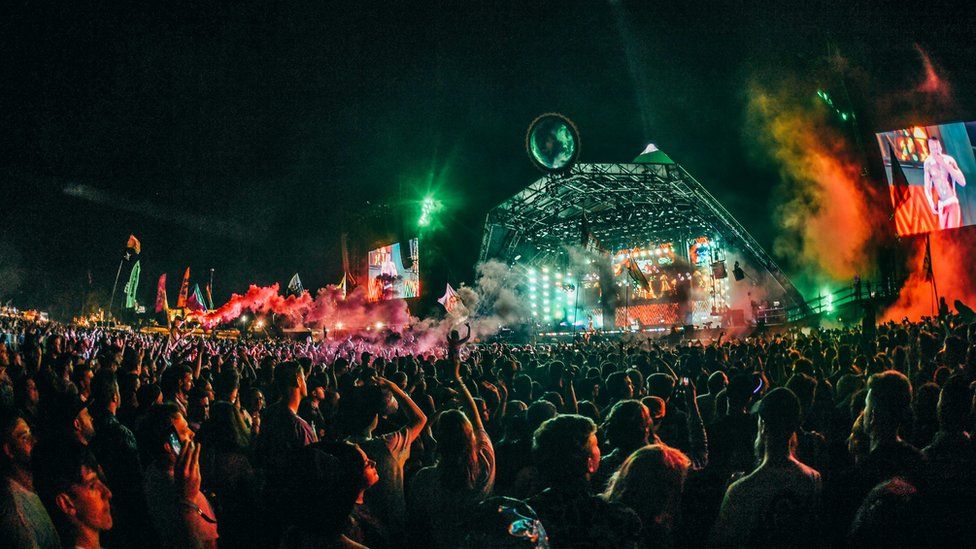 MPs have written to the chancellor, asking him to launch a Covid-19 insurance scheme to protect live music.
It comes days after a parliamentary inquiry heard that the majority of UK festivals face ruin if they are forced to cancel events for a second summer.
The appeal is backed by more than 100 industry figures, including organisers of the TRNSMT and Parklife festivals.
"Without insurance, the events we know and love simply won't take place this year," the DCMS committee said.
"Sustaining losses like those we've seen in 2020 for another year isn't an option, and hundreds of businesses... have already been forced to fold," the letter continued.
"The government has backed insurance for the film and television industry to the tune of £500 million. It's now time to do this for other creative industries."
The live music industry has been hit particularly hard by Covid-19, with more than 90% of the gigs planned for 2020 cancelled.
Despite the arrival of vaccines and rapid-turnaround tests, there are still uncertainties about when concerts can resume, especially with the majority of the UK under strict virus curbs.
Festival organisers have also faced difficulties in obtaining cancellation insurance, putting huge sums of money at stake if their event is called off.
"There's a huge risk for organisers that they'll spend an awful lot of money and then see their events being cancelled for reasons completely outside of their control," Glastonbury's Emily Eavis told the BBC last month.
"And when those events go down, a huge number of jobs and livelihoods will disappear again too."
She called for a government-backed scheme that would compensate festivals who were forced to cancel - similar to a £2.3bn fund recently announced in Germany.
Such a scheme was the "most critical factor" in ensuring the future of live events, said Paul Reed, chief executive at the Association of Independent Festivals, while speaking to MPs on Tuesday.
He outlined to a potential scenario this year whereby festivals cancel "early and en masse" owing to a lack of insurance, yet public health "drastically improves" over the spring, meaning fans would either be left without events to attend, or be forced abroad.
The evidence prompted DCMS Committee chair Julian Knight MP to write to the chancellor, urging the creation of a government scheme "as a matter of urgency".
"The government is telling us that life should be getting back to normal by the summer but unless it can provide a safety net, it will be a summer without festivals," he said.
"The industry says that without government-backed insurance, many festivals and live music events just won't happen because organisers can't risk getting their fingers burnt for a second year."
He added: "The Government already offers a level of cover to the film and television industries, now is the time to extend support to other creative industries or risk losing some of our best loved and world-renowned festivals."