Fleetwood Mac's Mick Fleetwood sells his recordings to BMG
By Mark Savage
BBC music reporter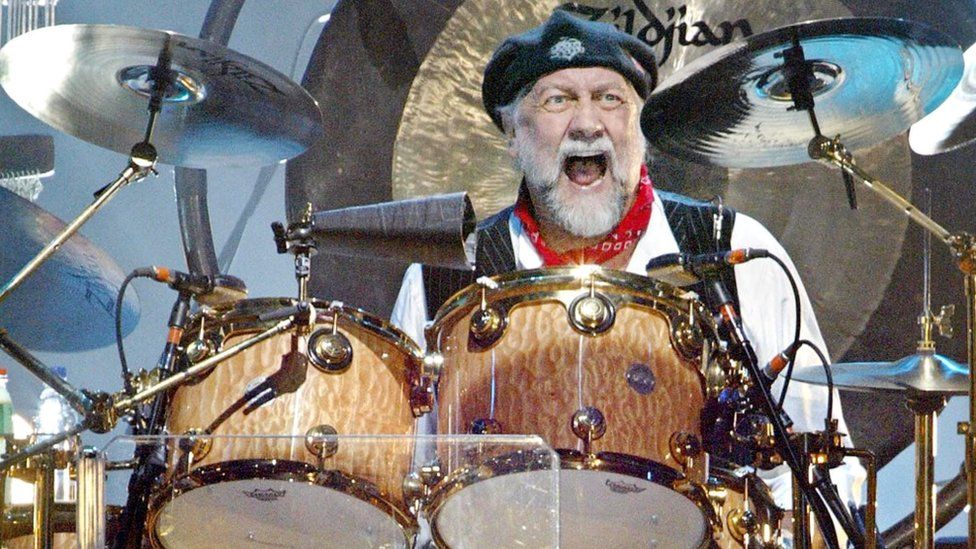 Fleetwood Mac's founder member Mick Fleetwood has sold his share of the band's recordings to music company BMG.
The deal covers classic albums including Rumours, Tango In The Night and Tusk, representing 300 songs, or "18 hours of drumming", BMG said.
It comes shortly after Fleetwood Mac's 1977 single Dreams went viral on TikTok, racking up 2.8 billion views.
The band's greatest hits collection 50 Years - Don't Stop was also the UK's 10th biggest-selling album of 2020.
Fleetwood is the backbone of the band that bears his name. In the early days, he was their manager as well as their drummer, hiring and firing musicians as they scored hits with songs like Albatross and Man Of The World.
After losing several members to substance abuse and relationship problems, he put together Fleetwood Mac's classic line-up - Stevie Nicks, Lindsey Buckingham, Christine McVie and co-founder John McVie - and recorded some of the most enduring albums of the 1970s.
The deal with BMG means Fleetwood has traded his future earnings from the sale of the band's music for an upfront payment. BMG did not disclose the sum involved, but it is likely to involve many millions of pounds.
The streaming boom has encouraged investors to put their cash into famous song catalogues, which generate royalties every time they are played on the radio, streamed or used in film and TV shows.
Recent weeks have seen the likes of Bob Dylan, Neil Young, Barry Manilow, Shakira and KT Tunstall selling the rights to some, or all, of their most famous songs.
Mick Fleetwood's deal is slightly unusual. He has sold the rights to his share in Fleetwood Mac's recordings - ie the master tapes they created in the studio over the last 50 years (not including the band's first two albums).
Most other deals concern publishing rights - ie the copyright in the songs themselves, incorporating the lyrics and music.
Fleetwood's publishing rights are already part-owned by the investment company Hipgnosis, which last week acquired the back catalogue of his bandmate Lindsey Buckingham.
In November, Stevie Nicks sold 80% of the rights to her own songwriting catalogue, including Fleetwood Mac hits like Rhiannon and Dreams, to music publisher Primary Wave for a reported $100m (£73m).
Fleetwood's deal came after he partnered with BMG for a tribute concert in honour of his former bandmate Peter Green last year.
In a statement, the drummer said: "This is a wonderfully inspiring marriage between two creative partners that understand all aspects of the business."
BMG's Justus Haerder added: "This acquisition highlights the value of timeless recordings in a streaming market which is increasingly benefitting established rather than newer artists.
"Catalogues such as Fleetwood Mac's, which connect with every generation, are benefiting disproportionately from that growth."