Marilyn Manson dropped by record label over abuse allegations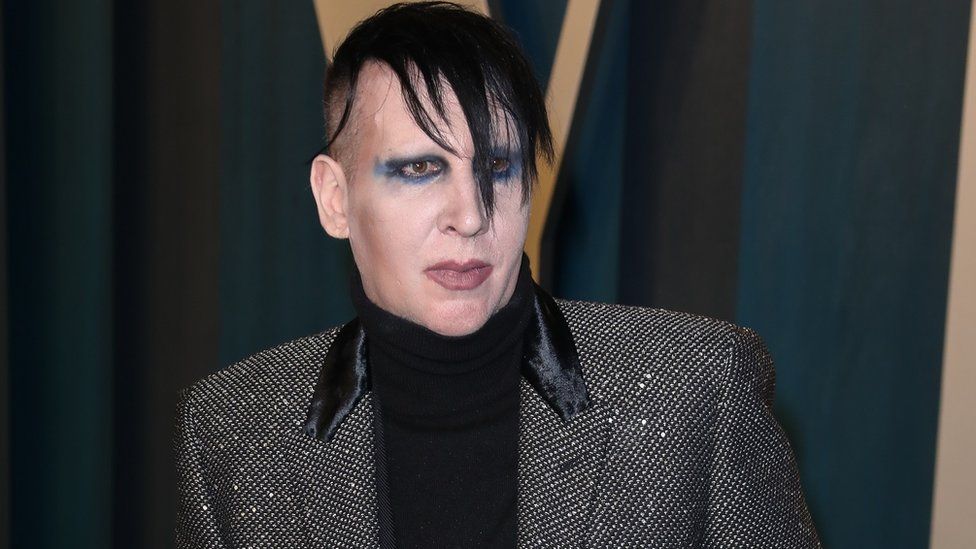 Marilyn Manson has been dropped by his record label following claims by actress Evan Rachel Wood that she was "horrifically abused" by the musician.
His guest appearance in Starz drama American Gods will also be removed.
Manson was due to be seen in an upcoming episode but the US TV network Starz said in a statement: "Due to the allegations made against Marilyn Manson, we have decided to remove his performance from the remaining episode he is in, scheduled to air later this season. Starz stands unequivocally with all victims and survivors of abuse."
The singer's most recent album released through Loma Vista was last year's We Are Chaos, which reached number seven in the UK charts and eight in the US.
Manson began working with Loma Vista in 2015 for his record The Pale Emperor.
On Monday, Wood claimed Manson had "horrifically abused" her during their three-year relationship in the late noughties.
Manson and Wood began dating in 2007 and got engaged in 2010, but broke up later that year.
Wood has previously said that she is a survivor of rape and domestic abuse, without naming the person accused.
"He started grooming me when I was a teenager and horrifically abused me for years. I was brainwashed and manipulated into submission."
She added: "I am done living in fear of retaliation, slander, or blackmail. I am here to expose this dangerous man and call out the many industries that have enabled him, before he ruins any more lives. I stand with the many victims who will no longer be silent."
Manson responded to the allegations in his own Instagram post on Monday evening, saying: "Obviously, my art and my life have long been magnets for controversy, but these recent claims about me are horrible distortions of reality.
"My intimate relationships have always been entirely consensual with like-minded partners. Regardless of how - and why - others are now choosing to misrepresent the past, that is the truth," he added.
Several other women came forward via social media platforms on Monday to make similar statements accusing Manson of abuse.
What are the allegations?
The bill was signed into law by California governor Gavin Newsom in October 2019, and took effect in January 2020.
At the time, Wood testified to Congress that her abuser had hidden an addiction to drugs and alcohol from her, and "had bouts of extreme jealousy, which would often result in him wrecking our home, cornering me in a room, and threatening me".
A representative for Manson has previously said it would be "inappropriate to comment" on personal testimony.
Wood, 33, is known for roles in films such as The Wrestler and The Ides of March. She has voiced characters in films such as Frozen II and Asterix and the Vikings.
She is best known for portraying sentient android Dolores Abernathy in the HBO series Westworld, a role she has played since 2016.
Manson, 52, has released 11 studio albums since 1994, three of which have reached the top 10 in the UK.
His biggest hit single was a cover of Tainted Love, which reached number five in 2001.
If you have been affected by any of the issues in this story, you can access support via BBC Action Line.