Prince Philip: Matt Smith and Tobias Menzies on playing the duke in The Crown
By Helen Bushby
Entertainment and arts reporter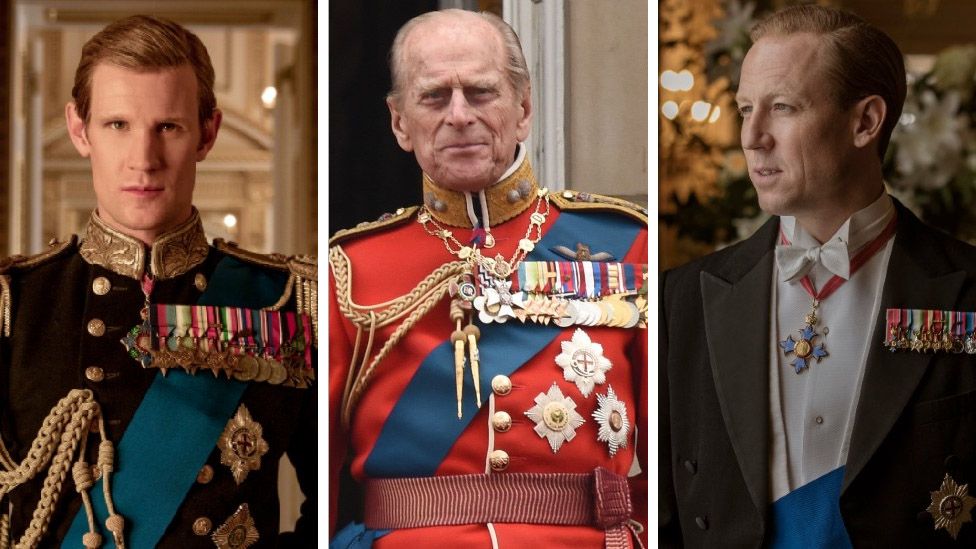 That, according to actor Matt Smith, was apparently the Duke of Edinburgh's terse response when asked whether he had ever watched The Crown.
Smith relayed the anecdote during a 2017 interview with the Guardian, as he reflected on his time playing the duke in the hugely successful Netflix drama.
The series portrays the inner life of Britain's modern-day Royal Family, from the abdication of Edward VIII in 1936 to the break-up of Prince Charles's marriage to Diana, Princess of Wales, in the early 1990s. The drama is set to continue in a new season in 2022.
It has been showered with praise for its lavish sets, immense budget, compelling script and accomplished cast, and the awards have followed. More controversial though has been its relationship with the truth.
The royals are notoriously guarded about their private lives.
Even the duke's supposed stinging rebuke when asked whether he had watched the series is a matter of debate.
"Whether it's true or not, I don't know, but I just think he's a bit of a cool cat," said Smith, after relating the second-hand anecdote.
"And that's what I love about him: he's done what he wants, when he wants, how he wants, with whom he wants. He hasn't asked permission. And his wife's the Queen."
The former Doctor Who star played the dashing, young Philip Mountbatten, who wooed Princess Elizabeth and became her royal consort.
Yet there were, in reality, limits to how much the duke really did what he wanted. Smith's portrayal of Philip takes in many of the compromises the prince was forced to make - giving up his title as Prince Philip of Greece and Denmark, resigning his career in the navy and, ultimately, swearing allegiance to the Queen.
When Elizabeth was crowned in 1953, Philip is depicted in the show asking her if he can be excused from kneeling to pay homage to her during the ceremony.
So what did his role teach Smith about the man himself?
"In this day and age, with all the conversations we're having about being a man and maleness, and what it is to be empowered and respected as a woman - I just found that thrilling," he told BBC Radio 4's Desert Island Discs.
"And also, I kind of sided with him, which is controversial. I felt, 'Yeah, I wouldn't really want to kneel to my wife'."
His enthusiasm for the character continued into season two when Smith said he saw the duke as a "roguish, brilliant man", adding: "I just found a lot to celebrate in Philip."
The actor, who was Emmy-nominated in 2018 for playing the role, told Variety that year: "I sort of loved Philip, and there was a lot that I could identify with: the competitiveness, the sporting nature, the battle, the defiance and the maleness.
"One of the interesting challenges for me was that I felt there was a sort of a misconception and a preconception about him, which reduced him a bit.
"And actually all the research I did found him to be brilliantly funny, very clever, very popular. In the royal house he's the most popular of all of them. If you've talked to any of the staff, Philip's the one they all love really. I think more than a lot of them, he's a bit more of a man of the people."
Smith was no less complimentary when reacting to news of the duke's death. "Prince Philip was the man. And he knew it. 99 and out, but what an innings. And what style," he said. "Thank you for your service old chap - it won't be the same without you."
The role of Philip was passed to Tobias Menzies in season three, when the middle-aged duke played opposite Olivia Colman. Speaking in the immediate aftermath of the duke's death on Friday, Menzies was the essence of modesty.
"If I know anything about the Duke of Edinburgh I'm fairly sure he wouldn't want some actor who has portrayed him on television giving their opinion on his life," he said, going on to quote the character of Orlando in Shakespeare's As You Like It.
"O good old man! how well in thee appears
"The constant service of the antique world..."
Before adding: "Rest in Peace."
But some time before that, Menzies, who bleached his eyebrows for the role of the duke, was asked by the LA Times if he knew whether Prince Philip had watched his portrayal.
"'The crown doesn't comment.' I think that's the motto," he replied.
He played the prince in seasons three and four, covering 1964 to 1990, and said that by this stage in his life, he "has acclimatised" and "seems to be chafing at the bit less... and seems to have found his feet".
The Outlander actor told the New York Times that for Philip, season three was "a continuation of themes in the first seasons: being second to his wife, sacrificing his own life and career to some extent".
Menzies told the LA Times it was a challenge playing the duke.
"They're quite guarded, both him and the Queen. Having watched a lot of footage of Philip and having read about him a lot, I find him quite a hard man to pin down. That makes him interesting to play."
The actor, who was nominated for a Golden Globe last year for his role in the show, told Screen Daily playing the royal was "primarily a technical challenge... But it's a subtle thing to pitch - you don't want it to be pastiche or caricature".
Season four's storylines featuring Prince Philip include a depiction of the early relationship between Prince Charles and Lady Diana Spencer.
The show suggests Prince Philip and Diana shared an affinity with each other.
Speaking to Vanity Fair, Menzies said: "Someone in production managed to get hold of copies of some letters between him and Diana.
"I was really struck by the kind of balanced, calm, quite tender kind of atmosphere to those letters. He clearly, behind the scenes, worked quite hard to mend that relationship. And if those letters are anything to go by, he does seem to have been a keen supporter of hers."
He said playing the duke was a "daunting prospect" but added doing it with the Crown's creator Peter Morgan, along with Imelda Staunton playing the Queen, and Lesley Manville as Princess Margaret, would be "a joy".