The Father: Why Olivia Colman's new film will leave you disorientated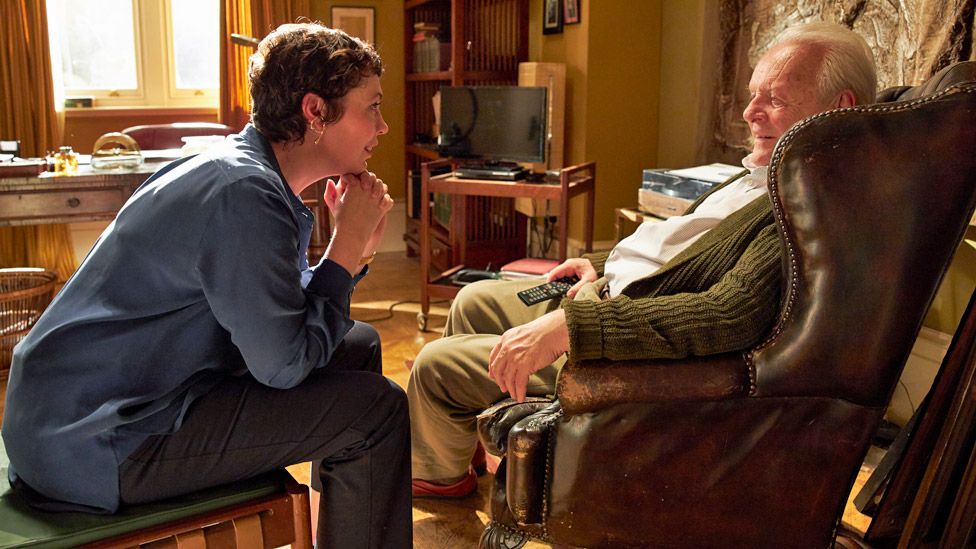 When you hear about a film with a depressing or worthy subject, it's easy to groan and defer watching it until another day when you'll feel more ready to face it.
Take dementia - a truly horrific mental condition which affects millions of people worldwide. An important topic, for sure, but not necessarily the kind of thing you'd choose to watch a movie about after a hard day at work. "I'll get around to it at some point," you pretend to yourself.
It's important to fight that instinct with The Father, which, despite its gloomy-sounding premise, is a tremendously well-executed film, widely praised by critics and pretty much guaranteed to pick up several Oscar nominations on 15 March.
The titular character in The Father is 80-year-old Anthony, coincidentally played by Sir Anthony Hopkins. He lives in a gorgeous apartment in London's Maida Vale, where he is regularly visited by his kind and caring daughter, Anne (Olivia Colman).
Everything is fine, or so it seems.
As a viewer, you first realise something isn't quite right when Anne visits her father one day as normal - except she isn't the Anne we recognise. Colman has been replaced with a different actress. Who is she? They can't both be his daughter Anne. What's going on? And, while we're at it, hasn't the wallpaper and furniture changed in the apartment since her last visit?
It's confusing. You wonder if you've missed something. You can't keep track of who's who, or what's what. Names and faces get mixed up. The timeline is unclear.
But, of course, this is precisely the point of The Father. Anthony's worsening dementia means that he can't get a grasp on what's going on around him.
"What I wanted to do was not tell the story from the outside, but the inside, and put the audience in an active position, as if they were in the main character's head," explains director and writer Florian Zeller.
"I wanted The Father to be a bit more than a story, but like an experience, as if you [the viewer] were the one losing your bearings."
There has been no shortage of films about this subject in the past - Still Alice, for example, won Julianne Moore an Oscar just six years ago. But the flipping perspectives in The Father might be the most effective treatment of any such film to date.
Zeller first wrote The Father a decade ago as a stage play. Originally titled Le Père and written in French, his first language, it premiered in 2012 in Paris. It was praised by critics, showered with awards, and eventually staged in 45 countries, including on Broadway and in London's West End.
The 41-year-old wrote the play based on personal experience. Zeller was raised by his grandmother, who started to experience dementia when he was 15. "So when I wrote the play, it was a lot about trying to connect to those emotions," he says.
However, when it came to adapting the play for the screen, he avoided doing a copy-and-paste job. "What I didn't want to do was just to film a play, because I think it's not very exciting," he explains. "So I worked hard on the script with [British playwright Sir] Christopher Hampton to make it as cinematic as possible."
(It's a pity certain other films based on plays this awards season haven't done the same.)
"Of course, the first thoughts and advice you get when adapting a play into a film, is to try and write new scenes outside, to make it feel more cinematic. And that's a temptation, and usually what you do," Zeller says.
But that's not what he did. After all, the apartment is one of the main characters of the story. So much of the film takes place there, but with gradual changes to the interior decoration. "What I wanted to do is for the audience to recognise the place, because at the beginning, it's Anthony's apartment, you recognise the space, the knick-knacks, the furniture.
"And step by step, always in the background, you have small changes, small metamorphoses in the set, and you never quite know exactly what happened, but something has happened, so you have the feeling you are in the same place, and yet also somewhere else. It was a way to make the audience doubt where we are, and to play with the feeling of disorientation... and something that was not possible to do on stage."
Reviews of the film adaptation, which first premiered at Sundance last year, prior to the pandemic, were positive.
Owen Gleiberman of Variety said: "Hopkins is flat-out stunning. He acts, for a while, with grizzled charm and roaring certainty, but the quality that holds his performance together, and begins to take it over, is a cosmic confusion laced with terror. Anthony is losing more than his memory - he's losing himself."
"Colman mirrors his emotional fragility," added Amber Wilkinson of The Times, "jollying him along while trying to wrestle down her grief at watching part of him leave. The sense of loss is acute and as things get worse, you feel your heart break in 10 directions at once."
Sir Anthony is likely to get an Oscar nomination for best actor, and stands a good chance of winning. He will, however, face competition from the late Chadwick Boseman, who is expected to be nominated posthumously for Ma Rainey's Black Bottom.
The 83-year-old explains he was enthusiastic to do The Father after reading the script. "It was so powerful, and so simple, so direct, so concise, so compact," he says. "I've been fortunate, in the last few years I've been involved with some wonderful films, but this was really unique."
He was about to film The Two Popes at the time he was sent it, and asked whether the team could delay production to wait for him - which they happily did.
Colman's involvement in the film was thanks in part to the connection she felt to the story. "My mum was a district nurse for the NHS for 40 years, and her passion was always geriatric care," she explains. "And I would go in the car with her when it was school holidays or when I was ill. And I'd see lonely people in their homes who didn't have families. My mum is an ambassador for dementia care, so it's always been a big part of my family's life."
The actress adds she wanted to reflect the agonising decision of what to do with a family member affected by dementia. "It's an awful decision to make," she says. "To look into your father's eyes and see fear or confusion. It's a terrible thing to still want to live your own life, but you have to have your own life. And that was a reason I wanted to play it, I wanted to play all those feelings."
Dementia is a symptom found in many diseases of the brain.
Memory loss is the most common feature of dementia, particularly the struggle to remember recent events.
Other symptoms can include changes to behaviour, mood and personality, becoming lost in familiar places or being unable to find the right word in a conversation.
It can reach the point where people don't know they need to eat or drink.
Alzheimer's disease is by far the most common of the diseases that cause dementia.
The Father is scheduled to be released in cinemas later this year.