Dr Seuss: Six books withdrawn over 'hurtful and wrong' imagery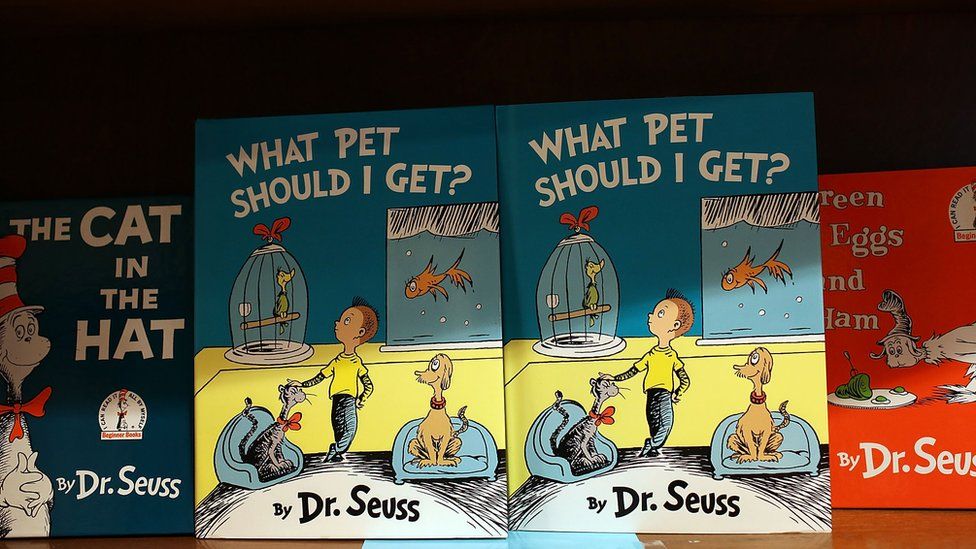 Six Dr Seuss books will no longer be published because of racially insensitive imagery, the company that preserves the author's legacy has said.
Among the six children's titles being withdrawn are If I Ran the Zoo, Scrambled Eggs Super, McElligot's Pool and On Beyond Zebra!
It said the decision was made after consulting experts and teachers.
"Ceasing sales of these books is only part of our commitment and our broader plan to ensure Dr Seuss Enterprises' catalogue represents and supports all communities and families," it added.
The other books affected are And To Think That I Saw It On Mulberry Street- Dr Seuss's first book, published in 1937 - and The Cat's Quizzer.
The announcement was timed to coincide with the anniversary of the late American author and illustrator's birthday.
The decision prompted a backlash from some commentators, who said that ceasing the publications was an example of "cancel culture".
Books by Dr Seuss - who was born Theodor Seuss Geisel in Massachusetts and died in 1991 - have been translated into numerous languages, as well as in braille, and are sold in more than 100 countries.
They've also been made into movies, including 2000's How The Grinch Stole Christmas starring Jim Carrey and 2012's animated 3D film The Lorax.
But despite the books' popularity there has been disquiet expressed over the way they portrayed non-white characters.
For example, in And To Think That I Saw It On Mulberry Street, a character described as Chinese has two lines for eyes, carries chopsticks and a bowl of rice, and wears traditional Japanese-style shoes.
Another title, If I Ran the Zoo, depicts two men from Africa as shirtless, shoeless and wearing grass skirts as they carry an exotic animal.
The National Education Association in the US, which founded Read Across America Day in 1998, has in recent years put less emphasis on Dr Seuss's works, instead suggesting a more diverse reading list for children.
Some school districts in the US have also moved away from recommending the author. The Daily Wire reported last week that Loudoun County Public Schools in Virginia had already told its teachers to "avoid connecting Read Across America Day with Dr Seuss".
Conservative figures in the US complained that the decision to pull Dr Seuss titles exemplified political correctness gone wrong and blamed leftwingers.
Donald Trump Jr, the former president's son, complained to Fox News: "They're [left wingers] cancelling Dr. Seuss...there's no place that they won't go".
The Cat In The Hat, one of Dr Seuss's most popular books, has also received criticism but will continue to be published for now.
Other popular children's books have been criticised in recent years for alleged racism.
Babar's Travels was removed from the shelves of libraries in East Sussex in the UK after complaints of racism from words used such as "savage cannibals".
Similar complaints have led to some of Herge's Tintin adventures being removed from libraries, or moved to the adult section.