Ian Brown steps down from festival over vaccine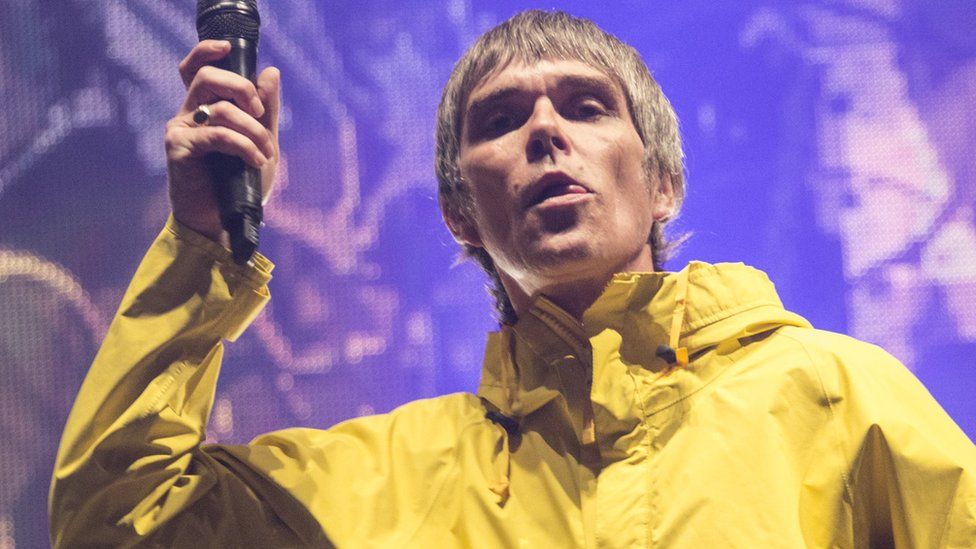 Singer Ian Brown has pulled out of a festival appearance over his refusal to play events that "accept vaccination proof as condition of entry".
The former Stone Roses frontman had been due to headline the Neighbourhood Weekender in Warrington in September.
But on Wednesday he told fans the set "will not happen".
Organisers declined to tell the BBC whether audiences would be expected to have the vaccine, but said they would follow government advice.
"No decisions will be taken by government until 21 June at the earliest," it said in a statement.
Brown has been vocal in his criticism of the Covid vaccine, using his Twitter account to protest the idea of a "vaccine passport" and railing against the use of masks to prevent the spread of the virus.
My Saturday night headline show at NHBD Weekender Festival will now not happen! I refuse to accept vaccination proof as condition of entry.Refunds are available! X

— Ian Brown (@ianbrown) March 3, 2021
Brown has been replaced on the Neighbourhood Weekender line-up by fellow Mancunian indie icons James.
Officials from the festival tweeted on Thursday to say they would "comply with conditions" set out by the government through the local authority when the gates open.
"We are working hard with other festival organisers and look forward to a safe return to open-air events this summer."
The three-day event, which takes place in the town where Brown was born, will also feature Gerry Cinnamon and Catfish And The Bottlemen.
It was originally due to take place in May, but has been postponed until September.
Many large festivals due to take place earlier this summer, such as Glastonbury and Download, have been forced to cancel again due to the pandemic.
Others like the Isle of Wight Festival have been pushed back to give them a better chance of going ahead, after the government announced its plan to slowly ease coronavirus restrictions.
This week, Reading and Leeds organiser Melvin Benn told The Telegraph that ticket holders for the late August bank holiday event who have not received a Covid-19 vaccine are likely to be required to take a coronavirus test at home prior to leaving for the events, and will need to show a health passport to gain entry once they arrive.
MPs were told last month that festivals have the potential to be "as safe as Sainsbury's", despite the impact of the Covid-19 pandemic - at a House of Commons Culture Select Committee examining the live music sector.
Earlier this week, Public Health England data showed that a single shot of either the Oxford-AstraZeneca or the Pfizer-BioNTech Covid jab reduces the chance of needing hospital treatment by more than 80%.
It was based on people aged over 80 who were the first to receive the jab. Government scientists praised the result, but stressed that two doses were needed for the best protection.
Last September, Brown, 58, released a new track questioning the motives behind the national lockdown, and indeed a vaccine.
Little Seed Big Tree included lyrics about a "false vaccine" and a "plan to chip us all, to have complete control" - a conspiracy theory that has repeatedly been debunked.
The track arrived just weeks after he caused a stir on social media, by tweeting: "No lockdown, no tests, no tracks, no masks, no vax."