Sarah Silverman apologises to Paris Hilton for prison jokes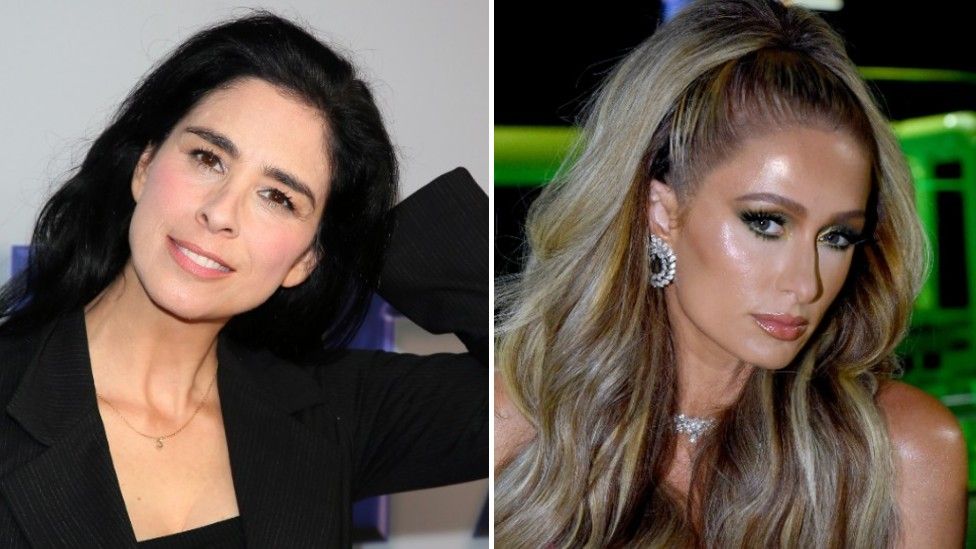 Comedian Sarah Silverman has apologised to Paris Hilton for jokes she told at the MTV Movie Awards in 2007 about the socialite's forthcoming prison stint.
The awards were attended by Hilton just hours before she was jailed for violating probation on an alcohol-related drink-driving conviction.
"I said some very hardcore jokes about her.... Paris, I am really sorry," Silverman said.
She added: "[Silverman] was so genuine and so sweet and it really moved me. I felt emotional hearing it and I could tell she really did mean what she said when she was apologising.
"Thank you, I really, really appreciate you doing that."
Much of Silverman's 2007 monologue is too explicit to repeat, but when she said "Paris Hilton is going to jail", the audience whooped and cheered. The footage then cut to Hilton looking extremely uncomfortable.
Silverman shared her lengthy (and expletive-laden) apology on Instagram after Hilton said in her podcast earlier this week that the "cruel" jokes had left her fighting back tears, adding "this would never happen today".
Hilton recalled being" seated ringside at my own surprise public humiliation".
She said: "I was obviously very nervous... I knew I was about to check myself in to jail in a couple of hours... just getting all dressed up, going there, trying to be brave. And then to sit in the audience with her publicly humiliating me, being so mean, so cruel.
"I was sitting there wanting to die... I was trying to hold back my tears so hard. I had tears welling in my eyes, I wanted to run out of the entire room, but I just was trying to be strong and sit there, and the whole audience is laughing and she would not stop. It was so painful."
Hilton went on to serve three days of her sentence but was released early due to a confidential medical problem. She was then kept under house arrest for 20 days and had to wear an electronic tag for 40 days. Her arrest was for driving under the influence, for which she was given probation. She had violated several times by driving with a suspended licence.
The socialite was jailed at the Century Regional Detention Centre in Lynwood, California, where her lawyer said she spent 23 hours a day in a solitary cell.
Silverman, 50, said: "I hosted the MTV Awards and I roasted all the nominees and biggest names of the day," but admitted she would not tell those jokes today.
"I did not know she was coming to the event, I didn't know she would be going directly from the event to jail that night. I said some very hardcore jokes about her, and she was there."
Describing her joke, which included explicit sexual imagery, she said: "Not nice, not nice at all.
"The crowd went bananas, and while I was thrilled at the success of my monologue, I remember spotting her in the audience. And I remember seeing that look on her face, and my heart sank because there was a person under there."
She added that she "regretted the jokes not years later but kind of immediately" and wrote to Hilton to apologise "a couple of days later".
Silverman was saddened when Hilton said on her podcast she did not receive the letter.
"She said she never heard from me, which just bums me out because I guess it never got to her. I don't know how that happened, but I'm just real sorry my note didn't get to her.
"So here I am, 14 years later, telling you Paris that I am really sorry. I was then and I am much more completely and with far more understanding now."
'I hope you feel my remorse'
"I can't imagine what you were going through at the time," Silverman continued.
"I hope you accept my apology and I hope that you feel my remorse. I felt it the second I saw your face that night. It feels terrible to know you have hurt someone and it's important to make it right. So I hope this does that."
Hilton, who is now a businesswoman, was originally famous for being a socialite and for co-starring in reality TV show The Simple Life from 2002 to 2007. She has also been a model, DJ and actress and her 2006 single Stars Are Blind recently featured in soundtrack for revenge thriller film Promising Young Woman.
Just watched Promising Young Woman. Loved it!😍🎥 So honored and proud my song #StarsAreBlind was part of such a powerful and amazing film. 🙌 The writer and director, Emerald Fennell is a brilliant genius! And I am so appreciative of her kind words 🥰 pic.twitter.com/7Xy6NrFcTN

— Paris Hilton (@ParisHilton) January 15, 2021
Tweeting to almost 17 million followers, she appealed to Stormont's Education Committee to provide "meaningful protections" to children.
Following Spears' performance at the MTV Video Music Awards (VMAs), Silverman said the 25-year-old had "accomplished everything she's ever going to accomplish in her life", and called her two children with Kevin Federline, then aged just one and two, "the most adorable mistakes you will ever see", before making an explicit comment about the singer.