Zack Snyder's Justice League: A 'vindication' of director's vision, say critics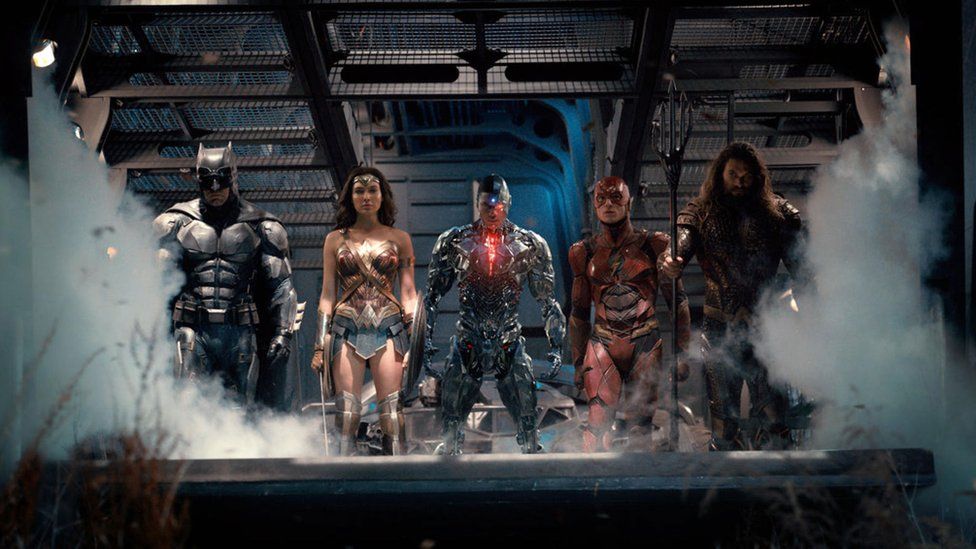 Film critics have given their verdicts on Zack Snyder's reworked cut of Justice League, with most saying it is an improvement on the 2017 original.
The US director stood down from the DC Comics superhero movie due to a family tragedy. Joss Whedon took over, but his final edit was widely panned.
The plot sees Batman (Ben Affleck) and Diana Prince (Gal Gadot) assemble a team of superheroes to save the world.
Variety said Snyder's restored version succeeds as a "majestic... new movie".
The "grand, nimble, and immersive entertainment... is more than a vindication of Snyder's original vision", wrote Owen Gleiberman in his four-star review.
He said Snyder had managed to revive the DC universe's "pop operatic grandeur" by adding "echoes of the sinister extravagance of the Avengers saga" - unlike Whedon's "trimmed-down... hastily shot audience-friendly version".
The Telegraph's Robbie Colin agreed. "In a genre increasingly hidebound by formula, it stands as a monument to exceptionalism that itself feels exceptional," he said in a five-star review.
Slate's Karen Han wrote that while "ridiculous and excessive", the reworking "makes me long to return to a multiplex - to see more movies that commit so completely to a vision".
'Exhausting but engaging'
However, his four-star review did question the blockbuster's four-hour running time. "Snyder's film may be exhausting but it is engaging. Justice is served," he concluded.
Others disagreed, however. The New York Times said the film "seems to want more of everything except the quality that it most needs".
The newspaper's critic Maya Philips said Snyder "plods through seemingly endless (and pointless) exposition, adding enough back story for each Justice League hero to strong-arm us into investing in these characters so we care when they finally put on the team jerseys and step out onto the court".
Little White Lies' Hannah Woodhead was damning in her two-star review, which said: "[Snyder's] Justice League is overlong, miserable and signifies nothing other than the potential of fandom to influence top-level creative decision-making."
The film was reworked by its original director after fans campaigned to see what they called the Snyder Cut.
Digital Spy found that despite being "very long... there's no denying Zack Snyder's Justice League is a more cohesive and engaging version of the movie".
"You might even find yourself moved," wrote Ian Sandwell.
The Comic Book Movie website deemed that on balance, despite its polarising potential, the new Justice League ends up a worthwhile endeavour.
"Zack Snyder's Justice League won't please everyone, and has no aspirations to do so," wrote Mark Cassidy.
"The divisive filmmaker has delivered his definitive take on the DC Comics super-team, embracing the characters' rich mythology and treating them with the respect they deserve."
The Snyder Cut will be released on Thursday on HBO Max in the US and on Sky Cinema and Now TV in the UK.