Coronation Street uses real couples as Covid kissing doubles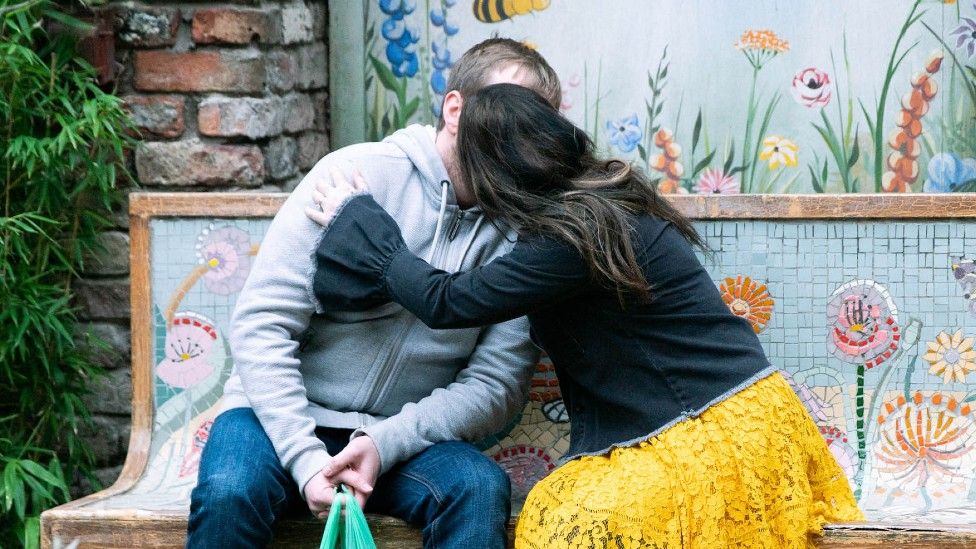 When Tyrone and Alina stole a kiss in Friday's episode of Coronation Street, many viewers will have been rightly left wondering how they filmed it following social distancing guidelines.
The answer: real-life kissing doubles.
Actors Alan Halsall and Ruxandra Porojnicu were filmed talking before their kiss, but did not get within two metres of one another, ITV bosses said.
Instead, regular Corrie extra Alex Mulvaney and his wife Hannah then stepped in for the romantic moment.
"My agent said that Coronation Street needed extras who were in a support bubble, and because I used to be an extra three times a week and they knew half of my family had done extra work on the show, it worked out perfectly," explained Mulvaney.
"My partner Hannah hadn't done any extra work before, but my agent knew she had dark hair like Alina's so I asked her if she wanted to do it," he added.
"Hannah was nervous at first, but she is a big Coronation Street fan. I had been on set many times before, and I was able to talk her through what to expect - she was a bit star-struck when she saw the actors."
Like most other shows, Coronation Street stopped filming during the first national lockdown in March 2020 and resumed filming in a restricted manner several months later.
Porojnicu, who plays Alina, said the (non) kissing scene was a "challenge" but one she "really enjoyed".
Although their characters look like they are sitting together, the actors were filmed having the conversation separately. The footage was composited together during post-production, giving the illusion they were next to each other.
The design department taped a pair of sunglasses onto a telescopic radio aerial to ensure the actors had the correct eye line, so they would appear to be looking into each other's eyes.
"It was difficult not being able to look into each other's eyes for the emotion of the scene but Coronation Street came up with a clever way to cheat that with sunglasses on an aerial," the actress said.
"Everything that's been said in the scene leads to the kiss which is very important for Alina because it is the first time that she has said out loud to Tyrone that she is falling for him."
Producer Iain MacLeod praised the popular programme's writers, cast and crew for having "cleverly worked around" restrictions, for the best part of a difficult year.
When the characters Debbie and Kevin were trapped in a fridge, the actors were tested for Covid beforehand and were placed in a bubble for the three days of filming, as were Alya, Yasmeen and Geoff for the dramatic rooftop scenes for the 60th anniversary show in December.
"We have therefore told the same stories throughout the pandemic that we would have told in 'normal' times," said MacLeod.
"But it just felt wrong to tell a story of an illicit liaison, where someone betrays their partner based on lust and sexual attraction, only for us not to see any of the chemistry and closeness.
"Hence the smoke and mirrors here."