Josh O'Connor: Romeo role 'greatest experience of my career'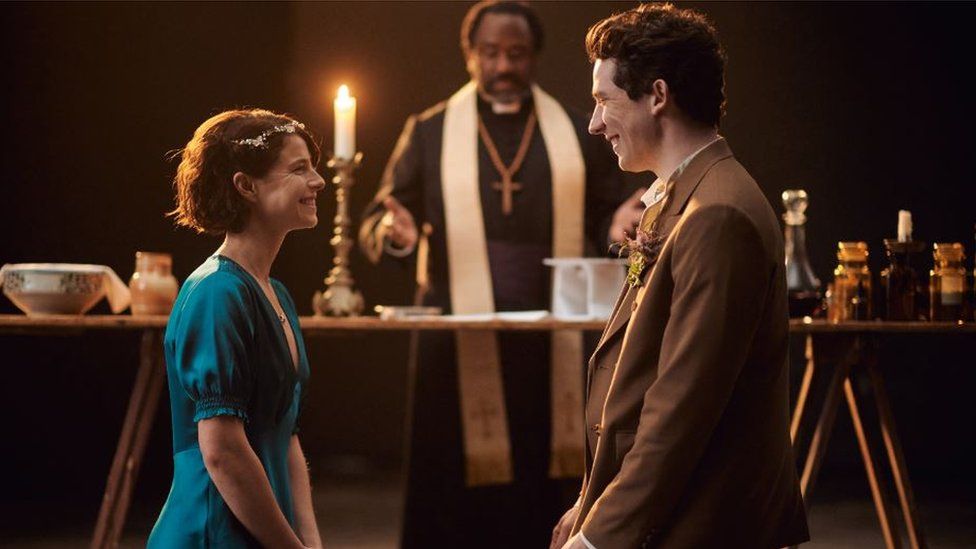 Josh O'Connor and Jessie Buckley were excited about heading up a stage production of Romeo and Juliet. Then when Covid-19 forced the play's cancellation last year the National Theatre had another idea - how about doing it as a film for TV? O'Connor and Buckley almost said no but they're glad they didn't.
Last summer seemed the perfect time for O'Connor and Buckley to prove their talent in a well-known Shakespeare at an important venue.
O'Connor's career had taken off with two roles - Larry in The Durrells for ITV followed by two seasons in The Crown as Prince Charles. (His successor as Charles is yet to be confirmed.)
Buckley was in the much-praised Chernobyl then showed her range in the bio-pic Judy, playing the assistant assigned to keep Judy Garland on track in 1960s London.
But like almost everything on the National's schedule for 2020, its version of Romeo and Juliet was under threat as soon as the Covid pandemic hit.
O'Connor recalls "Friday therapy sessions" when some of those involved got together to try to work out what lay beyond the fog of Lockdown One.
"It would be Jessie and myself and the director Simon Godwin and sometimes Fisayo Akinade (who plays Mercutio) and Rufus Norris, who runs the National. They were brilliant at keeping us all involved and motivated.
"But when they first came to us about making it a film instead, I think for both of us the reaction was absolutely not - not a chance mate. It just didn't seem the right idea. So thank goodness we followed through and engaged with it as a project.'
The film is pacy, lasting just 90 minutes. It was shot over 17 days on and around the National's Lyttelton stage. In normal times the auditorium has an audience capacity of 890 but the seats remained empty.
Director Simon Godwin uses the stage and the areas around it like a film studio - in no way does it feel just like a play taped for TV. The production is fluid and well-lit and it works well.
O'Connor says when their Romeo and Juliet pivoted into a film they both pitched ideas on how it should be done. "We brought in films to discuss and we talked about how we could make it theatrical and yet not shy away from the cinematic nature of what we were doing.
"We always knew we wanted to include the building in some way. It lends a texture and tapestry to what you see. So there was a lot to think through but once we really got into it it was the greatest experience of my career. I was having the time of my life."
Buckley is from Killarney in south-west Ireland. She had read Shakespeare at secondary school but didn't see a production until she came to the UK to train as an actor.
"When I first read Shakespeare in Ireland I couldn't get my head around it at all and to be honest I didn't really enjoy it. But later at Rada (Royal Academy of Dramatic Art) in London I did a four-week Shakespeare course and that was the first time I felt a massive love-bomb had gone off."
The play is both love story and tragedy. Although from feuding families, Romeo and Juliet fall passionately in love. A scheme is devised to keep them together which involves Juliet being induced into a death-like coma. This does not end well.
Some productions contrast the dark tragedy against sun-filled Italian settings. But Buckley says there are occasions when excitement comes from limitations imposed on the actors and director.
"Obviously we ended up doing our production in a way no one had expected. But there was a lovely intimacy to being in the Lyttelton."
She thinks the empty seats helped. "The theatre was our friend because we knew it was there just a few feet away behind this iron curtain even when we couldn't see it. To me it represented the world beyond the small world Romeo and Juliet live in in Verona.
"Normally when you're doing theatre you'll always be aware of the audience. Maybe it's someone coughing or whatever but in any case you can't not feel them there and even filming you think of their presence."
Both actors enjoyed the forcible merging of the worlds of theatre and film-making, which generally remain pretty separate. O'Connor says everyone on the project was learning a lot from everyone else.
'There were eureka moments - thinking of course, '"Well why wouldn't the cinematographer be in on rehearsals? Why shouldn't the script supervisor be talking to the dialect coach?' Those kind of relationships felt beautiful and magical. It would be so great if that sort of experimentation continued."
Shakespeare most likely wrote Romeo and Juliet in 1595 at a time when roles on stage were always taken by men and boys. In the text Juliet is described as 13 and usually it's assumed Romeo is a little older.
Neither O'Connor nor Buckley is trying to come across on screen as a teenager. He thinks the youthfulness of Romeo and Juliet can be a hindrance.
"It makes you lazy because you simply accept the idea they somehow just fall in love and they're naïve and that's all there is to it - they're ready to die for each other because it's first love and they don't realise you can fall in love again.
"In stripping ourselves of all that you can look at the story in other ways. What if death to them represents hope or everlasting love or being together in the afterlife?"
In the UK there are the first tentative signs of theatre awakening from its own year-long sleep as the fight against coronavirus bears fruit - though everyone in the theatre is aware similar optimism last autumn proved misplaced.
A few venues have now announced reopening dates, and the National hopes to resume live performances on 16 June with Under Milk Wood in its Olivier Theatre.
But if O'Connor and Buckley could return to live theatre soon, is there another Shakespeare they'd want to take on? Buckley says she'd love to tackle Isabella in Measure for Measure. For O'Connor it's Richard II.
"But if it was with Jessie again I think we'd make bloody good Macbeths one day - it would be a barrel of laughs. But maybe we should wait until we're a bit older."
Romeo and Juliet is on Sky Arts on 4 April. It will be on PBS in the US on 23 April.