The Weeknd and BTS help boost music industry revenues to $21bn
By Mark Savage
BBC music reporter
The recorded music industry made $21.6bn (£15.7bn) last year, the highest figure since 2002.
Revenues grew by 7.4%, driven by the success of artists like Billie Eilish, Taylor Swift and Drake in the charts.
BTS had the best-selling album, Map Of The Soul: 7; while The Weeknd's retro-pop anthem Blinding Lights was the biggest single, shifting 2.7bn copies.
Streaming sites like Spotify and Apple Music accounted for 62.1% of all revenues, reaching $13.4bn (£9.7bn).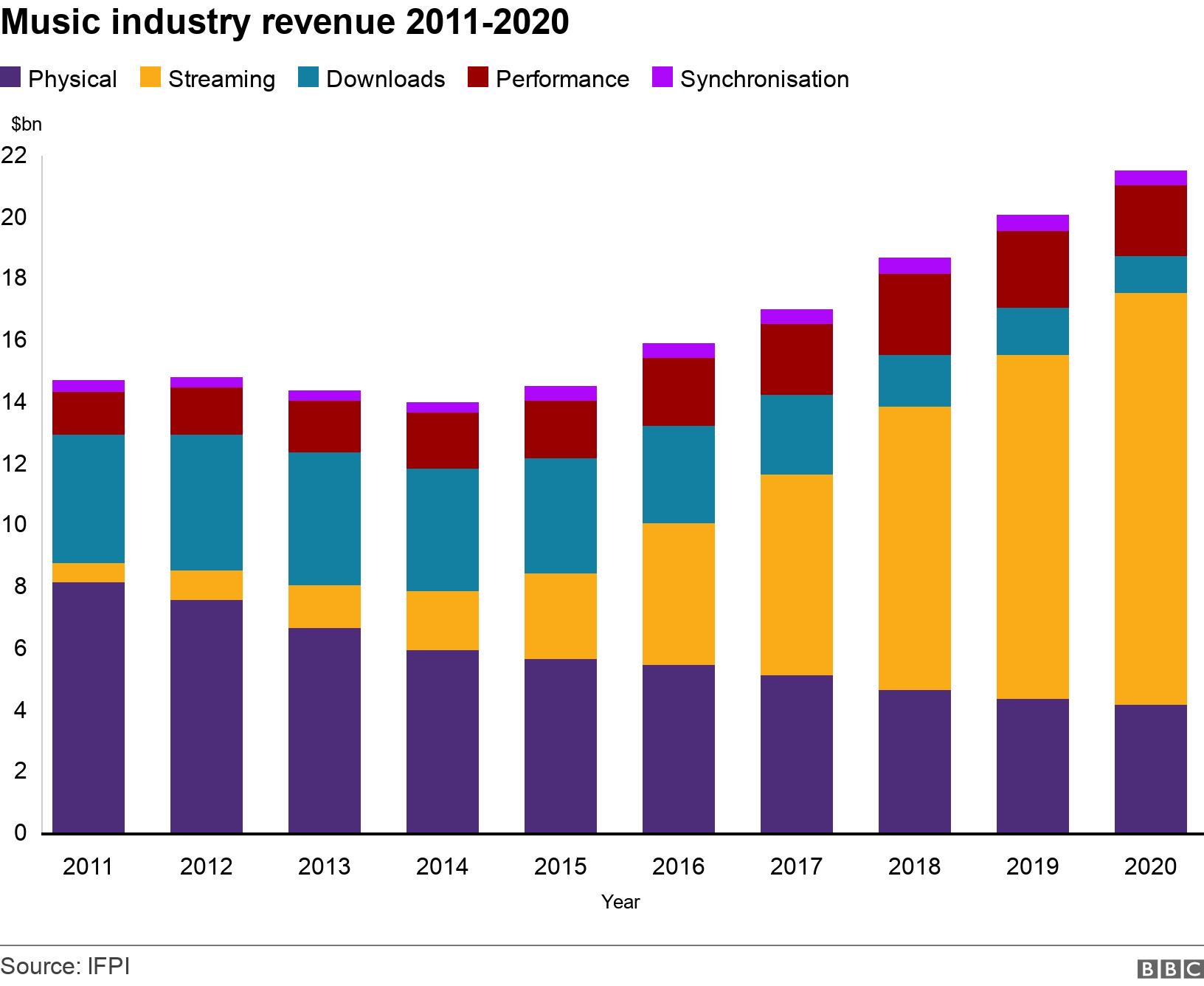 More than 443 million people now pay for a music streaming subscription, said the IFPI, which represents the global music industry.
That means 102 million people signed up for a new account last year, compared to 85 million in 2019, and 79 million in 2018.
However, while the number of subscribers jumped by 29%, revenues from streaming only grew by 19.5% - as price plans tend to be lower in new markets like India and Russia.
The figures, revealed in the IFPI's annual Global Music Report, are a reminder of "the enduring power of music to console, heal and lift our spirits," during the pandemic, said chief executive Frances Moore.
"Some things are timeless, like the power of a great song or the connection between artists and fans. But some things have changed. With so much of the world in lockdown and live music shut down, in nearly every corner of the globe most fans enjoyed music via streaming."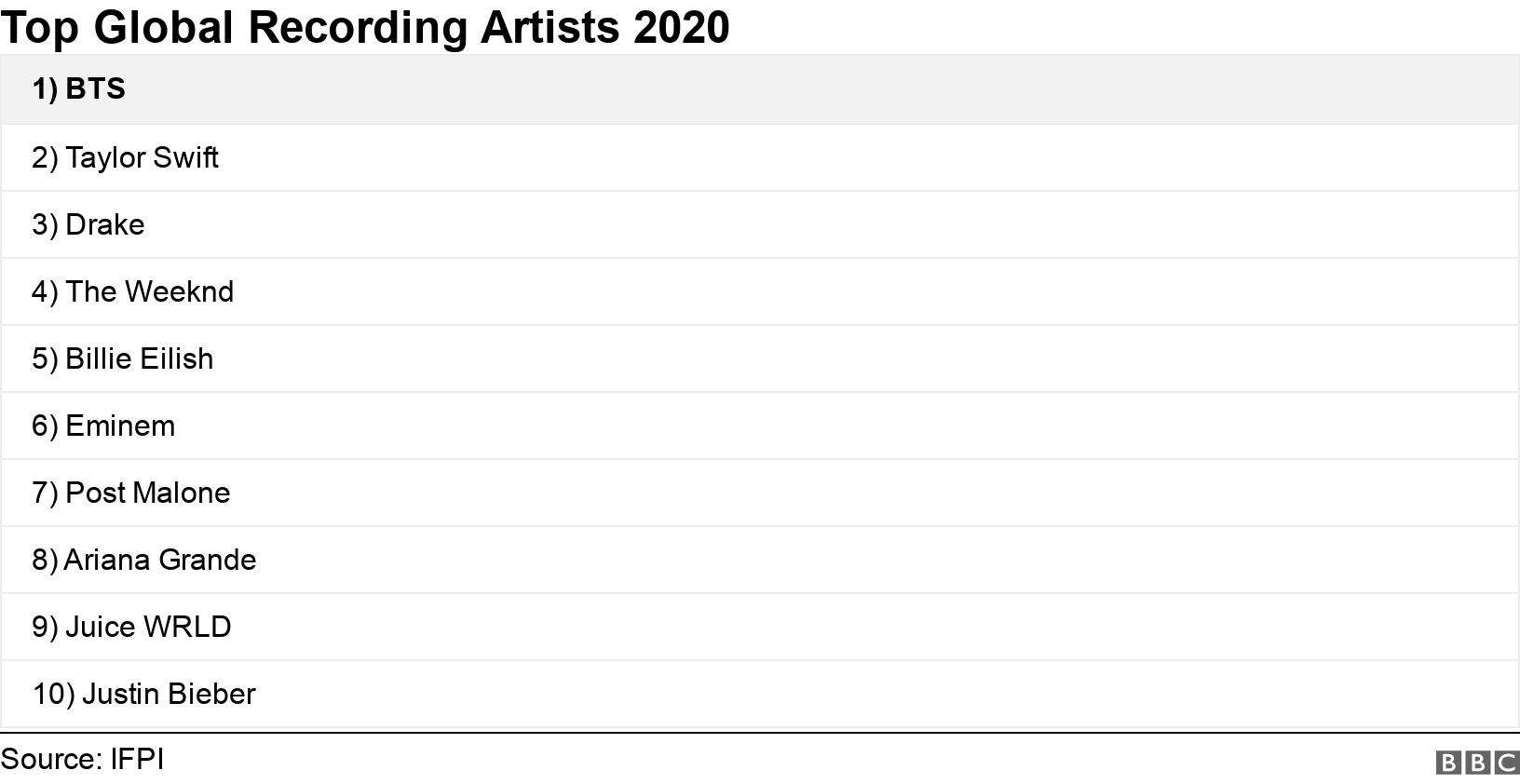 The IFPI's figures do not include live music revenue, which is the sector of the industry most affected by the pandemic.
However, performance revenues - the royalties earned when music is played on radio, TV or in concert - were counted, and declined by 10.1% to $2.3bn (£1.7bn).
It is hoped that live music will resume this summer, depending on the roll-out of the Covid-19 vaccine; but the IFPI's annual report highlighted how livestreams and virtual concerts had helped musicians reach fans over the last 12 months.
US rapper Travis Scott performed a show inside the video game Fortnite during the first lockdown in April, attracting 12.3 million fans, and boosting his streaming numbers by 136%.
"We definitely exposed him to new audiences, and these are fans that will now stick with him forever," said Sylvia Rhone, who runs Epic Records. "This was truly global and fuelled a massive global following for him."
British pop star Dua Lipa enjoyed a similar boost from her ambitious Studio 2054 livestream in November, which pulled in five million views, including more than 1.9 million unique log-ins from China.
In addition to the show's Hollywood-scale production values, fans were sent glitter balls and strobe lights in advance to make it feel like a "proper event", said Jessica Keeley-Carter, vice president of marketing at Warner Music.
"Everyone's aware of the amount of lo-fi live streams that started popping up when everyone was locked in. They became boring really quickly, so what was great was the team thought, 'How can we shake this up?'
"That became our world tour," added Joe Kentish, Warner's head of A&R, "and we did massive amounts of promotion in every significant territory based around that event - it was different, but it was also sort of the same."
He added: "I watched it again the other day and I'd almost forgotten the whole point of this record - it is basically a party. And I have to admit, I thought, 'This would have been so good at Glastonbury'."
BTS - become true superstars
BTS were the world's biggest act, marking the first time a South Korean band has topped the global chart.
The pop group pushed Taylor Swift, who took the crown last year, into second place, while Drake came third - despite not releasing a new album in 2020.
BTS had two of the year's top 10 best-selling records, led by Map Of The Soul: 7, which fans bought or downloaded 4.8 million times.
Their fifth album, Be, which was recorded in response to the coronavirus pandemic, was the fourth biggest-seller, on 2.69 million copies; while the Japanese-language Map Of The Soul: 7 - The Journey, sold 1.17 million.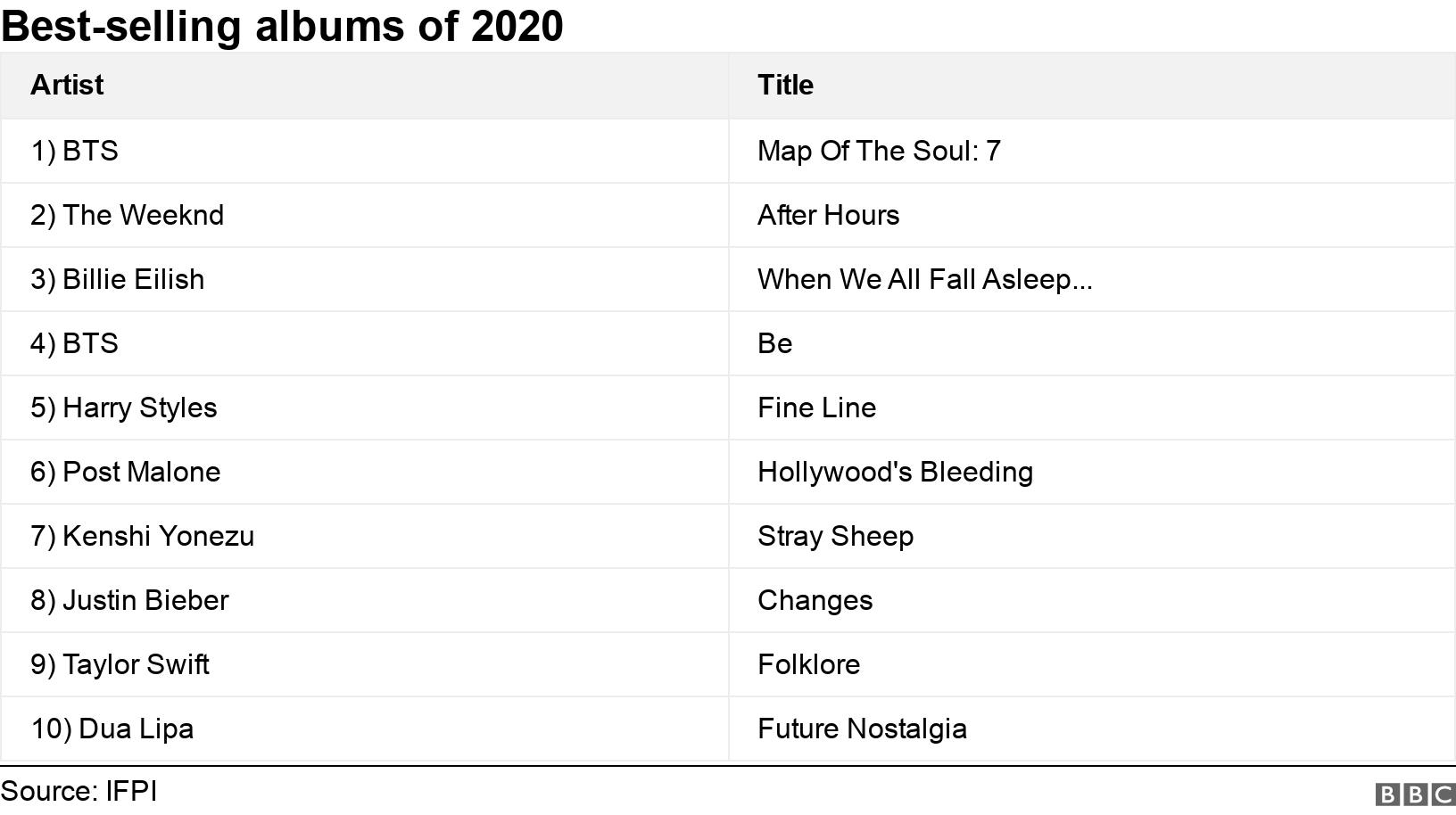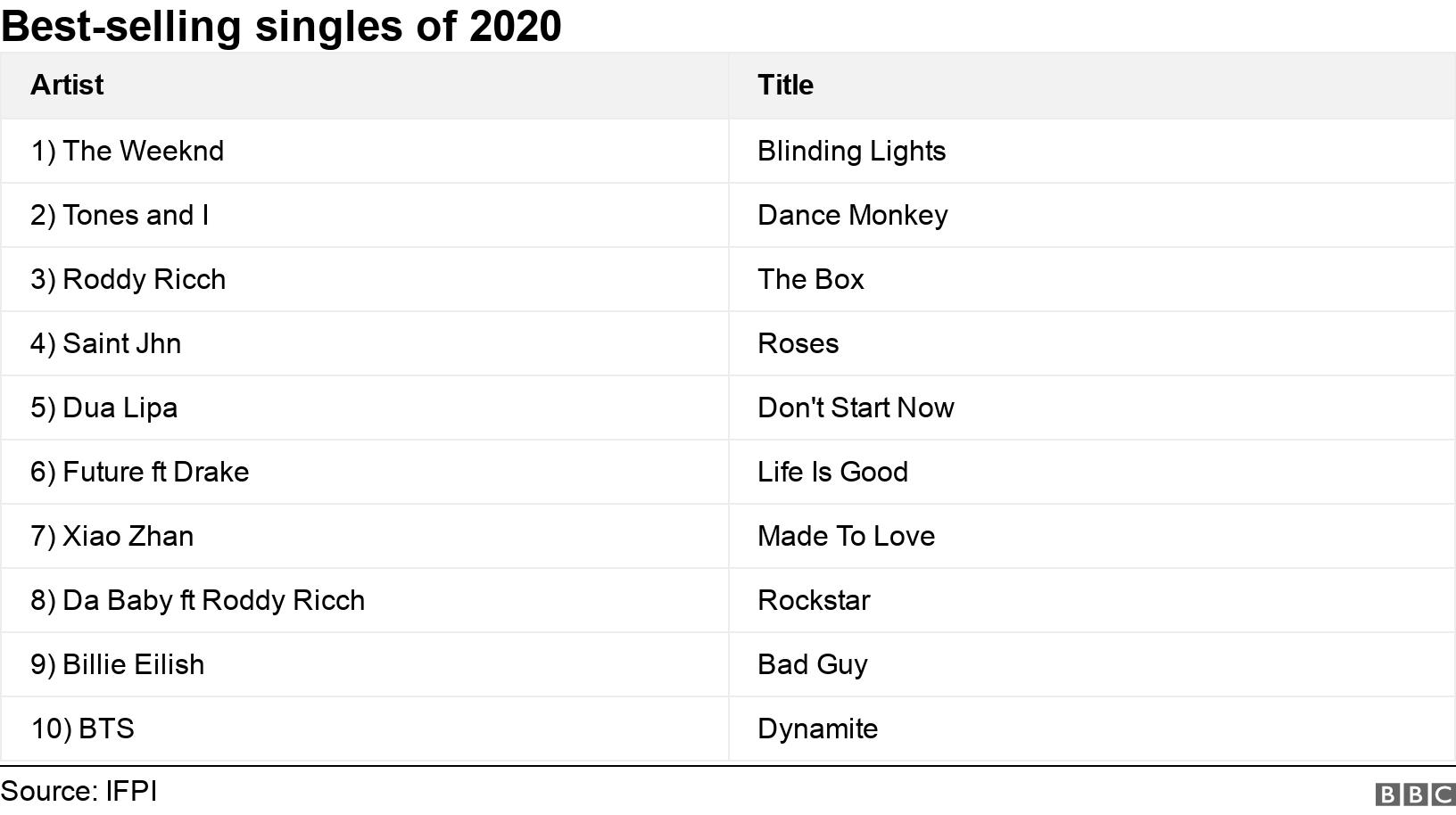 The UK retained its place as the world's third-biggest music market, with revenues of $1.5bn (£1.1bn).
Lewis Capaldi's Divinely Uninspired To A Hellish Extent was the UK's biggest-selling album for the second year in a row; while Harry Styles' Fine Line was the best-selling British album globally.
They helped the UK's music industry achieve a fifth consecutive year of growth, although the rate of growth slowed down (from 7.3% in 2019 to 3.8% in 2020), due to the pandemic.
Income from performance rights was predictably the worst affected, dropping by more than a fifth to $145m (£105m).
"The lockdowns inevitably affected financial results in 2020," said Geoff Taylor of the BPI, which represents record labels in the UK.
"But, unlike other parts of our industry which were hit very hard, the seamless connectivity of streaming and the enduring love of vinyl meant that recorded music was relatively insulated from its worst effects, and was still able to post growth."
The IFPI's annual report also looked at the record industry's efforts to improve diversity and representation in the wake of the Black Lives Matter protests last summer.
Record labels reacted by dropping outdated words like "urban" from their repertoire, while some bands - including Dixie Chicks and Lady Antebellum - changed their names because of associations to slavery. Internally, many companies launched taskforces to help identify and develop female, black and underrepresented executives within their ranks.
"The challenge is to keep the work going long after it is politically expedient, sexy and at the forefront of people's minds," said Warner Music's head of diversity and inclusion, Dr Maurice Stinnett.
"When it's no longer a hot button, that's when we continue to do the work that desperately needs to be done."