George Segal: Who's Afraid of Virginia Woolf? actor dies aged 87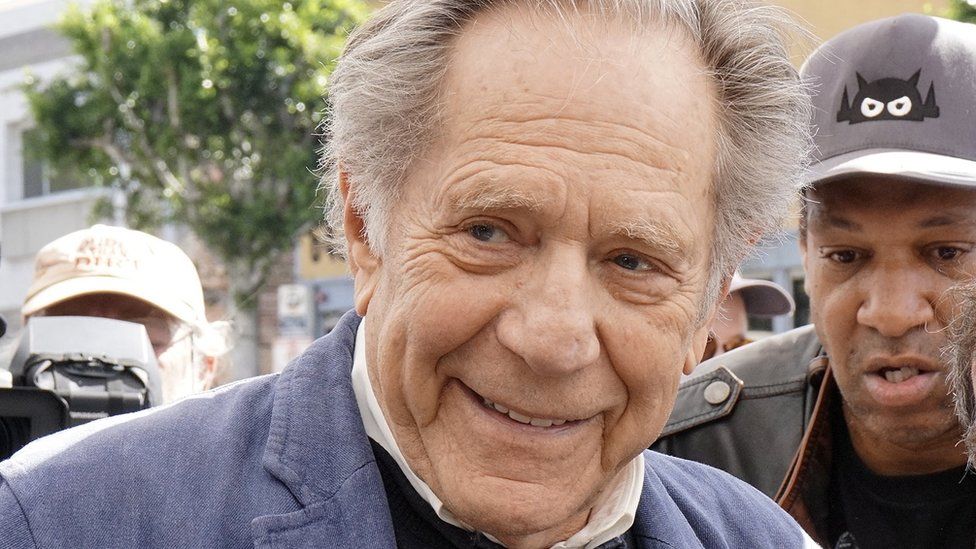 George Segal, the US actor who was Oscar-nominated for his performance in Who's Afraid of Virginia Woolf?, has died at the age of 87.
The New Yorker starred alongside Elizabeth Taylor and Richard Burton in the 1966 film adaptation of Edward Albee's play.
He went on to play comic roles in shows like The Goldbergs and Just Shoot Me.
His wife Sonia Segal said she and her family were "devastated" to confirm he died on Tuesday in California.
She added Segal had died "due to complications from bypass surgery".
Hollywood actor and director Ben Stiller led tributes to Segal, describing him as an "iconic cool funny" movie star.
My personal favorite George Segal movie is "The Hot Rock". What a career. What a nice man, what an iconic cool funny 70's movie star. #RIP

— Ben Stiller (@RedHourBen) March 24, 2021
Barbara Streisand tweeted: "So sorry to hear about George Segal's passing. We had such fun making Owl and the Pussycat. May he Rest In Peace."
Segal was nominated for best supporting actor by the Academy for his portrayal of Nick, in the celebrated Mike Nichols-directed adaptation of Edward Albee's dark comedy-drama.
In it, the new biology teacher and his wife Honey (played by Oscar-winner Sandy Dennis) attend an unsettling late night gathering at the home of college history professor George (played by Burton) and his wife Martha (Taylor, who also won an Oscar for her role).
"Elizabeth and Richard were the king and queen of the world at that moment and there was a lot of buzz about it," Segal told The Daily Beast in 2016.
"For me, there was a great satisfaction of being involved with it."
He later became known to younger audiences by starring as magazine publisher Jack Gallo in the US sitcom Just Shoot Me from 1997 to 2003; and from 2013 he played Albert "Pops" Solomon in The Goldbergs.
"By pure fate, I ended up casting the perfect person to play Pops. Just like my grandfather, George was a kid at heart with a magical spark."
Wendi McLendon-Covey, Segal's co-star on the show, posted a photograph of the two of them together online in tribute.
Another star of the show Patton Oswalt wrote: "Noooooo. Oh my God he was such a sweetie. And totally happy to dish with an annoying film nerd about California Split, Blume in Love, and everything. RIP king."
Sean Giambrone, who plays Adam on the show, said his "heart is broken" at the news.
My heart is broken. I lost a dear friend. Working with George was an honor and some of the happiest moments of my life. What a sweet & wonderful man. He was my confidant & teacher. When he smiled it changed my day. I wish everyone could have met him. Prayers are with the family. pic.twitter.com/fp8WvwdOdv

— Sean Giambrone (@seangiambrone1) March 24, 2021
Segal's manager, Abe Hoch, added: "I am saddened by the fact that my close friend and client of many years has passed away.
"I will miss his warmth, humour, camaraderie and friendship. He was a wonderful human."
'Not taking it so seriously'
The actor, who developed a penchant for playing warm, everyman characters, was honoured with a star on the Hollywood Walk Of Fame in 2017.
"I always try to find the humour and the irony in whatever character I am playing because I think of myself as a comedic actor," Segal told filmtalk.org in 2016.
"So that makes drama a lot more fun for me by not taking it so seriously."
As well as being an accomplished banjo player, Segal also starred in other films like Bye Bye Braverman, A Touch Of Class and The Hot Rock, as well as Fun With Dick And Jane and Love & Other Drugs.
Josh Gad, who featured in the latter, posted: "So beyond sad and heartbroken to say goodbye to my film dad, the late, great George Segal - I was so star-struck on set.
"To my surprise he not only let me ask him about all of his incredible experiences but indulged me in stories I could have never possibly imagined. RIP.
Melissa Joan Hart offered: "Shocked and saddened to hear of George Segal passing away! From being on set of Just Shoot Me to directing him on Goldbergs, he was a true gem and great man. He will be missed!"