Finding Derek: Kate Garraway praised for 'heartbreaking' documentary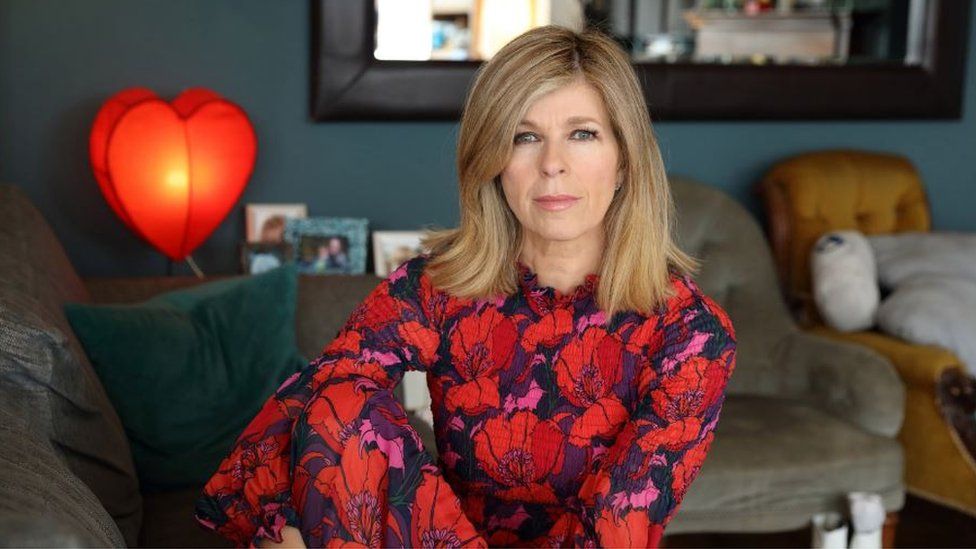 Kate Garraway has been praised by both TV critics and viewers following the broadcast of a documentary about her husband's long battle with Covid-19.
Ex-political adviser Derek Draper is still in hospital after being admitted with coronavirus symptoms last March.
ITV documentary Finding Derek followed Good Morning Britain presenter Garraway over the course of Draper's illness.
According to his four-star review, the documentary "painted a profoundly sobering picture, albeit one illuminated by intermittent rays of hope.
The Guardian's Lucy Mangan was also impressed, giving credit - and four stars - to a programme "that knows what it is doing and does it well".
"Garraway's love for Draper is clear and uncomplicated," she wrote. "The phrase that kept popping into my mind was 'wifely devotion'."
The show's purpose, she continued, was "to tell a single story and bring comfort to those similarly afflicted"
"Finding Derek is tough to watch and, as such, should be compulsory viewing," she wrote.
"She's always ready to confront the hardest truths and ask the most difficult questions," she wrote. "The documentary is similarly unflinching."
Morgan, who left the show earlier this month, called the programme "heart-breaking" and sent a message of love to his former colleague.
Current Good Morning Britain presenter Ben Shephard said he was "so proud" of a co-star who continued to "surprise, delight [and] inspire him".
BBC Breakfast presenter Dan Walker said he had "nothing but respect" for Garraway and her family after watching the programme.
Finding Derek also featured Garraway and Draper's children and showed their mother speaking to people suffering from long Covid.
One scene saw her recall being told by Draper's doctors that he was the most seriously ill person they had seen who remained alive.
Elsewhere, Garraway was seen supervising builders as they installed ramps in her home in readiness for Draper's eventual return.