The lost letters that found New York drag scene's secret trailblazers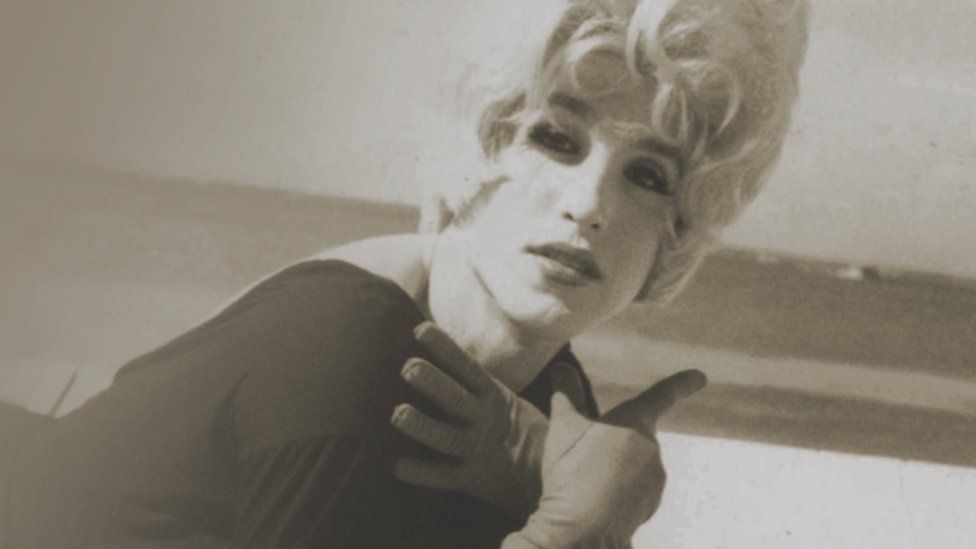 They are the glittering performers who paved the way for TV phenomenon Ru Paul's Drag Race - but no one knew about them until a box of letters was found in a Los Angeles storage unit.
Stories from the lives of several drag artists living in 50s New York, who constantly risked arrest and forced hospitalisation, have been told in the documentary PS Burn This Letter Please.
Its producer Craig Olsen discovered the cache of letters in 2014, all written to a DJ called Reno Martin, who later moved to Hollywood and died in 2010.
"I won't give away how they came into my hands," he says, "but I picked up a box of beautiful letters written between 1955 and the late 1960s, and I felt I shouldn't be reading them.
"They were so juicy, so full of personal stories, of people laying their hearts on the line. They were all written to someone called Reno Martin by drag queens working in the New York scene in the 1950s.
"I love the art of drag," Olsen adds. "I love that art form, and I do believe had anyone else found them, they'd have gone into the trash. Myself and the filmmakers knew they were bigger than just reading them round a dinner table with friends; they needed to be shared with the world."
Olsen and the film's co-directors Jennifer Tiexiera and Michael Seligman - a writer and producer on Ru Paul's Drag Race - managed to track down several of the authors of the letters, who were all now in their 80s and 90s and living across the United States.
"The youngest was 84 and the oldest was 96," Tiexiera remembers, "and we were asking them about events that happened 60 years ago, but they were so alive, so mentally alert, and they remembered everything."
The film, which is showing at the BFI's LGBTIQ+ film festival, Flare, intersperses narrated extracts from the letters, many of them from a Daphne or a Josephine. Archive video and photos also feature, with interviewees recounting their experience of drag culture and queer life in 50s and 60s New York.
They worked at drag balls and in nightclubs, including one, Club 82, which the filmmakers discovered had mafia links, yet was so famous that celebrities including the Kennedys and Elizabeth Taylor and Richard Burton were attendees.
But it was only inside that tolerance was extended to the performers, Olsen says. "It was a spectacle and a form of entertainment but outside of that, it was not ok," he points out.
Social historians who are interviewed in the film stress the importance of the letters, saying much of their research is based upon police and hospital records, due to the treatment of the gay community at the time.
"There's been very little education on this, and how the drag art form has come about," says Olsen. "It was illegal to be in drag in the USA at the time. If you were caught masquerading as a woman, you'd get six months to a year in prison. They were living a dangerous life."
Some of the letter writers prefer to be called "female impersonators" on screen, rather than "drag queens" - which Tiexiera says she hopes "might lead to education on what people want to be called, and how language changes over time."
Even within the gay community of 1950s New York, Craig Olsen describes the interviewees as "a minority within a minority."
"To some in the gay community, drag has been viewed as a fetish, but actually it's an art form," he argues. "And what if you were told you couldn't do your art? What are you left with?"
Tiexiera says the success of a reality TV show such as Ru Paul's Drag Race, which has just finished its second UK season on BBC Three, was greeted with incredulity by their interviewees.
"We asked our subjects about it," she recalls, "and across the board, they all said they never thought they'd be alive to see drag artists on television, and it blows their mind. To be doing what they were doing, they had to be unapologetically themselves and had to be insanely bold. They were embarrassing to their peers.
"We also take a couple of our subjects to the NYC Drag March, and the reason there is one is that drag queens were not allowed to the gay Pride march at the time."
Club 82 is in the process of being restored as a landmark of LGBT history, and the filmmakers also hope at some point to physically reunite their interviewees.
Tiexiera adds that these octogenarians and nonagenarians were still largely unaware that they were pioneers.
"I don't think they have any regrets at all about their lives, they all said they needed to be happy and would have done the same things over again," she says. "They just had to be true to themselves, and kept saying to us, 'I don't know why you guys want to tell this story.'
"I hope there's a couple of takeaways from the film," she adds. "Scour your attics and basements and talk to your elders. The youth now really needs to record their history, particularly trans youth.
"I feel very little exists for these communities, and it's so important to have this reference point of who they are and where they come from. In the 1950s, so much was destroyed from this time period because it was considered so shameful."
Olsen adds: "I just think it's important to know that these kinds of letters do not exist in any archive in the USA, and that's what makes them so special.
"It's the only thing out there that shows this period for queer life."
PS BURN THIS LETTER PLEASE is available as part of BFI Flare: London LGBTIQ+ Film Festival until Sunday, 28 March and will be released by Discovery+ later in 2021.