Oscars 2021: The female directors tackling tough truths
By Emma Jones
BBC Talking Movies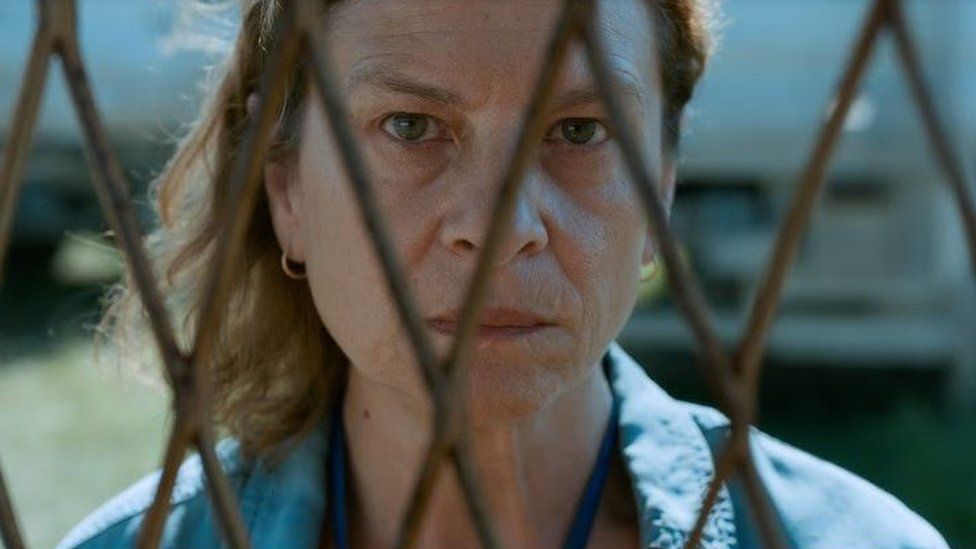 The inclusion of two female film-makers - Chloe Zhao and Emerald Fennell - in the nominations for best director at this year's Oscars has been hailed as historic. But two other women directors are also competing at the 2021 ceremony with their feature films.
Both The Man Who Sold His Skin, by Tunisian director Kaouther Ben Hania, and Bosnian director Jasmila Žbanić's Quo Vadis, Aida? are nominated for the best international film award.
And at the Baftas, Quo Vadis, Aida? is competing in the same category, while Žbanić is in the running for best director.
Quo Vadis, Aida? is the story of a fictional UN interpreter, played by Jasna Đuričić, and her battle to save her family in the massacre at Srebrenica, where 8,000 Muslim men and boys were killed in 1995 by Bosnian Serb forces. The film was funded by nine European countries, including Bosnia-Herzegovina.
"When we started on the film five years ago it looked like mission impossible," Žbanić explains.
"Bosnia doesn't have a film industry. We produce around one film a year, with a budget of around €1m (£850,000). But this film, partly because of the extras we needed, would cost at least four times that and so had to be a co-production with other countries.
"This is also a sensitive and painful topic, and as soon as we mentioned the word 'genocide', many people shied away, saying, 'It's too difficult.' Now I think, no, it's you who thinks an audience doesn't want to see difficult things.
"The awards nominations are such an incredible honour. A director always hopes their story will reach people's hearts in big numbers, and now we have the Bafta and Oscar nominations, I know how many more people will now see the movie."
One inspiration for the film was the book Under the UN Flag: The International Community and the Srebrenica Genocide by Hasan Nuhanović, but the director describes the main character of Aida as "a combination of many people we met or read about".
"Hasan was an interpreter who was there at Srebrenica and his family was expelled from the space," she explains. "So I did approach him, but it was hard for him to have a film based upon him, and also I wanted a woman as the main character, who wanted to protect her sons and her husband. In the development there were many women as inspiration whose sons were at Srebrenica."
Kaouther Ben Hania's film, The Man Who Sold His Skin, stars Yahya Mahayni as Sam, a Syrian refugee who agrees to make himself into a human canvas and be displayed around European galleries. Italian actress Monica Bellucci has a supporting role as a gallery owner.
The story is inspired by the real-life example of Tim Steiner, who agreed for his back to be tattooed by Belgian artist Wim Delvoye and then sold to a German art collector.
The director says she wants to show audiences how hard it is for a refugee to move around the world, compared with the movement of goods.
"It's not only easier for art to move around, it's easier for everything - for goods, for pasta, for fruits, for perfume, for fashion," she argues.
"My purpose is for the audience to live the experience of this refugee, who was a normal human being, but not 'born in the right place', as he says to the artist who meets him.
"So, I wanted to give the possibility of empathy, to understand the journey of a refugee. But his journey is not a typical refugee journey. We don't have the boat, and it doesn't sink. He becomes a work of art. I wanted this combination between the survival world of the refugee and the luxurious world of contemporary art to make this contrast.
"The art market, like any institution, they have their codes, their way of functioning," she adds. "So in the movie, the gallery owner, the museum guard, the museum director, they have the reflex of working with a work of art, because they signed a contract, and this is what they know. They can't deal with Sam as a human being."
Ben Hania describes her Oscar nomination as "totally crazy".
"It's the first ever nomination for Tunisia, and I'd love to bring Africa an Oscar," she says. "I'm also Arab, and it's my dream to offer all the Arabic-speaking countries an Oscar too."
Žbanić won a Golden Bear - the highest honour at the Berlin Film Festival - in 2006 for her first feature film, Esma's Secret: Grbavica.
Set in contemporary Sarajevo, it told the story of a single mother who was a victim of the systematic rape of women, most of whom were Bosniaks (Bosnian Muslims), by Serbian soldiers during the Bosnian war in the 1990s.
"Many things have changed since I studied film as a student," she comments. "We never mentioned any female director in the history of film-making, so for four years I learned about genius men.
"I was 17 when the war started so I didn't have access to many sources. Later, I was told by many of my colleagues that I should be with my small child instead of working when I was making my first film.
"They just tried to put this guilt on me. But now audiences and film crews are getting used to the idea of a woman directing.
"And with this film it shows the female gaze is really different in war, and a different mindset. For me, war can't be sexy. I can't find pleasure in framing this with my camera."
Ben Hania's previous film, Beauty and the Dogs, premiered in 2017, months before the Harvey Weinstein scandal led to the #MeToo movement. It's the story of a young woman who is raped by male police officers.
"I think it's an international experience of women not being heard and not being believed," the director says. "That film is the story of a young woman who is raped by policemen and she has to then go and report her rape to policemen.
"I think it was a very important movie for me to do, because when you are a woman, you face at some point in your life something like this. Somebody telling you to shut up, somebody reminding you that you are helpless, that you can't fight. So, I was doing this movie with all the anger and indignation I have as a woman."
The Oscars Academy's increasing diversity drive "is changing things slowly, but it is really changing," she adds.
"There are now more voters outside the USA too, in Africa and Asia and Europe, so we definitely see this in the movies that are nominated. And we have two women directors in the main section, and two women directors in the international film section.
"And they are beautiful movies - it's not just because they're women."
Quo Vadis, Aida? is available on Curzon Home Cinema in the UK. The Man Who Sold His Skin is yet to receive a UK release date but will be available in the US from 4 April.
BBC Talking Movies' award season specials are available to watch throughout March and April on BBC News and on BBC World News. Viewers in the UK can also watch on BBC iPlayer.